Committee activity
A small committee met on Wednesday 4th April and discussed the usual club finances,  club kit, membership renewal, as well as the forthcoming AGM, JOY/VOY/NOY award winners, marathon minibuses, Horsham 10k and Gunpowder Trot.  More on some of this later. We agreed to meet again on 9th May.
Membership renewals
Just a quick reminder that your membership has now elapsed (unless you joined between 1st Jan and 31st March this year). You can now renew online via the MemberZone using PayPal (account or guest checkout). No paperwork, no paper money, no hassle! Also a reminder that UKA have increased affiliation to £15 for 2018/19.
Marathon Minibuses
Further to the appeal in the last newsletter, unfortunately no one has stepped forward to drive the minibus to the Brighton Marathon so this option will now be cancelled. However, we do have a minibus and driver available for the London Marathon so if you want to be included on the passenger list, please CONTACT US. A small donation is requested for fuel and to support The Springboard Project. You will arrive a short distance from Blackheath and can be collected again in Horseguards Parade for the return trip if required.
The result round up
It's been another busy month for team hj! To read all about it CLICK HERE for the latest race result roundup compiled from press reports by Iain over the last six weeks.
AGM – Tuesday 24th April
This year we will be at the new venue of Horsham Cricket and Sports Club, Cricketfield Road. We will meet there for 7pm and use the local routes through Denne Park or Chesworth for a "normal" Tuesday evening run followed by the AGM at 8.30pm. Parking is available at the venue and showers, nibbles and a bar will all available after the run. We hope to see as many of you as possible for Phil's round-up of the last year's achievements, election of committee members and presentation of the coveted JOY, VOY and NOY awards that you have all been busy voting for!
Summer Pub Runs – 26th April
As the evenings grow longer, we say farewell to the headtorches and hello to the summer pub runs! For more info and the full schedule just CLICK HERE
Horsham 10k update
Entry is open and is filling up fast with around 300 entries so far! We now need around 80 volunteers to make sure this event is delivered safely and successfully. We will soon be asking for individual volunteers via Facebook and at the AGM. Please remember that we are hosting our home event for others to participate in and this relies on many volunteers to make it happen. If you are an hj member, we expect you to consider volunteering before applying to enter the race!
The Andy Spriggs Running Spirit Award
Following Andy's untimely passing at Christmas, we've been working hard to find a way to honour his memory and mark his contributions to the club and in particular, the Horsham 10k which he worked tirelessly to develop. With Sandra's blessing, we have decided on a new award which encapsulates all the qualities that Andy brought to the club and which were summed up so passionately in your personal tributes within our recent article about his life. The inaugural Running Spirit Award will be presented at this year's Horsham 10k to someone who demonstrates exceptional generosity, courage, stoicism, passion, perseverance or sportsmanship.
Seychelles marathon
Ed – Ian and Leigh sent us this lovely report on their recent international adventure……….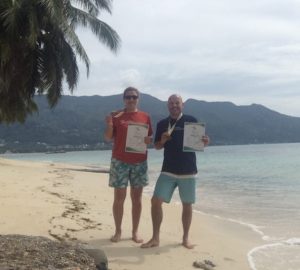 After walking off the plane into 30C heat and 80% humidity, we realised this marathon may be a bigger challenge than we thought. After a couple of days acclimatising, (drinking beer), race day was upon us and we woke at 5 to a cloudy but warm day. At 7 o'clock the gun went off and 10 seconds later the race clock started! Nobody rushes in the Seychelles. A 5k loop started the marathoners and half-marathoners at which point we joined the majority of the runners doing the 5k and 10k races. The 5k race was out and back on the same route with no attempt to separate the returning runners from the rest of the field, resulting in several small children being sent flying by the lead runners. After the 10k turnaround point the field was significantly reduced at which time the heavens opened and we were completely drenched. Some significant undulations on the coast road to the capital Victoria took us to the turnaround point at approximately 16 miles. Aid stations were frequent, friendly but light on everything except water; thank goodness we carried our own nutrition. We kept a steady pace and caught a few runners in the last few miles, crossing the finish line together in 5:15 to collect our t-shirt, medal, certificate and really heavy fresh coconut. Although it was the 11th year of this event, it was still quite chaotic in typical Seychellois style however we still enjoyed the race.
Leigh & Ian
South Downs Way Relay – Saturday 2nd June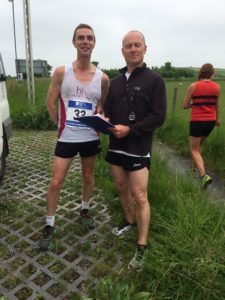 This year we have again been invited to enter two teams for this superb event. We are almost there with an 'A' team (Seniors) and Vets (40+) but need a couple more runners to complete the teams. You will be part of a 6 person team and will run three non consecutive legs of the 100 miles South Downs Way (18 legs in total).  During the day you will run a total of 15 -18 miles.  You will be looked after and transported (when not running) in a minibus with a driver and navigator.  You need to be comfortable running an 8:30 minute per mile pace in hilly terrain. Check out the event via this link http://www.southdownsrelay.co.uk/ .This is always a great day comprising challenge, competition, camaraderie and fun. If you are interested don't delay please CONTACT US
Dorking 10's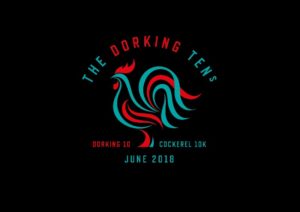 Dorking & Mole Valley Athletics Club has announced the running of the inaugural Cockerel 10K race on 3rd June 2018 in Dorking. Running alongside the Dorking 10 mile round of the Surrey Championship, which many of our members may well be considering, they are delighted to announce the launch of the Cockerel 10K, a new and exciting 10K road race that uses the same classic, leafy Surrey lanes as the Dorking 10 Mile race. Online entry can be found here: https://register.primoevents.com/ps/event/DorkingTenMileand10K2018
Website updates
The MemberZone has now been in place for just over a year. In that time we've processed over 400 orders with a total value of over £8000! If you haven't used it yet, why not give it a try. We often get asked the same questions; How do I reset my password? How do I view what I've ordered? How do I change my personal details? I can't login! etc, etc. Well ask no more! We've now added a "my account" option to the menu. Simply login and choose this option to manage your account. If you can't remember your password – click -> Login, click -> Lost password, enter your Registered Email Address, click -> Get new password. PLEASE NOTE: the automated email will come from WordPress, not hj! So look out for it in your junk box as well. Also, did you know that you don't need a PayPal account to pay via the MemberZone. Just choose to checkout as a guest and enter your card details via the secure third party server. They don't hold onto this information so it's safe and secure.
Gunpowder Trot organiser
Yes, it may be over five months away but we still need a new organiser for this race to continue the great work by Victoria. Procedures are in place to repeat the event this year so we need a self motivated, organised individual(s) to fulfil these tasks:
Liaison with venue, land owners, local authority, medical providers.
Organising a small team of leaders to deliver the various part of the race.
Recruiting/coordinating volunteers for each sub-team.
Monitoring entries and submitting to the league
Checking/purchasing the inventory for the race.
Supervising the set up and delivery on the day.
Keeping accurate accounts for submission to the treasurer.
(Not an exhaustive list)
Keep Running 2018!
Plans are in place for a new improvers course for those who have completed the couch to 5k type courses or those new to Parkrun who want to take it to the next level. We have two new leaders who are dead keen to get this under way between June and September so watch this space for more info.
Dates for your diary
15th Apr – Brighton Marathon
22nd April – London Marathon
5th May – East Grinstead 10m (Mid-Sussex Weekend Marathon [MSWM])
6th May – Haywards Heath 10m (Club challenge trophy and MSWM)
6th May – 3 Forts Challenge
7th May – Burgess Hill 10k (MSWM)
13th May – Portslade Hedge Hoppers 5m (WSFRL)
13th May – Hastings 5m (SGP)
13th May – Run Wisborough 5/10k
16th May – Littlehampton Beach Run (WSFRL)
20th May – Horsham 10k (SGP)
Don't forget; if you've got something worthy of the newsletter then please let us know!