Committee activity
Your committee met on Wednesday 21st Feb with a couple more new guests and discussed the usual club finances, membership and forthcoming events as well as club kit, membership renewal, data protection, JOY/VOY/NOY voting procedures, Horsham 10k and Gunpowder Trot organisers. More on some of this later. We agreed to meet again on 4th April
The results round up
So what have you all been up to? We've compiled this item from press reports by Iain over the last six weeks. Just CLICK HERE for the latest race result roundup.
Get voting!
Firstly an apology! After promising not to bombard you with emails if you subscribe to news updates, it seems that our mailshot server didn't get the memo and sent multiple messages recently with the same content! Hopefully you saw the funny side and didn't just click "unsubscribe" in disgust? Anyway, we had a lot more nominations as a result of the "rigorous" mailshot. Now that we have the short list, we have opened the window for current members to vote for your favourite via the MemberZone Survey Monkey links. Simply log-in, click on the "Award Nominations" category and follow the links to the 3 awards. The deadline for votes is 31st March so that the awards can be presented as usual at the AGM in April.
Brighton Marathon place
Due to illness or injury, we now have one club place available for this race. If you want to represent your club in this great event on 15th April, just CONTACT US
Brighton Marathon bus driver
We are lucky enough to have the use of the Springboard minibus for both Brighton and London marathons again this year. London is covered but we need a willing driver for the Brighton bus who must have category D1 on their driving licence. You will be required to pick up passengers at BBHLC, drive to B'Ton, drop off, park up, spectate(?) and then pick up and drive back after all returnees have finished. Just CONTACT US if you are interested in giving a bit back.
Sussex Road Relays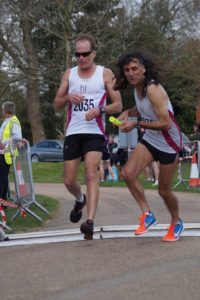 Entries are now open (via Opentrack) for the Sussex Road Relays at Christ's Hospital on Saturday, April 7, 2018. Please ask Pete O'Connell about being part of a team. Entries close Sunday 25th March. Further info HERE
South Downs Way Relay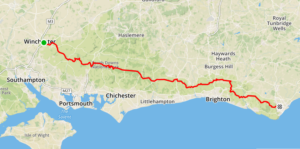 Arguably the best 'running' day out of the year! We are looking for members to take part in this "invitation only" event of about 50 teams. Horsham Joggers have been invited once again to enter two teams (of six). This is a relay race over the 97 miles of the South Downs Way, starting at Beachy Head and finishing at Winchester. The teams consist of six runners who each run three non-consecutive legs of the relay. The distance of each leg is somewhere between 4 and 8 miles and you'll have a good break between each of your 3 runs. Each runner will run somewhere between 15 – 18 miles over the course of the day, almost entirely off road. The team travel between the start/finish points of each leg by minibus and you will have a driver and navigator looking after you. There is a time limit to complete the event, meaning that an average pace per mile of just over 8.5 minutes is required (over the whole distance). In the past we have had teams consisting of a good mix of different paced runners, with some running faster and some slower than the 8.5 m/m average required. Although a fairly tough (it's hilly!) and long day, it is a truly great event with a lot of team spirit and camaraderie.  Having done it twice I, and I'm sure everyone else who has ever taken part, will confirm that the sense of achievement and fun had is immeasurable. Entry cost is subsidised by the club, the cost per runner is £25.00 to cover minibus and fuel costs. In addition to 12 runners there are vacancies for a minibus driver and a navigator for each team.  At this stage if you would like to take part (or even if you only think you might be interested in taking part) or want to know more please CONTACT US. Full details of the event can be found on the organiser's website: http://www.southdownsrelay.co.uk/ Get in touch and get your name on the list, you won't regret it!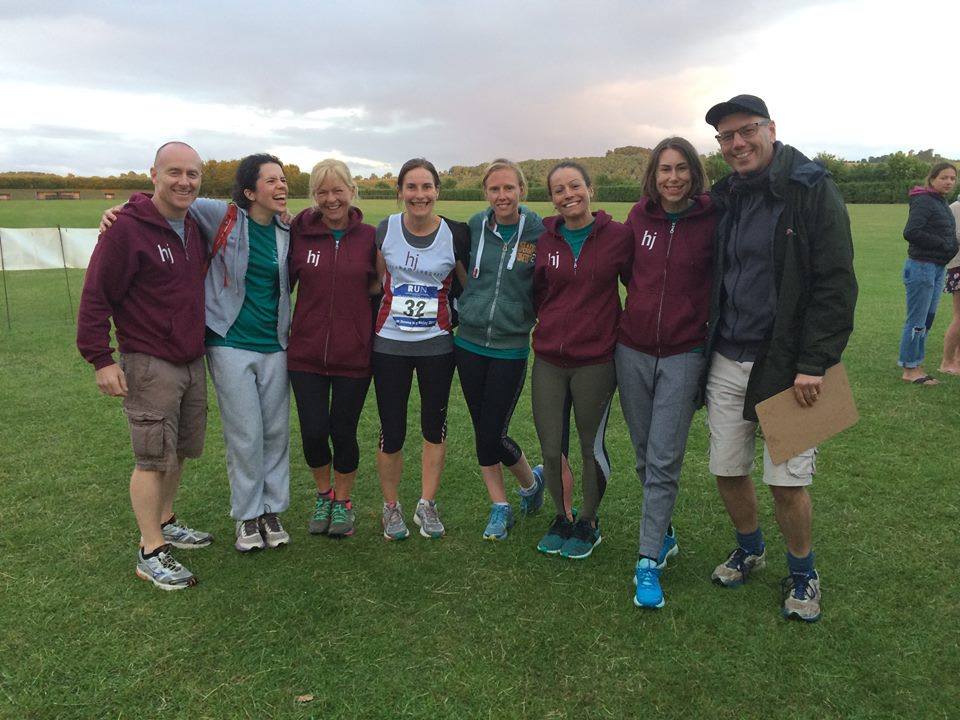 WSFRL fixtures
These are now up on their website (http://westsussexfunrunleague.org.uk/) and you can enter individual or multiple races for the year via the MemberZone. Please remember that if you are paying for more than just yourself, you need to include additional runner's details in the "order notes" field within the checkout page otherwise we won't know who is entering!
2018 Challenge Trophy races
Race 1 took place on 4th Feb at the Chi 10k (see results round up) and we now look forward to race 2 at Hastings half on the 18th of next month. The 10mile challenge will remain at Haywards Heath in May and the final race will be the Fittleworth 5 in September.
Membership renewals
Just a quick reminder that your membership expires on 31st March each year. If you joined the club on or after 1st Jan 18, you have paid up until 31st Mar 19. You can now renew online via the MemberZone and your existing PayPal account. No paperwork, no paper money, no hassle! Also a reminder that UKA have increased affiliation to £15 for 2018/19. Happy days!
Data protection
At Horsham Joggers we pride ourselves on the way we store your data and make sure your personal details are safe. However, the law is changing in May to include greater scope and tougher punishments for those who fail to comply. As a result, England Athletics are asking us to put extra measures in place to make sure you agree with the way that we store and share your data. You will notice changes to our membership forms on the website and the MemberZone renewal procedure. If you have any questions, please CONTACT US
Horsham 10k update
Entry is now open and we also have volunteers for these new roles:-
Field set up team leader
Course and field break down team leader
Volunteer coordinator
Now that we have a full rota of team leaders for the day, we will soon be asking for individual volunteers to join these teams. Please remember that we are hosting our home event for others to participate in and this relies on many volunteers to make it happen. If you are an hj member, we expect you to consider volunteering before applying to enter the race!
Gunpowder Trot organiser
Yes, it may be over eight months away but we will need a new organiser for this race to continue the great work by Victoria. Procedures are in place to repeat the event this year so we need a self motivated, organised individual to fulfil these tasks:
Liaison with venue, land owners, local authority, local residents and medical providers.
Organising a small team of leaders to deliver the various part of the race.
Recruiting/coordinating volunteers with each sub-team leader.
Monitoring entries and submitting to the league.
Checking/purchasing the inventory for the race.
Supervising the set up and delivery on the day.
Keeping accurate accounts for submission to the treasurer.
Not an exhaustive list but if you think you have what it takes please CONTACT US
Dates for your diary
25th Feb – Brighton Half
4th March – Steyning Stinger Half or Marathon
4th March – Eastbourne Half
18th March – Hastings Half – SGP (hj Challenge Trophy event)
25th March – Mel's Milers 10k
2nd April – Lewes Easter Monday Races – WSFRL
Don't forget; if you've got something worthy of the newsletter then please let us know! Email: info@hj