Committee activity
Your committee met on Wednesday 9th May and discussed the usual club finances, membership renewal and forthcoming events as well as the CASC application, AGM round up, club kit, data protection, Horsham 10k, gun timing vs chip timing, SGP10's and Gunpowder Trot organisers.  More on some of this later. We agreed to meet again on 20th June
URGENT! – Membership renewals
A reminder that your membership runs from 1st April to 31st March annually and is still only £10!
360 members have already renewed leaving about 190 still to pay or submit the correct paperwork. With the implementation of GDPR on 25th May, we can no longer legally hold your personal data without your consent. If you have renewed via the MemberZone or sent a signed paper renewal form with your payment you don't need to do anything else.
However, if you haven't renewed or have sent cash, cheque or bank transfer direct to hj WITHOUT A RENEWAL FORM, your data will be deleted on 25th May and your membership will expire. You will then need to re-join the club and a £5 joining fee will apply. This is a legal requirement for 2018 but the committee has now decided to follow similar timelines for renewal in the future as it seems unfair that most pay on time whereas others wait for multiple reminders sometimes up until August each year!
Please remember that the best way to renew is online via the MemberZone using your PayPal account, credit or debit card. No paperwork, no paper money, no hassle!
The result round up
It's been another busy six weeks for team hj! To read all about it CLICK HERE for the latest race result roundup compiled from press reports by Iain.
Horsham 10k update
Entry to the adult 10k is now FULL but we have plenty of space for more U16 juniors and we NEED MORE CAKE BAKERS! We are almost there with the volunteer lists and specific instructions will now be emailed out by the relevant team leaders. If you've volunteered but not received instructions by Wed 16th May, please contact: horsham10khelpers@gmail.com
Prior preparation and planning prevents poor performance!
In the spirit of the title, team manager John Wilcox took Trevor Barrett and Paul Davis up the downs (?) last week to recce leg 17 of the route for the forthcoming South Downs Way 100mile relay. Well done chaps!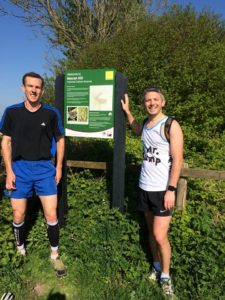 Gun time or Chip time?
This age old argument has been rolling on since the advent of individual timing and fills so many blogs and forums that we won't bore you with the details here. But some members have asked why we use gun times to judge the awards given for our Challenge Trophy races (CT). Well, firstly these races are picked annually by the committee and we cannot be certain that all will include chip timing (WSFRL doesn't for instance). Secondly the traditional idea of a "race" is summed up by being first past the post (or finish line) therefore if you've started at the back of the pack you are reducing your chances of beating those in your age category or even taking the overall male or female shield. Thirdly, if we could use individual timing (chip or otherwise) it effectively becomes a time trial and not a race. So the moral of the story is; Get up the front at CT events! You never know, you might win a prize by just a few seconds!
SGP 10's
With a reduction in the number of SGP races this year, the committee has agreed to reduce the amount of races needed to win an award back to 8. WSFRL races remain at 10 to qualify for an award.
Horsham Round
Are you a keen Horsham Round participant? Do you want to help by inviting, organising and communicating with the teams? This year will be Phil's last as organiser and we are keen to find someone to shadow him this year with a view to taking over next year. The event is well established and pretty much self managing but it just needs someone to coordinate it and make it happen. Just CONTACT US for more details.
Gunpowder Trot organiser
Great news! Margaret Wadman has put herself forward to carry on the excellent work by Victoria. Thanks Margaret! This year's fun run will take place on Sunday 4th November and over the coming months, Margaret will be getting up to speed and then looking for key people to develop a small organising team. A general call for helpers will follow nearer to the event.
Twinning update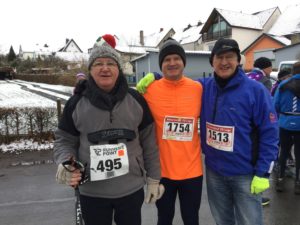 Ed-A message from our Twinning rep, Dave Maurice – This photo was taken on our last visit to Lage for the Adventlauf. Ben Ageros ran the 10 km. Ray Ageros walked the 10 km and I walked the 5 km . As always we had a great time.
Dates for your diary
16th May – Littlehampton Beach Run (WSFRL)
20th May – Horsham 10k (SGP)
23rd May – Trundle Hill Run (WSFRL)
27th May – Rye 10 miles
2nd June – South Downs Way Relay 100m
3rd June – Worthing 10k
10th June – Hove 5k (WSFRL) with BYO picnic
12th June – 2nd Itchingfield Time Trial
19th June – hj Summer handicap (in Horsham Park)
23rd June – Downland Dash (WSFRL)
23rd June – Race to the King
24th June – Heathfield 10k (SGP)
Don't forget; if you've got something worthy of the newsletter then please let us know.