Back in the mists of time
A history of Horsham Joggers by Dave Bridges.
In the early 1980s there was an unprecedented interest in jogging and fun running. At that time I worked for Horsham District Council in the Leisure Department. My role included organising sports activities in the community. I was also involved with the famous Horsham ten-mile road race. I had been running for a few years and had joined Horsham Blue Star Harriers but felt that the needs of the fun runner were not being met by the existing set up. So I organised some 'beginner' training sessions based at what was then the Park Recreation Centre in Horsham park. The park provided an ideal base for easy running on grass and a meeting place for winter evening jogs around the roads of Horsham every Tuesday. In the early days, as the Joggers got going, we got great support from that famous Blue Star Harrier, John Luxford.
It was easy to get plenty of publicity in the local press, especially when we organised some fun runs including the very popular Valentine's Day fun run. We were also profiled in the national magazine, Jogging (now Running). Very soon numbers grew rapidly and the group was organising a range of training sessions including the legendary 'Grouse 15' a long Sunday morning run over very hilly roads and tracks to Handcross and back along the Grouse Road in St. Leonard's forest. This run was actually 16.5 miles when we measured it and was easily extended with loops taking in Kerves Lane and the other equally hilly minor roads near Horsham. When I look back at the race times of the runners who joined in these sessions it is clear that this training route provided superb early season preparation for the marathons we were running in those days. If you could cope with the Grouse run you could cope with almost anything, provided you also did a couple of longer, flatter training runs a month or so before your marathon! Prominent figures on the longer runs included Martin Jones, Dave Cullen, Paul Toms, Charlie Malsbury and Phil Holman.
Many of the early 'characters' still run and can be seen around Horsham. Some even go to Joggers' sessions occasionally! We were very fortunate to have Nick Cowell as our first Chairman and Ted Coleman as Treasurer (I was Secretary). Bob Drew became the editor of the newsletter after the inaugural AGM. Jon Klanckowski and Eileen Quinton were on the first committee. These were very capable people who gave the club a tremendous platform and ensured that everyone who came along received a warm welcome and got good advice. It was a matter of pride that we looked after new faces and did not 'burn them off' on a training session or leave them to find their own way home if they ran out of gas on a run. I am sure this was the basis of the club's enduring success. Among other names who played an important part in those early days were Carol Clift (an inspiration to many newcomers to jogging), John Booker (a legendary figure who has jogged with every woman in Horsham, so they say), Rebecca Hardwick, Ray Shand, Melanie and Cliff Marlow, Malcolm and Gill Lipscombe (now Gill Brown), Dave and Chris Beaken, Steve Ripsher, Stan Smith, Nina Klanckowski, Terry Betts, Peter Everitt, Ray Ageros and our talented Portuguese star, Mina Whitehead (now Burton). Apologies to the many others, who I have omitted from this list, but even with the aid of the early newsletters I cannot remember every name!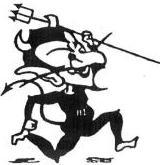 The origin of the logo was the Horsham legend of a local character, Mick Miles, who was challenged by the Devil to a race for his soul. The race was in St. Leonards forest (a regular Joggers training venue!) and the pair raced so fast they burnt a track through the forest where, to this day, no trees grow. This is 'Mick Miles Race' that long straight track which runs through the forest and helps lost joggers navigate their way back to civilisation. The late John Otway was a key member of the Joggers in the early years and he had a real talent for drawing cartoons. I suggest the idea of a devil logo and John drew it. The pot belly was based on his corporation; the knobbly knees were mine! Sadly John died of a heart attack while out jogging on his own one day. I suspect John would not have wanted to go any other way…
I developed the West Sussex Fun Run League to encourage formation of more groups outside Horsham. It is very interesting that the league is still going strong even though some of the early clubs have fallen by the wayside. To prove that even the women were 'real men' in those days – and nobody ate quiche – we organised some hill races as part of the Fun Run League! The Cissbury Hill race and the Chanctonbury Ring race were very short – just 3 miles or so but very steep up and down! Very different from the average Fun Run event.
It was inevitable that the club would eventually seek affiliation to the Amateur Athletics Association and, in 1984, at our first official AGM, and some 3 years after its inception, the club was formally constituted to comply with AAA rules. This meant for some members resignation from Horsham Blue Star Harriers, for whom they had been competing in 'official' races. This was a tricky period in the club's history but under Nick Cowell's statesmanlike leadership the club emerged even stronger.
Other landmarks I can remember were the club's organisation of the Woman's Own training sessions and 10Km Women's Fun run (the forerunner of the club's 10Km race at Forest school) in 1984, the annual Golden Mile, when many members had their first taste of track running, the Action Research 6 x 1 mile relays through Horsham town centre – a superb fundraising event and the first experience of 'running' for many Horsham people and, of course, the very popular summer pub runs.
It is also worth mentioning the trail running exploits of a hardy bunch that got together to run a long distance path over a long weekend each year. The Cumbria Way, the Dorset Coastal path, Wainwright's Coast to Coast route, and many more, provided (literally) breathtaking backdrops to a series of unique and incredibly enjoyable club outings where character was tested, enduring friendships formed and generally a good time was had by all, usually in baking hot weather.
One other Horsham Jogger remains in my mind. He is Glen O'Connell. Glen was a talented runner, formerly with Crawley AC, possessed of a wonderful wry sense of humour. Tragically he developed cancer of the oesophagus but after extensive treatment he made an amazing return to running, bravely competing in and completing the Norfolk marathon. As many readers will know Glen eventually lost his fight against cancer but was honoured by the club through the annual Glen O'Connell 5 mile race.
Horsham Joggers has been an important part of my life and I am thrilled the club continues to thrive.