Committee activity
We met again on Wednesday 27th February with 3 guests in attendance and discussed club finances, membership, forthcoming events, MemberZone orders and social media as well as nominations for jogger, newcomer and volunteer of the year, twinning trip and EA Run & Talk initiative. More on some of this later. We agreed to meet again on 10th April.
The result round up
Your regular fix of who has been doing what and when. Read all about it HERE. The result roundup is compiled mainly from press reports by Iain Campbell, who will soon be standing down from this role. We thank him for his continued contribution to the club and are now looking for someone new to take on the job. It involves scanning the weekend activity of team hj, collecting results, writing a report with a few photos and issuing them to meet the local press deadlines on a Monday/Tuesday each week. Please CONTACT US if you want to get involved.
Nominations for Jogger/Newcomer/Volunteer of the year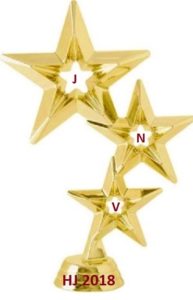 Nominations have now closed for your Jogger, Newcomer and Volunteer of the year. Given the incredible uptake and engagement with this in 2018, we've been disappointed to see a sharp decline in nominations this time around. However, the voting window will open on 4th March for you to vote for your winner (closes 16th March). Just login to the MemberZone and you can vote via the links available to you. The committee will review engagement with this and possibly make some changes next year to increase interest.
Message from Pete O'Connell.
Spring is here and there are a couple of dates for Sussex races. Saturday April 6th – the Sussex Relays at Christ hospital open to all paid up first claim HJ members. Sunday June 2nd – Dorking 10 mile – this is a British Masters championship and there will be teams and individuals in 5year age categories from M35, W35 upwards. To qualify you have to be paid up member of a vets club such as Southern Counties Veterans Athletic Club (SCVAC) – membership is £20. Any queries please contact Pete O'Connell – purpledrummer@sky.com
Southdowns Way Relay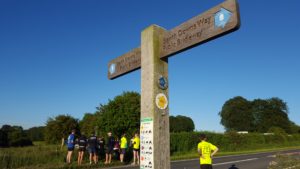 Team organiser, John Wilcox is now looking for two teams for the 100 mile Southdowns Way relay on Saturday 1st June 2019 and, given the male domination of this event last year, he really wants to put forward a ladies team! To read all about it and express an interest, please click HERE for details.
AGM – Save the date!
This will be held at 8.30pm on Tuesday 30th April 2019 after the usual 7pm group running which will all start and finish from Horsham Sports Club, Cricketfield Road, Horsham, RH12 1TE.
Club Treasurer
We are delighted to announce that Iain Campbell has offered to take over from Fiona as club treasurer. Iain has been a member of hj since 1991 and is and regular club runner and experienced distance competitor. In recent years he has been producing the weekly race reports on a Monday to meet tight press print deadlines. We wish Iain all the best in his new role.
Accounts Auditor
There's more good news in that Gary Tomlinson has agreed to review the club accounts for 2018 in preparation for the AGM in April. Again, huge thanks to Gary for his help. We really can't run this club without offers of help from our members.
Committee Members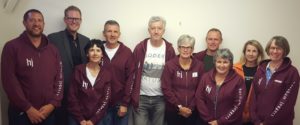 At the AGM we ask you to re-elect your committee members and we also invite new people to join us. This year we will have some vacancies to fill so if you want to have a voice and influence the direction of your club, why not join us. We meet every 6 weeks and invite members to sit on the committee and grow into a role organically where you think your talents can be best used. Please CONTACT US if you need more information.
Membership renewals 1st April
It's almost that time when your annual subs will be due and we have managed to keep the individual membership fees at an incredibly low £10 for yet another year! The only way to renew is via the MemberZone using PayPal or Card. Remember, if you joined after 1st Jan 2019 then your membership carries through to 31st March 2020.
Marathon minibuses
We're sorry to announce that the London Marathon bus will no longer be available. The logistics of getting around London on Marathon day have become too complicated and uptake from runners has dwindled in recent years. Please arrange car sharing with those volunteering on Blackheath (where it's free to park) or to go by train. However, we are still hoping to offer a minibus to and from the Brighton Marathon on 14th April if we can find a willing driver! Any member can drive the bus as long as they have category D1 on their driving licence. Please CONTACT US for more information.
It's party time!
With the spring marathons comes the traditional pasta party! James Munden will be putting plans in place for a celebration of your achievements on Saturday 11th May. Watch this space and our social media channels for more news.
Club kit SALE!
Steve Entecott has been a busy bunny recently and while moving house he has found some more new "old" stock in the attic! If you want to purchase any of the following items, please speak to Steve directly and pay him £10 (cash only) per item.
Men's Vests – size small x 1
Men's Vests – XL x 2
Ladies T-Shirts – size small x 2
Ladies T-Shirts – size medium x 1
Twinning Update
Dave Maurice is currently doing some research on a potential trip to TG Lage in May 2020. For now, he'd like to know if there would be some interest in this? Click HERE for details.
Job Opportunity
Our friends at Up & Running in Horsham are looking for new staff. Mike writes: We are currently looking for some part time staff for the shop. The work will include selling and till operation with full training provided. Whilst weekday work is available ideally the person(s) will be available to work on Saturday. Contact horsham@up&running.co.uk for more details.
West Sussex Fun Run League
Ed – Our Jenny wants to let you know about the beautiful WSFRL races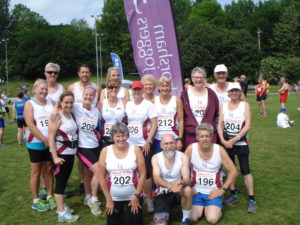 Joggers, why not join in the friendship of the WSFRL races. You will experience the joy of running in our beautiful county, and meet lots of friendly folk from other clubs, share tea/cake/beer/burgers/fish and chips – plus lots of encouragement. Why not give it a try? You will not be disappointed. Next race is on Easter Monday, 22nd of April – The Lewes 10K – start 11:15am.
I hope to see you there.
Your Club Rep
Jenny Boyd
Pip's proud day
Ed – Club member, Pip Mortimer tells us about her 2018 marathon experience and unexpected award!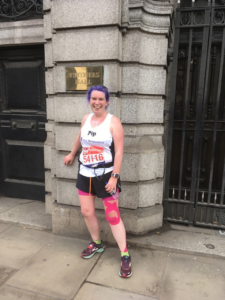 I was asked to run the VMLM in 2018 as the only runner for The Benevolent – The Drinks Industry Charity.  Having worked in the wine trade for the past twenty years I could only say 'yes'. The day was hot, my nerves were high and my hair was purple. A truly mind-blowing experience that saw me pass through every gauntlet of emotion.  I met so many amazing people over the 26.2 miles, including someone dressed as a dinosaur, firefighters from Grenfell and a guy running carrying a bicycle!  It took me six hours, five minutes and four seconds to cross the finish line and I ended up raising over £6,000 for my charity. The nomination came as a huge surprise.  The award was for raising the profile of The Benevolent to a wider audience.  Obviously, the purple hair swung it! However, I would have never been able to get to the start line, let alone the finish without the help; support and training of Horsham Joggers. From the gruelling planned long runs on a Sunday morning as I watched my mileage creep up from around 6 miles to 21; to the support of the other runners on a Tuesday evening and the fun (?) of Fiona and Claire's hill and strength training on a Thursday, the support, advice and encouragement was top class. I also met some amazing people and made some fantastic friends. So a massive thank you to everyone; this is as much HJ's award as it is mine! Pip.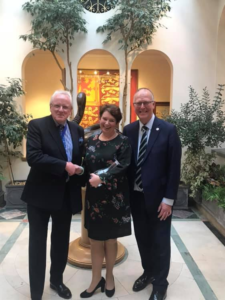 2019 Challenge Trophy Races
One race has now been run so we look forward to race two in May. Qualifying criteria remains the same; you must be a paid up member at the time of each race and you MUST BE WEARING CLUB KIT to qualify for an award. If you're not listed as a Horsham Jogger, please let us know so that we can include you in the results. As these are races and not a time trials, times are recorded and prizes awarded on your GUN TIME, so sharpen your elbows and get up the front at the start!
10mile Challenge – Haywards Heath 10 miles (5th May)
WSFRL Challenge – Hove Hornets Stinger (14th July)
Half marathon Challenge – Run Reigate (15th Sept)
Mental Health Champions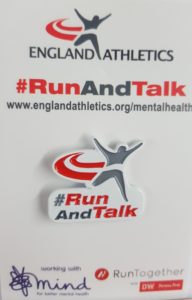 Mark Aylmore has kindly offered to become our Mental Health Champion in conjunction with UKA's Run & Talk initiative. He will soon be finding out more about the role and how to develop it within the club. Watch this space and our social media channels for more news and appeals for help to support Mark in growing this.
Horsham Round organiser
We are delighted for James and Becky Munden who are expecting their 2nd child in August 2019. Unfortunately this means that James can no longer commit to the Horsham Round and so we will be looking for a willing volunteer to organise what is now a well set out plan for the annual Horsham Round on 26th August. Please CONTACT US for more information.
Dates for your diary
3rd Mar – Eastbourne Half
3rd Mar – Steyning Stinger Half and Marathon
3rd Mar – Leith Hill Half, Dorking
10th Mar – West Worthing 5&10k
10th Mar – Surrey Half, Woking
17th Mar – Balcombe Bull Run
23rd Mar – Kelly's Clandon Park 10k
24th Mar – Hastings Half Marathon (SGP)
24th Mar – Reigate Priory 5/10k
31st Mar – Mel's Milers 10k
31st Mar – Cranleigh 15/21m
7th Apr – Lancing 10k
14th Apr – Brighton Marathon/10k
22nd Apr – Lewes Easter Monday races (WSFRL)
28th Apr – London Marathon
Don't forget; if you've got something worthy of the newsletter then please let us know!