Ed – Happy New Year y'all! We've got a fair bit to cover so lets crack on………..
Committee activity
After a short break for the festive season, we met on Wednesday 9th January and discussed the usual club finances, membership, forthcoming events, MemberZone orders and social media hits as well as old kit stock, SGP and WSFRL results, nominations for jogger, newcomer and volunteer of the year, new arrangements at The Bridge, Horsham 10k plans and our 35th anniversary year! More on some of this later. We agreed to meet again on 27th February. Just a reminder that anyone can attend a committee meeting as a guest, either to observe or to raise a concern. Just CONTACT US to get involved in the next meeting.
The result round up
A quieter period in the run up to Christmas but still some amazing performance by team hj. Read all about it HERE. The result roundup is compiled mainly from press reports by Iain Campbell and we thank him for his continued contribution to the club.
Sussex Masters Cross Country Championship
Entries are open for this, taking place at Coombe Farm, Lancing, BN15 0RS, on Saturday, 19th January. If anyone is interested in being part of the hj team then please email Pete O'Connor at: purpledrummer@sky.com
Club Treasurer
Following Fiona's open letter in the last edition of this newsletter, sadly no one has stepped forward to take on the role of treasurer, so we will need to find a new one before the next AGM… could this be you? You don't need to be a qualified accountant, but you do need to make prompt payments and able to drive a fairly straight forward spreadsheet.  There's still time for a handover period, with plenty of time to ask questions and get comfortable with the role before you have to go solo. If you'd like to know more, please have a word with Fiona or any of the committee members.
Accounts Auditor
Following on from the appeal above, we also need someone to audit the club accounts in preparation for the next AGM. You don't need to be qualified, just good at following a trail of invoices/payments/receipts etc for all club transactions recorded on a simple spreadsheet. This can be done over a period of days as and when you can. Please CONTACT US if you can help.
Spring Marathon Training
Starting at 9am (8am from 3rd Feb onwards!) these training runs are now 3 weeks into the 16 week schedule but James Munden is still looking for a few more volunteers to organise and support the runners. Please check the schedule HERE and offer your support by CONTACTING US. We have hundreds of routes saved and can support you with water containers, cups etc.
Nominations for Jogger/Newcomer/Volunteer of the year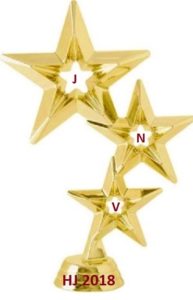 As a new year starts, it is time to look back over the past year and think about who is your Jogger (JOY) / Newcomer (NOY) / Volunteer (VOY) of 2018.
JOY can be for any reason which makes a current member stand out in your eyes.
NOY will be those newcomers who joined between 1st Jan and 31st Dec 2018.
VOY may be those individuals who aren't necessary regular runners (if at all) but are always supporting the club and getting involved.
Please CONTACT US with a brief description why you believe they should be considered. Nominations will close at midnight on Sunday 3rd February. Voting will then open on Sunday 17th February and close on Sunday 10th March. Awards will be made at the AGM in April.
Horsham Joggers had a great night at the Quiz evening back in November when 13 teams of hj's and friends/family tested their knowledge against one another. Congratulations to our winners "And In Forth Place" followed by "Low Expectations" in 2nd place and "Old Gits And Others" in 3rd place. The most coveted award of the HJ wooden spoon went to "5 cakes to 10 cakes Improvers". The most coveted award of the HJ wooden spoon went to "5 cakes to 10 cakes Improvers".
Award winners!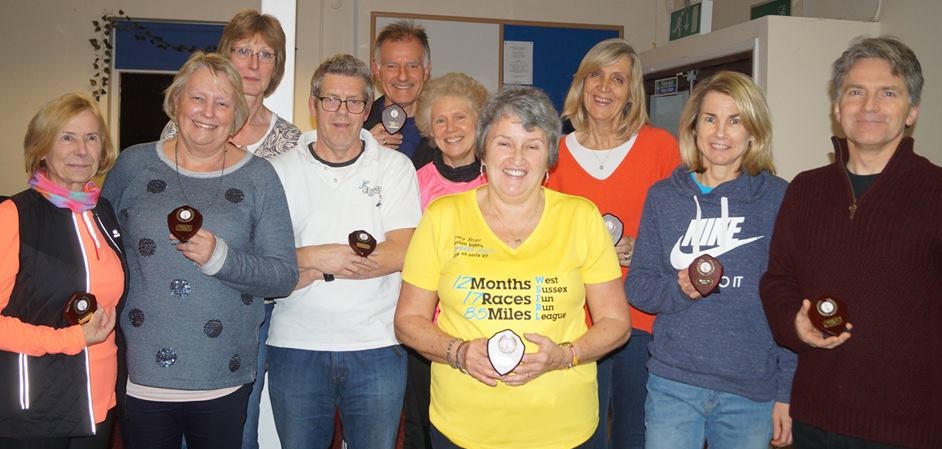 At our recent awards night, over 50 members went home with some bling for their efforts in 2018. To read all about it, click HERE
The Bridge
We are now meeting in the undercroft at the new leisure centre just before 7pm on a Tuesday and 9am on Sunday. We can use the toilets and refreshments in the leisure centre at any time as before. Showers are available for a small charge, payable at reception.
2019 Challenge Trophy Races
Just a quick reminder of the CT races for 2019. Qualifying criteria remains the same; you must be a paid up member at the time of each race and you must be wearing club kit. As these are races and not a time trials, times are recorded and prizes awarded on your GUN TIME, so sharpen your elbows and get up the front at the start!
10k Challenge – Chichester Priory 10k (3rd Feb)
10mile Challenge – Haywards Heath 10 miles (5th May)
WSFRL Challenge – Hove Hornets Stinger (14th July)
Half marathon Challenge – Run Reigate (15th Sept)
Track Etiquette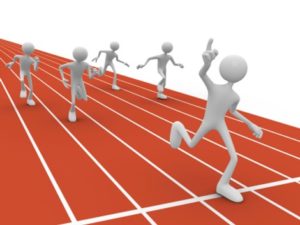 It can be a daunting prospect taking to the track for the first time. Some of us haven't stepped a foot on a running track since school days! Rest assured that you are all very welcome and the benefits of a weekly £2 interval or circuit training session on a track are well recognised. However, as a first timer you will need to be aware of some simple rules or, if you are a regular track user, you may need a gentle reminder! These are displayed on trackside and are available on our website HERE.
SGP & WSFRL races for 2019
While the WSFRL race calendar has already been published HERE, the SGP dates are not yet on their website. However, we have an advance page for our members handbook which can be found HERE. Horsham Joggers came 12th in last years SGP team list with Paul Chantler and Geri Smith scoring the most points for our men and women respectively.
Mental Health Champions
We have had one member interested in becoming a Mental Health Champion in conjunction with UKA's Run & Talk initiative. If you want to join in, please click HERE for details.
January SALE!
We have various bits of new "old" kit stock which we would like to offer members for just £10 per item! Please take a look at the list HERE and see Stephen Entecott or CONTACT US directly to purchase items. These are not for sale via the MemberZone and we can only take cash payments to simplify the process.
Dates for your diary
19th Jan – Sussex Masters X-Country Champs
26th Jan – Maverick Series 8, 15 or 23km, Amberley Museum
27th Jan – Dark Star River Marathon, Shoreham
3rd Feb – Chichester 10k (Club Challenge Trophy race)
10th Feb – Worthing Half
24th Feb – Brighton Half
2nd Mar – Winter Nuts Challenge, Dorking
3rd Mar – Eastbourne Half
3rd Mar – Steyning Stinger Half and Marathon
3rd Mar – Leith Hill Half, Dorking
Don't forget; if you've got something worthy of the newsletter then please let us know!