Spring is finally here and we can start to look forward to running in some warmth and sunshine; bring it on! In this issue we have news on the new hj website, the latest race results and achievements as well as events and activities to get you going into the great outdoors.
Membership subscriptions
Don't forget that your annual hj subs are now due to bring them in line with the UKA affiliation subs. At just £10 for an individual and £20 for a family (2 adults and multiple U16's living at the same address) it's an absolute bargain! You are now able to pay these via the new Member Zone on the website. Just follow the link sent to all current members by email and login to enjoy our web shop. If you can't login, please let us know via info@hj and we'll sort it out.
Marathon Minibuses
We've had a few members interested the Brighton and London marathon minibuses (9th and 23rd April respectively) and one kind volunteer to drive the bus to Brighton and back so we now just need a driver for London! You must have category D1 on your licence and will then be insured to drive. We aim to take the stress out of getting runners there and back for a small donation of about £8. Please email info@hj to express an interest. Buses take 13 passengers and we still need 4 more passengers for Brighton and 6 more for London to fill them both up and make this worthwhile. If you've asked for a place on the Brighton bus, details will be emailed to you this week regarding timings.
New Learn to Run course
The next course starts 11th April. Please let your friends know who want to run and follow this link for details. https://www.horshamjoggers.co.uk/learn-to-run/
Website? What website?
After an "interesting" conversation during a group run recently, it seems that some members still don't know that the hj website is here to provide information, links, documents and payment facilities for all club matters. The chat then moved on to committee matters and it appears that not all members know who is on the committee to represent you! Well, while you are reading this, why not also look up the committee profiles? Just hover over "About Us", click -> "hj committee" and find out who to speak to get your views across.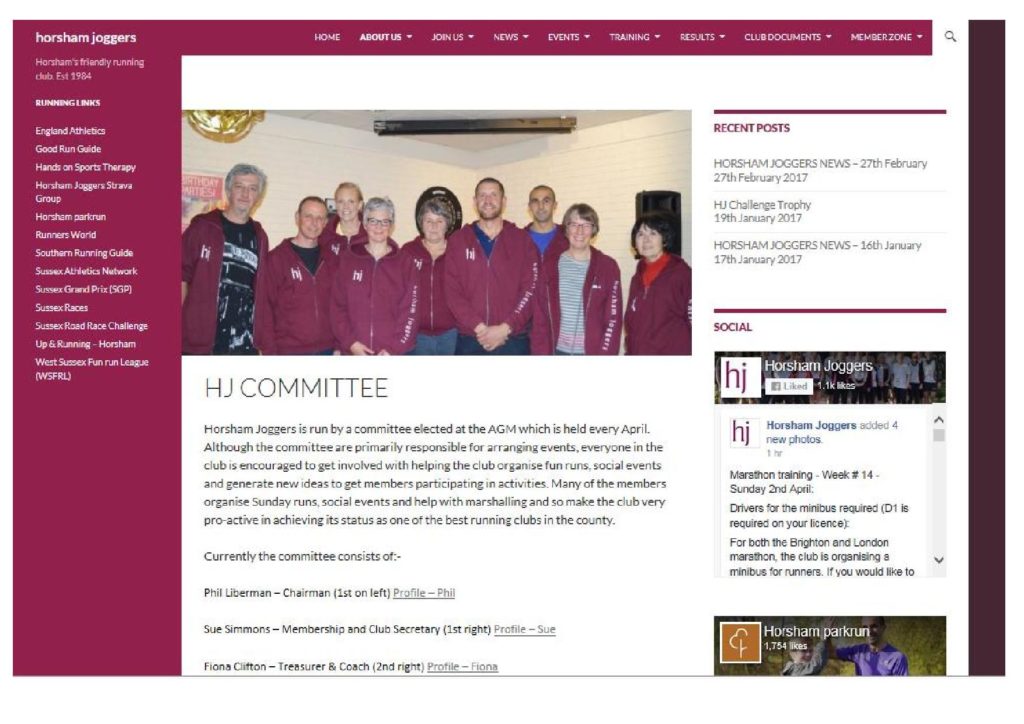 Latest Race Results and Achievements
A race round up of some of the highlights from the mon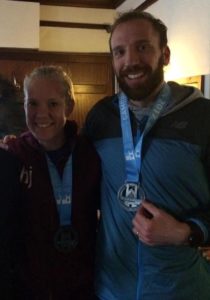 th of March……
On the 6th Kirsty Anstee Brown ran the Cambridge half marathon smashing her personal best to set a mark of 1.50.30 with husband Matty finishing in 1.18.27.
On the 13th at the local Surrey half marathon just turned 50 birthday boy Mikey O'Grady stormed to an impressive finish in 1.34.09 with a large contingent of Joggers also completing the hilly course. On the track Pete O'Connell took a very fine 4th place in the British Indoor Masters 3K at the famous Lee Valley Stadium in 10.50.
The following weekend half marathons were still taking centre stage as Horsham Joggers continued their marathon build up to Brighton and London in April. At Reading Rob Simmons finished in 1.25.42 followed by Stuart Carruthers 1.41.37 Paul Arnold 2.14.10 Lou Johnson 2.05.43 Sally Arnold 2.28.47 Sue Hensman 2.28.54 Ashley Wilkinson 2.35.41 & Deb Weller 2.36.13. At Hastings in very windy conditions it was Stuart Adesilu beating the elements in 1.34.21 Rob Crocker 1.37.25 Raff Vitale 1.38.28 Paul Aylett 1.40.47 Alan Pettitt 1.44.07 Paul Yokom 1.47.28 Janine Littler 1.50.11 Jane Addams 2.53.40 Victoria Saunders 2.57.26 Jenny Boyd 2.58.56. Smaller contingents visited the Hampton Court, Fleet and Badger half marathons, Neil Clarke 2.01.15 Kevin Elvidge 2.28.00 Phyl Weston 1.48.18 Heidi Chaney 2.41.55 Mal Thornton 1.34.54 Mark Gibson 1.40.28 and Beck Elder 1.55.58 all putting in fine performances.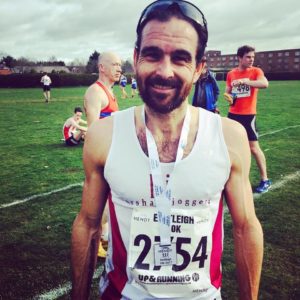 On the same day Neil Boniface continued his superb start to life in the V40 category with a 1st place finish and 6th overall at the hotly contested Eastleigh 10K in 31.36!
Finally, last weekend at the local Mel's Milers 10K at Christ Hospital school Simon Perkins stormed home 4th out of a field of 348 in 37.31 with Pete O'Connell 38.19 Lucinda Potten 42.50 Johanna Terry 44.18 Laurence Carpenter 44.24 Phil Liberman 45.04 Guy Gilder 46.15 Paul Windust 46.53 Mirand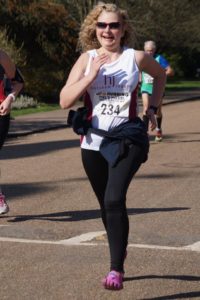 a Huisman 47.39 Tom Gaule 48.29 Jim Hawthorne 49.03 Clive Walker 49.06 Simon Holmes 49.10 Geoff Fisher 49.39 Rebecca Ramsey 49.50 Matt Senior 50.42 Kevin Croker 51.13 Ian Nicholson 53.14 Aaron Baker 53.55 Jo Hopkins 53.56 Fiona Dalrymple-Hay 54.29 Paul Arnold 57.29 Richard Barron 58.01 Danielle Moore 58.08 Steph Charman 62.47 Richard Mullans 67.15 Carol Brown 68.03 Edna Clark 68.14 and Susie Millbank 71.13.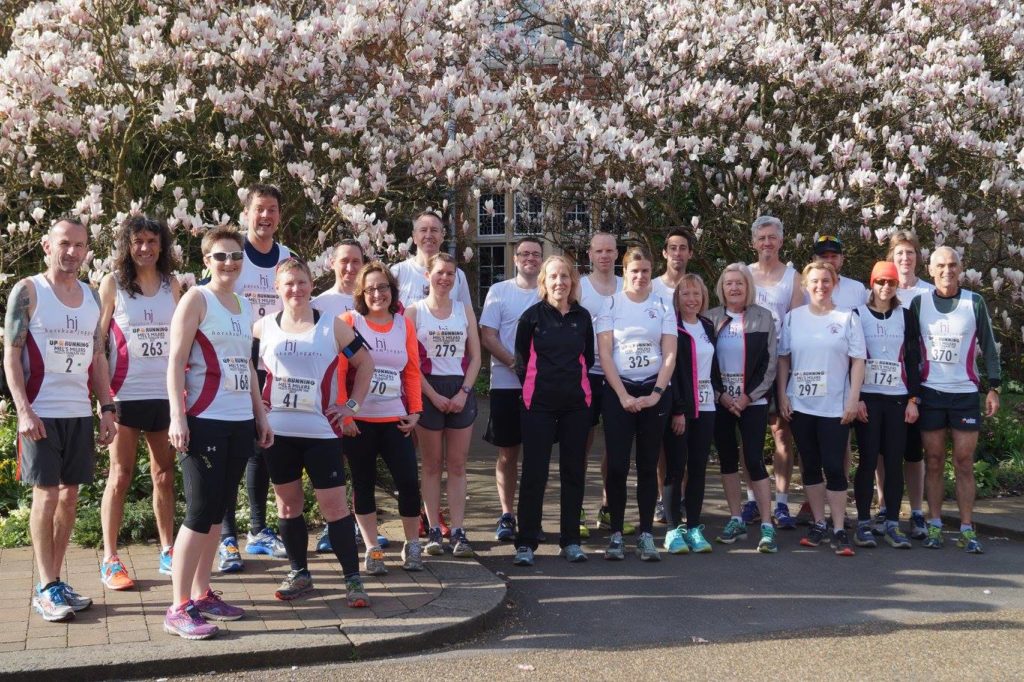 Congratulations also goes to Jane Addams, Victoria Saunders an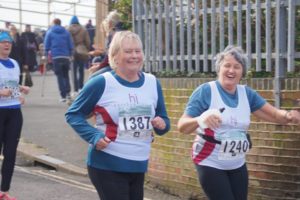 d Jenny Boyd have completed Brighton, Bath and Hastings half-marathons over 3 weeks.
Well done to everyone who raced in March, more next month.
Horsham 10k volunteers
We are fast approaching that time when we need your help to deliver our home race on 21st May. It takes over 80 people to set up, bake cakes, marshal, hand out medals and even take chips off the runners shoes! If you can help in anyway, please email info@hj and we'll be in touch. If you are considering running our 10k, please, please, please make sure that you offer your help before entering.
Also, we are still after a drone to provide some aerial footage of our race. If you have one or you know someone who does, we'd love to hear from you so that we can discuss filming and/or photos on the day of the race. Obviously the operator will need all the relevant permissions etc and most importantly, insurance to fly it above the runners on the rugby fields. Just email info@hj with your details.
Motor Neurone Disease Association and Horsham Junior Parkrun say "Thank you"
We have had a big thank you from Motor Neurone Disease Association and the Horsham Junior Parkrun for our donation to them from the money we raised at the Horsham 10k and Gunpowder Trot in 2016. Well done all who helped make the events a great success!
Dates for your diary
Horsham Joggers Annual General Meeting 25th April 2017 at 8.30pm in the BBHLC bar.
WSFRL races coming up:
Lewes 10k @ 11:15am Easter Monday 17/04/17
Portslade Hedgehoppers 5 mile @ 11:00am Sunday 07/05/17
Trundle Hill Chichester 10K @ 19:30pm Wednesday 17/05/17
Highdown Hike 3.5miles @ 19:30pm Wednesday 24/05/17
Race Fees: Adult £3.00, Junior £1.00 in advance. Payment can be made through the Member Zone on the HJ website or cash direct to Jenny Boyd WSFRL Rep. Entries must be received 5 days before the race day.
Sussex Grand Prix dates coming up:
Haywards Heath 10m – Sunday 30th April
Hastings 5 Mile – Sunday 7th May
Horsham 10k – Sunday 21st May
Rye 10m – Sunday 28th May
Summer Pub runs
Summer's here and the summer pub runs kick off on the 27th April. Go along and join in, you really don't know what you're missing, trail running at its very best. Click HERE for the 2017 summer pub run schedule. The runs and walks follow footpaths, bridleways, byways and permissive paths through our wonderful countryside, through woods, across fields, over hills and beside rivers and canals. The runs are usually between 6 and 7 miles. We hope to have two groups one faster than the other; both groups follow a pre-marked route on maps provided by the route organiser, we have not lost anybody yet!
Itchingfield Time Trials
John Dykes has kindly agreed to put these on again this year. The time trials are a fun club event for all club members over the summer period. They take place on the second Tuesday in the month (except Sept) on club night and start from BBH leisure centre with a warm up jog to the old Itchingfield Primary School. The ITT offer you the chance to see how your performance improves (or not) over the summer and the most improved man and woman will win an award!Dates are below:
9th May 7.30pm
13th June 7.30pm
11th July 7.30pm
5th Sept 7.00pm (Note earlier start time due to less daylight hours)
Please see the new website for further details
Vitality London 10k places with Action Medical Research
The date for the Vitality 10K has been set for 29th May 2017 and members, you can get a discounted place with Action Medical Research
For only a £25 registration fee and with no fundraising commitment, Action Medical Research ask you to raise what you can to support their charity. They will even throw in a free running vest for each runner to write their own messages on. (The standard entry fee is £30, or £28 for club members.)
And the great news is that you can still register your club name and appear on the results for the club. So it's win – win!
Club members can register for their £25 place using this link:
https://www.action.org.uk/vitality-london-10000
New Trail Running Club in Chichester
A new trail running club in Chichester will be organising regular monthly trail runs and welcome runners of all abilities to join them. It's free and their runs are delivered by Salomon trained instructors. With runs organised right across West Sussex Karibu hope you might like to run with them as an alternative run to shake up your training and meet new local runners.
To get on their mailing list visit their website (www.karibu.club), hit the Join Us button, select the appropriate fitness level and they will email runs suitable. They also have a Facebook page for updates.
That's it for now folks! Keep on jogging.