Due to the popularity of other local "Get Running" 0-5k type courses and also parkruns around the area, we have decided to change our training plan towards a "Keep on Running" course, taking new runners from 5k to 10k.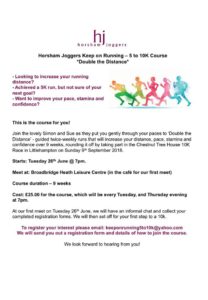 The new 12 week course will run from 26th June 2018. We will work towards running the Chestnut Tree House Littlehampton 10k on Sunday 9th September. Please sign up to the race online if you want to take part. You may also wish to raise some money for the charity.
We will be running on Tuesdays and Thursdays at 7pm from Broadbridge Heath Leisure Centre, and parkrun on Saturday mornings.
The cost for this course is just £25
To register an interest please email: keeponrunning5to10k@yahoo.com
Our schedule will provide the framework for the course, although we reserve the right to do something different from time to time. Please ask if you have any questions.
Notes
Easy run = very light jog "the speed of chat"
Steady run = Run with more effort, breathing harder, hard to talk
Hard run = faster running with concentration, can't talk and run
Fartlek = Varied pace (jog/walk/run)