Committee activity
At the recent committee meeting we discussed the usual new membership and club accounts as well as club kit, website updates, new and improved Learn to Run course, club training, up and coming events including the Horsham 10k and encouraging more people to help with various club tasks. We agreed to meet again on 29th March. More on some of this later.
The Chairman's bit
How many people does it take to "run" a running club? Fear not, I am not about to take up a career in stand up comedy! But the answer is more than you might think…..
As the Club grows so does the list of things that need doing to keep the club running to the high standard it does currently. So I would like to appeal to any of you who may have some time to offer your particular skill set to Horsham Joggers. The jobs, some of which are illustrated below range from the very small to single one off projects to being a fully fledged committee member (which actually only involves a meeting every 6 weeks, with as many or as few jobs in between as you can commit to!) or maybe even taking up the Chairman's job in the future! If you are interested please email info@hj or speak to one of the committee members anytime and thank you in advance for your support.
Free talk on Marathon Training
ED – We've received this message from Anna at Cranfold Physical Therapy Unit……..
We are very lucky to have Chris Finill who lives locally to us in Cranleigh to come and give a free talk on Wednesday 1st March. Chris has competed in every London Marathon and will be sharing his experience, and giving out some useful advice and tips.  Physiotherapist Wendy Anne Harrison will also be giving some advice on stretches and warm up. I have added a poster below as I thought that some of your members may be interested in attending.  This talk is free but you will need to book your place. Kind regards, Anna
South Downs Way 100 mile Relay –  Saturday 3rd June
Arguably the best 'running' day out of the year! We are looking for Horsham Joggers to take part in this "invitation only" event for about 50 teams. Horsham Joggers have been invited once again to enter two teams (of six). This is a relay race over the 97 miles of the South Downs Way, starting at Beachy Head and finishing at Winchester. Each team consists of six runners who each run three non-consecutive legs of the relay. The distance of each leg is somewhere between 4 and 8 miles and you'll have a good break between each of your 3 runs. Each runner will run somewhere between 15 – 18 miles over the course of the day, almost entirely off road. The team travel between the start/finish points of each leg by minibus. There is a time limit to complete the event, meaning that an average pace per mile of just over 8.5 minutes is required (over the whole distance). In the past we have had teams consisting of a good mix of different paced runners, with some running faster and some slower than the 8.5 m/m average required. Although a fairly tough (it's hilly!) long day, it is a great event with a lot of team spirit and camaraderie.  Having done it twice I, and I'm sure everyone else who has ever taken part, will confirm that the sense of achievement and fun had is immeasurable. Entry cost is subsidised by the club, the cost per runner is expected to be £25.00 to cover minibus and fuel costs. In addition to 12 runners there are vacancies for a minibus driver and a navigator for each team.  At this stage if you would like to take part (or even if you only think you might be interested in taking part) or want to know more please e-mail John Willcox: johnw@ohob.co.uk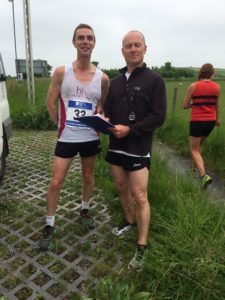 Full details of the event can be found on the organisers website: http://www.southdownsrelay.co.uk Get in touch and get your name on the list, you won't regret it!
Sussex Road Relay's @ Christ Hospital – April 1st 2017
This year the Sussex Road Relay's at Christ Hospital will be taking place on Saturday April 1st. If you would like to participate as part of a team please contact Pete O'Connell and he will provide you with further details of entry requirements and placing you into a team. Email address is as follows: purpledrummer@sky.com
Website updates
The updated website is almost ready to go live with the addition of our new "Member Zone"! In the very near future, all current members will be receiving an email which will contain details of how to log in to the new Member Zone. Here you'll be able to purchase club kit, pay your annual hj and UKA subscriptions as well as club entry to all WSFRL races up to 5 days prior to the race and all via your PayPal account. Please keep an eye on your inbox (and junk box) for more details, go to our website, click "Member Zone" and enter the information on the email. We hope to have this all working by 12th March at the latest.
Membership subscriptions
Don't forget that your annual subs are now due on 1st April to bring them in line with the UKA affiliation subs. You'll be able to pay these via the new Member Zone on the website. Also, the date for our annual AGM has been confirmed as Tuesday 25th April. More on this next month.
We need your NOMS!
With the AGM just around the corner, now is the time to cast your votes for Jogger of the Year (JOY), Newcomer of the Year (NOY) and new for 2017; Volunteer of the Year (VOY)! So if you know anyone who you'd like to nominate for these awards, please email info@hj with a reason why you feel they deserve it. The committee will meet again on 29th March to shortlist the noms and select worthy winners.
Get Running for 2017!
The new name for our highly successful Learn to Run course and James, Kirsty, Saul and Claire have kindly volunteered to coach our new recruits from zero to 5k over 10 weeks followed by a new 5 to 10k improvers group after that. Sessions begin on Tuesday 11th April at 7pm and continue every Tuesday/Thursday evening at the club and Saturday morning (yes you read it correctly!) in Horsham Park at 8am so volunteers can still get a Parkrun in afterwards. The cost is £50 for the first 10 weeks and this includes an official HJ T-shirt, joining fee and annual membership. For more info or to express an interest, please email info@hj.
Marathon Minibuses
Yes, it's that time again when we need to know if there is enough demand for a club minibus to either the Brighton or London marathon. For a small donation of about £8 (TBC) we can take the stress out of getting there and back. Please email info@hj to express an interest in this and we'll tot up the numbers. Buses take between 14 to 16 passengers and are only viable if we can fill them up!
Post Marathon Pasta Party
This will be on Friday 28th April at 19:45hrs – Location and details TBC soon.  If you are interested please email James Munden munden888@yahoo.co.uk
Challenge Trophy update
Congratulations to all who competed in the first Challenge Trophy race this season at Chichester earlier this month and especially to first hj Male, Neil Boniface and first hj female, Lucinda Potten. Full results for the other 5 year age categories will be revealed at the awards presentation later this year. The next Challenge Trophy race is the Haywards Heath 10 mile on Sunday 30th April.
Horsham 10k photos
Calling all dronies! Do you have a drone or do you know someone who does? We'd love to hear from you so that we can discuss aerial filming and photos on the day of the race (21st May 2017). Obviously the operator will need all the relevant permissions etc and most importantly, insurance to fly it above the runners on the rugby fields. Just email info@hj with your details.
Dates for your diary
Sunday 5th March – Eastbourne Half Marathon (SGP)
Sunday 5th March – Steyning Stinger Marathon and Half Marathon
Sunday 12th March – West Worthing 5 & 10k
Sunday 19th March – Hastings Half Marathon (SGP)
Sunday 29th March – Mel's Milers 10k
Saturday 1st April – Sussex Road Relay Champs, Christ's Hospital
Sunday 9th April – Brighton 10k and Marathon
Tuesday 11th April – "Get Running for 2017" course starts
Monday 17th April – Lewes Easter Monday races (WSFRL)
***Save the dates***
AGM – Tuesday 25th April
Pasta party – Friday 28th April
That's all folks!