Committee activity
At our recent meeting we welcomed two new members in Sharon Gibson and Gemma Berrill and discussed new joiners, club funds, club kit distribution, member zone orders, forthcoming events, BM/LM marathon – minibuses/pasta party/ballot rules, AGM matters, volunteering and the hj challenge trophy. We agreed to meet again on 14th June. More on some of this later.
The Chairman's results round up
Saturday 1st April saw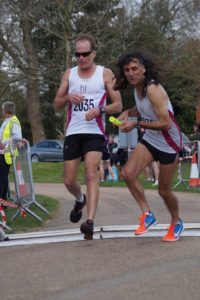 5 teams take part in the Sussex road relays at Christ's Hospital School, our senior men's team (Richard Lee Wright, Matthew Anstee Brown, Harry Wilcox, Mal Thornton, Raff Vitale and Matt Mason) finished 16th with the Veterans team (Simon Perkins, Neil Boniface, Steve Wigmore and Pete O'Connell) getting a bronze medal! The Men's 60's (Keith Valentine, Steve Wilson and John Dykes) came 7th and the ladies V40's (Janine Littler, Ali Gormley and Val Purnell) finished 12th with the V50's (Miranda Huisman, Diane Ferguson and Lorraine Treadwell)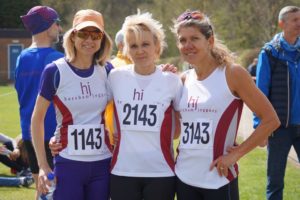 a great 5th. On the same day Neil Boniface finished 2nd in the Paddock Wood Half Marathon in 1.08.48 with Finbarr Cotter and Andy Jefford finishing in 2.04.00 and 2.16.17 respectively.
Marathons then took precedence with over 50 HJ's finishing in the Brighton marathon in very h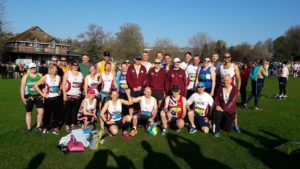 ot conditions and 16 completing the London 2 weeks later. Some great PB's, first time marathons and new members all acquitted themselves admirably and a special mention to Matt Anstee Brown and Shelly Garratt who achieved "good for age" times for next year!
Parkrun produced 2 notable performances too with Neil running the fastest ever parkrun for a V40 (15.21) and Matt Mason first finishing in the Milan parkrun.
Val Purnell put in a tremendous performance at the British Masters 10K Championship at Gravesend Cyclopark. She finished an amazing 2nd overall and first in the Southern Veterans category taking a silver and gold medal respectively in a time of 48.55. That's all folks!
Membership subscriptions
Don't forget that, if you haven't already paid them, your annual hj subs are now overdue! At just £10 for an individual and £20 for a family (2 adults and multiple U16's living at the same address) it's an absolute bargain! You are now able to pay these via the new MemberZone on the website. Just follow the link sent to all current members by email and login to enjoy our webshop. If you can't login, please let us know via info@hj.
Horsham 10k update
We have a full adult entry for our home race on 21st May and more volunteers than you can shake a stick at! Thanks to everyone who has offered to help organise, marshal, meet and greet or bake! You really are what makes this club tick and what makes us Horsham's friendly running club! Instructions will be sent out on Monday 15th giving details or your role, who to report to and at what time. U16 Junior entries are still available at £4 per runner.
Kit distribution
The new MemberZone is proving to be a phenomenal success with over 200 orders being processed since its launch! However, please remember that all orders are manually processed and the kit distributed by hand, by volunteers mainly on Tuesday club nights or at Parkrun. Please make yourself available to collect your order in person to save us time and you money!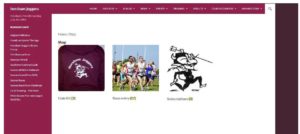 Itchingfield Time Trials
The Itchingfield Time Trial takes place on the 2nd Tuesday in May, June, July and 1st Tuesday in September. The first three start at 7.30pm and the last one at 7pm. If you haven't tried it before, please jog to the old Itchingfield Primary School as parking is limited, collect a number and pace yourself against an "undulating" 5k road route. Your aim is to improve your time over the 4 time trials with your best 3 times counting towards your total improvement. So if you miss one trial, all is not lost! It's a great club event, whatever your ability. Prizes are awarded to the top lady and gent who improve their times at the "lavish" HJ awards night later in the year.
Discover the West Sussex Fun Run League
Are you missing out on a great experience?  See our fabulous West Sussex countryside, and enjoy the companionship of your fellow runners. Why not come and join us at West Sussex Fun Run League races. You will be able to add it to your list of achievements. Entry fee £3.00 in advance via the MemberZone, or see Jenny Boyd with cash. £5.00 to enter on the day. For forthcoming races see the dates for your diary section below.
 Marathon Entry by club Ballot
Following the recent spring marathons we added a couple of rules regarding places issued to members via the club ballot. These take effect immediately so if you are planning to enter the ballot in December, make sure you will qualify by doing your volunteering stint beforehand. LM and BM rules 2017 v2
Ed – We've received the following message from Korina……
The Art of Running
The Physio Therapy Centre, Haywards Heath June 4th 2017 1.30-5pm
This course is an opportunity to learn how to improve your running technique with internationally acclaimed Level 4 running coach Malcolm Balk
In 1991 he brought running and the Alexander Technique together when he developed the Art of Running workshops which have been enjoyed by runners all over the world. The workshops teach better use and awareness of the body and mind which leads to less injury and a more enjoyable and successful running experience. He is the author of two books: Master the Art of Running   https://www.amazon.ca/Master-Art-Running-Performance-Alexander/dp/1843405431/
and Master the Art of Working Out   https://www.amazon.ca/Master-Art-Working-Out-Performance/dp/1843403501. For details visit – www.theartofrunning.com
Ed – David has contacted us with the following messages……………
Fancy an outdoor gym in Horsham Park?
Horsham District Council has received a grant for the installation of outdoor gym equipment in Horsham Park. The equipment is intended for use by adults of all abilities and fitness levels. We would like to ensure that the equipment purchased is equipment the community will use and its design and location reflects the community's opinion as far as possible. We would like as many people as possible to complete the survey so we can consider the answers and suggestions during our planning process. Here is the link to the survey about installing outdoor gym equipment in Horsham park. Please feel free to pass it on for others to complete. https://www.snapsurveys.com/wh/s.asp?k=148361688687
Riverside Walk 2017
You are invited to join Horsham's 4th Annual Riverside Walk on Saturday 15th July 2017 starting at 10.00 am from the Rugby Club, Hammerpond Road. The complete route is 13 miles but for walkers/joggers with less time or energy, a free, pick-up minibus will be at various locations to take them back to the start. We are walking the route in a clockwise direction. Cold drinks: Chesworth Farm – from 10.40 to 11.15 am. Lunch: Warnham NR – from 12.00 to 2.00 pm. New House Farm café – from 14.15 to 15.30 pm. This year we are asking walkers to consider obtaining sponsorship in aid of Action Medical Research but this is not obligatory and you may like to raise funds in the same way but for another charity. More information on our website www.horsham.community
R.S.V.P. horshamriversidewalk@gmail.com or 07780 701184. Contact Action Medical Research for a Sponsorship Pack (or donate on the day). kking@action.org.uk or call 07821 117881
Dates for your diary
7th May – Portslade Hedgehoppers 5 (WSFRL) ***EVENT FULL***
7th May – Hastings Runners 5 mile (SGP)
7th May – Run Wisborough 5 & 10k
9th May – 1st Itchingfield time trial
17th May – Trundle Hill Run (WSRFL)
21st May – HORSHAM 10K (SGP) ***10K FULL – Junior places available***
24th May – Highdown Hike 3.5miles (WSFRL)
28th May – Rye 10miles (SGP)
4th June – Worthing 10k (SGP)
11th June – Hove Park 5k (WSFRL)
13th June – 2nd Itchingfield time trial
***Save the date ***
28th Aug – Annual hj Horsham Round and Summer BBQ
Well that's it for now. Enjoy the late spring warmth and sunshine 😉