ED – A bumper crop of info this time so let's crack on…………………
Committee activity
Your committee met on Wednesday 20th June and discussed the usual club finances, membership  and forthcoming events as well as the Horsham 10k round up, "Keep on Running", Twitter updates, Club kit, BG1/2 training, SGP award qualification, Horsham Round and Gun Powder Trot. We agreed to meet again after a summer recess on 15th August.
The result round up
Wow! What a busy lot you've been! So many races to report on this time with incredible performances by all of you. To read all about it, CLICK HERE for the latest race result roundup compiled mainly from press reports by Iain.
Keep Running!
Our new course leaders are ready and raring to go next week with the start of our brand new 12 week course to take those new to running 5k up to the next level with the goal of the Chestnut Tree House 10k on 9th September. Training takes place on Tuesday and Thursday evenings at 7pm and at parkrun on a Saturday. And all for just £25! So tell your friends to look HERE to book their place. We are also looking for volunteers to help the course leaders to deliver this safely and to encourage the improvers. If you can help occasionally or want to be a permanent part of the team, why not send an email as well.
The Andy Spriggs Running Spirit Award
We were delighted to see Sandra and Jo at the recent Horsham 10k to present the inaugural Running Spirit Award in Andy's memory. The award will be presented annually to someone who demonstrates exceptional generosity, courage, stoicism, passion, perseverance or sportsmanship. All qualities which Andy bought to the club. Unfortunately our recipient had other ideas and sloped off home before we could catch up with him. Fortunately though Mick Duplock wasn't quite so quick at club training on Tuesday recently and we caught up with him there. Congratulations Mick! We can't think of a more fitting recipient for this year's award.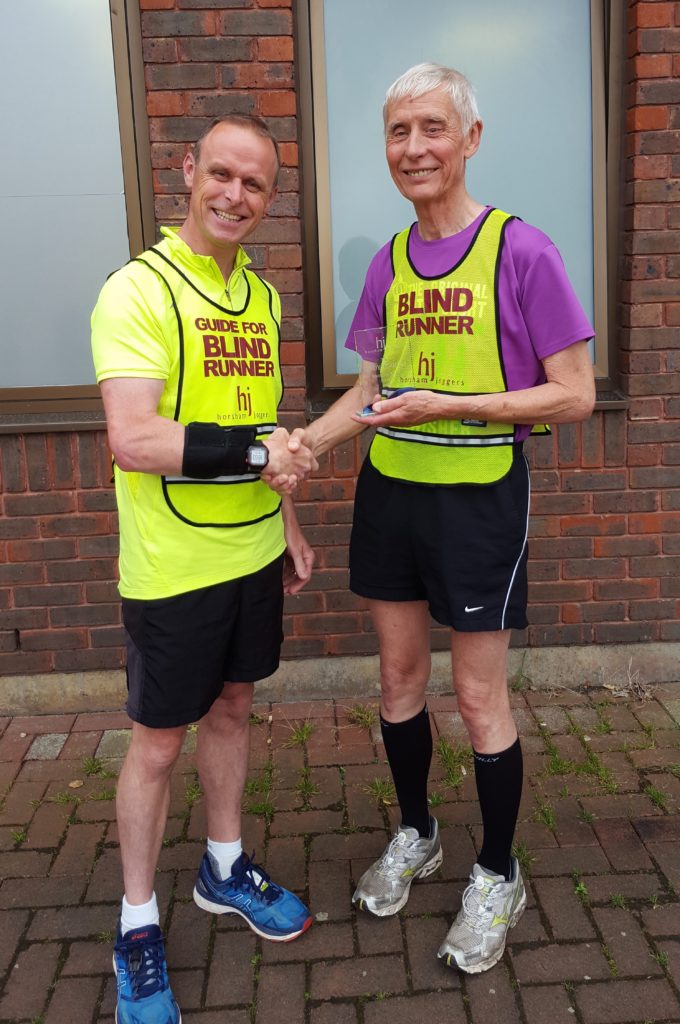 Horsham 10k Junior fun run
Junior RD Sharon has kindly produced this little report on what the juniors got up to before the main event. Thanks Sharon! Horsham 10k Junior report
Barns Green Training Plan
With 15 weeks until the day, Coach Fiona has been busy preparing a new training schedule for our favourite half marathon on 30th Sept. The plan starts on 1st July and uses your usual Tuesday/Thursday club sessions along with structured Sunday running. CLICK HERE for details.
Riverside Walk 2018
The next Annual Riverside Walk takes place on Saturday 14th July 2018. As before the start is at 10.00 at Horsham Rugby Club, Hammerpond Road, RH13 6PJ, where there is ample parking for cars. It will be going again in a clockwise direction, calling first at Chesworth Farm, then onto Warnham Nature Reserve and Strawberry Fields Tearoom at New House Farm. A mini-bus will be available to give lifts back to the start from various points. Registration for the Event can be done by phoning 07780 701184 or emailing horshamriversidewalk@gmail.com. Registration is not compulsory but will help them with numbers to expect.
Horsham Round organiser
As noted in the previous newsletter, this will be Phil's last year as organiser for the annual Horsham Round so its future depends on new help! We have 5 guest clubs joining us by invitation this year and we need a new organiser to shadow Phil and learn the ropes. If you've ever run in the event, you'll know that it's a well established, self-navigated, self-timed, self-managed event so there's really not much to organise! If you have stood on the sidelines wondering how to get more involved with hj then this could be your chance! CONTACT US for more details.
Gunpowder Trot – 4th November
Ok, so you're probably too busy scoffing strawberries and cream to even think that the days are now getting shorter and it will soon be Christmas! But here at hj HQ the wheels never stop turning and our new event organiser, Margaret Wadman, is on track to deliver another fantastic fun run around the beautiful Denne Park and Chesworth Farm. However, we need to fill some key roles in order to distribute the work load evenly among club members. We are looking for organised and self motivated individuals to complete these tasks:
Race Secretary (collating entries and issuing numbers on the day).
Finish Manager (setting up and managing the funnel, timekeepers, number checkers and results).
Chief Marshal (Briefing volunteers, making sure the course is ready for the start, coordinating emergencies or problems around the course during the run).
Course break down and clearance to the lock up (following set up by Phil).
If you have what it takes please CONTACT US to be part of it.
Marathon madness!
ED – Busy mum of three, Kate Short tells us what motivated her to be even busier by training for 3 marathons in 50 days!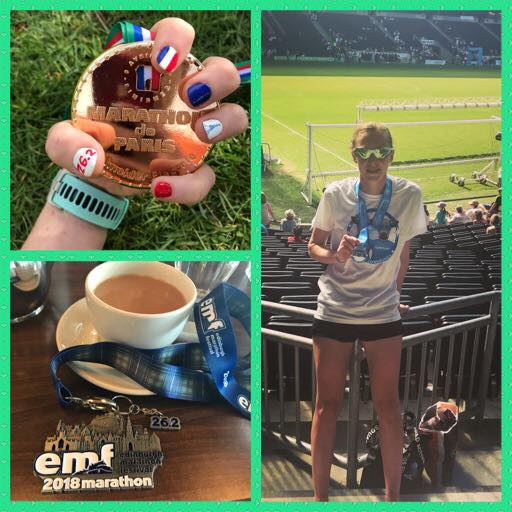 Last year 3 separate friends suggested 3 separate marathons & for some crazy reason I said yes to all of them! So it's fair to say it's been a busy start to 2018 and here is my little review of 3 marathons in 50 days.
Paris Marathon 8/4/18
An extremely stressful start to what should have been a wonderful weekend away, we flew out on the Saturday and our flight was delayed which meant we were going to miss the expo where we had to collect our race packs! Thanks to the amazing power of Facebook I made a cry for help on the #parismarathongirls group and an extremely kind lady collected our packs for us and we met her later at her hotel. The marathon itself was lovely, it was just a whirlwind weekend. Marathon time: 4hours 20 minutes.
Milton Keynes 7/5/18
The hottest bank holiday! It was a scorcher! But the people of Milton Keynes were brilliant with loads of kids lining the route with their super soakers. It was a beautiful route, lots of parks to run through & a fantastic finish line inside the football stadium. We paid for the park & walk (which feels like a really long way to walk!) but there is parking at the stadium which would be a much better option. Marathon time: 4 hours 43 minutes.
And finally Edinburgh Marathon 27/5/18
This has to be my favourite of the 3, maybe because I was relieved to have completed all 3 and also because I got a PB! Your race number gets posted to you which makes it all much easier. We flew up early Saturday morning & after dropping our bags at the hotel caught the bus into the city centre to work out how to get to the start line. It's such a beautiful city, although we didn't explore too much as we wanted to save our legs for the next day. Edinburgh definitely had the best finish line out of the 3, the crowds were awesome and the finish funnel with the music, I felt like a true athlete! The challenge was getting back to the airport on time because from the finish line you have to take a shuttle bus back to the city centre which takes about an hour. So make sure you book a late flight orr stay an extra night. Marathon time: 4 hours 9 minutes.
Kate
SGP 10's
With a reduction in the number of SGP races this year, the committee has re-looked at the criteria and agreed to reduce the amount of races needed to win an award to 6. With 7 races remaining in this year's calendar, there is every chance to win a club award and valuable points for the club. WSFRL races remain at 10 to qualify for an award.
Club colours
We've streamlined the club kit purchasing process and it's now in the very capable hands of Stephen Entecott. Just log into the MemberZone and place your order using PayPal or your credit/debit card. And remember, if you are entering ANY race as a Horsham Jogger, wear your club colours with pride!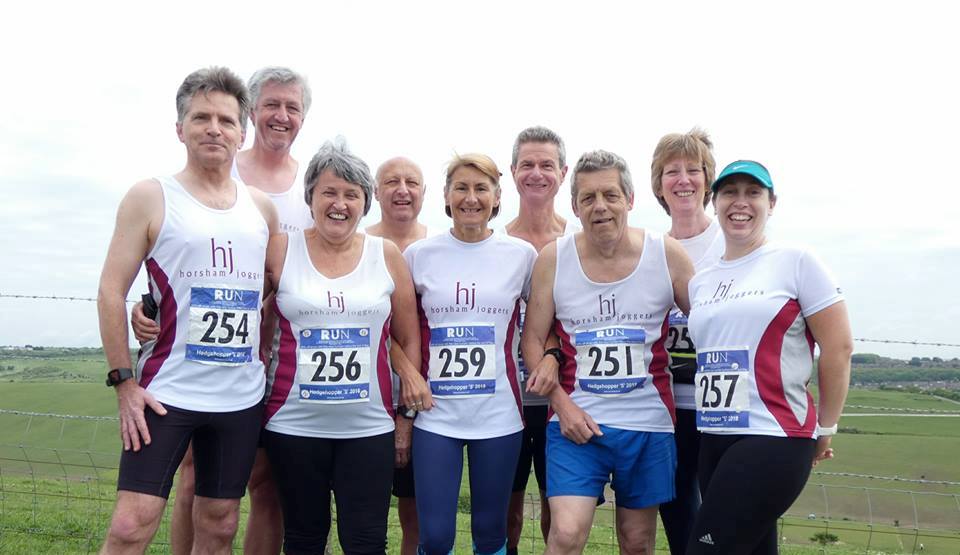 Dates for your diary
24th June – Heathfield 10k (SGP)
24th June – Polesden Lacey 10k
27th June – Harder than Snails 10/15k Shalford
30th June – Richmond Park 5/10k
1st July – Bewl 15 (SGP)
4th July – Roundhill Romp (WSFRL)
8th July – North Downs Way Marathon
8th July – Cranleigh 10k
8th July – Eastbourne 10k
11th July – Brighton Phoenix 10k (SGP)
14th July – Riverside Walk
29th July – Seven Stiles (WSFRL)
1st Aug – Highdown Hike (WSFRL)
19th Aug – Hornets Stinger (WSFRL)
Don't forget; if you've got something worthy of the newsletter then please let us know!