Committee activity
Your committee met on Wednesday 15th August and discussed the usual club finances, membership  and forthcoming events as well as the "Keep on Running" 5 to 10k course, Club kit, Horsham Round and Gunpowder Trot. We agreed to meet again on 26th September.
The result round up
Despite the heat, so many of you have been out and about flying the hj flag over the past eight weeks. To read all about it CLICK HERE for the latest race result roundup compiled mainly from press reports by Iain.
Entries are now flooding in for this bank holiday Monday social run and we have guest teams joining us from Horley Harriers, Crawley Run Crew, Mel's Milers and Crawley Saints and Sinners. Teams divide up the 29 miles (consisting of 7 legs) between them and set off early from Horsham Park Bandstand with the goal of returning with everyone else at 2.30pm. To avoid any delays, we will have three BBQ's available this year so bring your own food and drink and we will provide the heat! This social after party is open to all members, friends and family (not just those running the round) and is now considered to be our primary social event of the year. So don't miss out!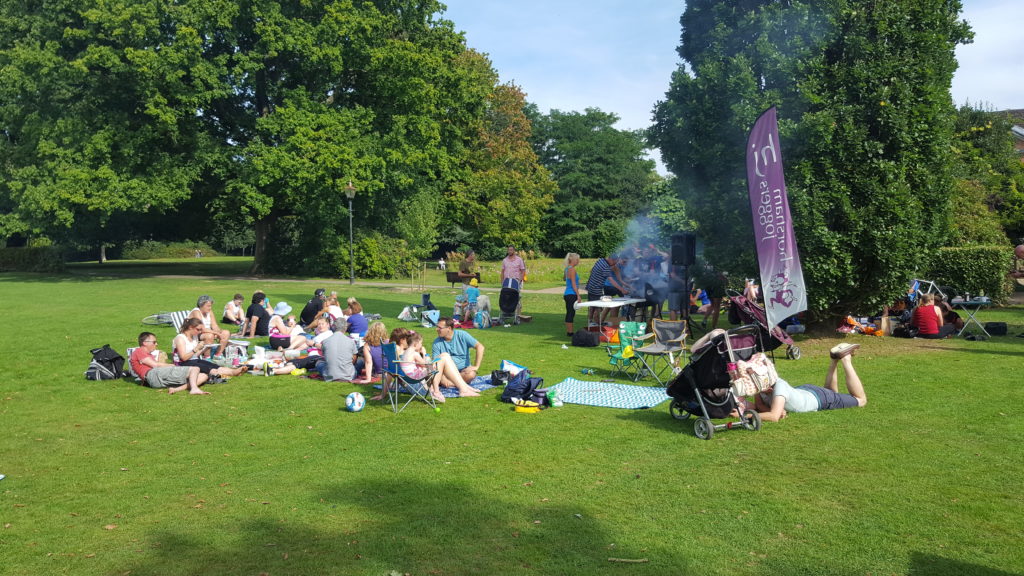 Horsham Round organiser
We're delighted to announce that James Munden will take over from Phil next year. It's great to see this annual event go from strength to strength and to know that it will be in very capable hands. Thanks James!
Gunpowder Trot – 4th November
Margaret Wadman is keen to deliver another fantastic fun run around the beautiful Denne Park and Chesworth Farm. However, she still needs to fill some key roles in order to distribute the work load evenly among club members. We are still looking for organised and self motivated individuals to complete these tasks and the future of this event depends on it! We really can't do this without people stepping up to fill these key roles!
Race Secretary (collating entries and issuing numbers on the day).
Finish Manager (setting up and managing the funnel, timekeepers, number checkers and results).
Chief Marshal (Briefing volunteers, making sure the course is ready for the start, coordinating emergencies or problems around the course during the run).
Junior run organiser
If you think you have what it takes, please CONTACT US to be part of the team.
Keep on Running 5 to 10k
The response to this course has been phenomenal with many participants commenting that it has stopped them from stagnating following their initial running achievements to 5k. Sue and Simon have done a superb job of delivering this course for all abilities with the help of a few regular helpers. New runners are currently in week 8 of 11 and are all on target to graduate at the Chestnut Tree House 10k in Littlehampton on 9th September and can then continue with hj if they want to.
Itchingfield Time Trial
The 4th and final ITT of 2018 takes place on Tuesday 4th September at the slightly earlier time of 7pm. Numbers were low in July and John wasn't feeling the love! Please support this great event and remember to share lifts or park away from the start as we rely on the goodwill of the locals to ensure this event can continue.
We're always keen to see new people leading group runs on a Tuesday evening as it helps to spread the load among our regulars. However, we're also aware that some who would like to lead feel daunted by the task and don't know where to start. So if you would like to lead, just come along on a Tuesday evening with a route in mind (or on paper!) and ask your regular leader if you can take the front and navigate/pace the group while they follow. If you don't have a route, we have hundreds stored on the hj Good Run Guide website (login details by request) and we even have some printed and laminated within the hj file at BBHLC reception desk. It's a great opportunity to give back to the club while having the comfort of an experienced leader keeping an eye on your progress.
Are you missing out on a great running experience?  Why not come along and support Horsham Joggers in the West Sussex Fun Run League (WSFRL) races?
The next race is the Fittleworth 5 mile run on Sunday 2nd September at
11:00am
(there is also a Junior race at
10:15am
). Adult race entry is only £3.00 through our MemberZone or £5.00 on the day. There are always fantastic tea and cakes afterwards in the village hall and this is also a Horsham Joggers Challenge Trophy race – so would you like to receive a trophy from the club for being best in your age group?
Come along and join us for a great run in the Sussex countryside. Every ability welcome, so step out of your comfort zone and have some fun. There are 5 races left this year, plus our own club race 'The Gunpowder Trot' on Sunday 4th November. Club members are required to assist at this race before taking part. Just a little reminder that entry to the WSFRL races closes on Wednesday for a Sunday race and Sunday for a Wednesday evening race. This is to allow our bulk entry to be submitted to the league in good time for the race. Entry on the day is subject to availability and a bit more expensive!
Goodwood Running Festival
Ed – Joe has been in touch with an offer for you. Please CONTACT US to express an interest. If there is a good amount of interest we will put all names in a hat.
I am writing to introduce our new event the Running Festival at Goodwood set to take place on October 14th. We at UK Run Events (www.ukrunevents.co.uk) will be hosting a family lap, 10K and Half Marathon at this prestigious venue. We would like to offer a free place for one of your club members to take part in a race of their choosing. If you could just reply with which race your chosen runner would like to take place in and we will send you a code for them to register at no cost. We are very pleased to announce that our partners for this event are national retailer Up & Running as well as Ron Hill, Hilly and Altra. The event will be the first ever "live" race to be a part of the Ron Hill run every day challenge for a month which takes place each October. All competitors receive a Ron Hill technical t-shirt, bespoke medal, free pre and post-race massage, free photography and goody bag!
Track training – 30th Aug
BBH football club will play a match on this date so we have been asked to ensure that all runners vacate the track by 7.30pm. In return and to ensure our safety, we have asked BBHLC that they don't use the infield for warm up and target practice until our booked and scheduled session is over.
Dates for your diary
19th Aug – 13 The Hard Way
26th Aug – Arundel 10k
26th Aug – Newick Will Page 10k
27th Aug – Horsham Round/Family BBQ in the park
2nd Sept – Fittleworth 5 (WSFRL and hj Challenge Trophy race)
4th Sept – Itchingfield time trial 4 of 4
9th Sept – John Faulds Hellingly 10k (SGP)
9th Sept – Chestnut Tree House 10k (hj 5to10k graduation)
9th Sept – Eridge Park 10 Trail Challenge
9th Sept – Bacchus Marathon/Half Marathon
16th Sept – Richmond Marathon
23rd Sept – Tilgate Forest 5 (WSFRL)
30th Sept – Windlesham House 4 (WSFRL)
30th Sept – Barns Green Half Marathon
Don't forget; if you've got something worthy of the newsletter then please let us know!