Horsham Joggers lost a dear friend on 20th July. Tony was a key part of the club from the early 2000's until 2016 when he was diagnosed with Motor Neurone Disease which, ultimately stopped him from running. To say his time at the club was integral to the current success would be an understatement and we all owe a huge debt of gratitude to him for his leadership, straight talking, dogged determination and useful inventions.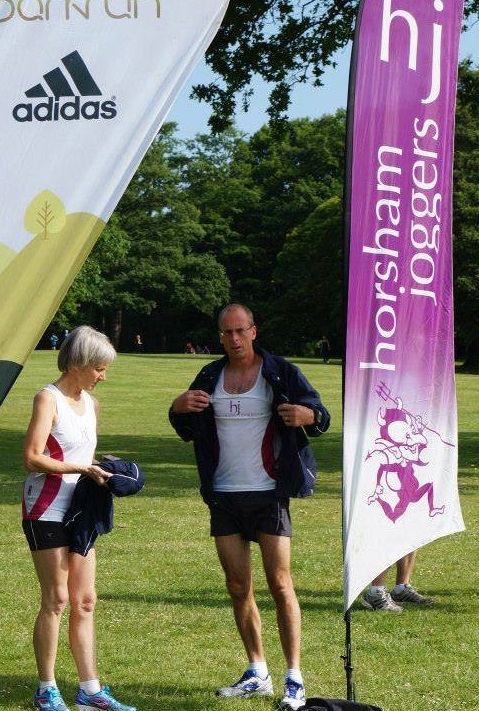 Tony grew up in Reigate and attended Reigate Grammar School before turning his hand to joinery. He joined Horsham Joggers in 2004, shortly after meeting Julia and by 2008 they were married with both standing on the committee and helping to shape the club's future as well as organising the much-loved Valentine's Run from 2008 to 13, social events and even the flagging Alf Shrubb memorial race.
When Gordon Reay stood down as chairman in April 2011, there was only really one choice to replace him and Tony duly stepped up with Julia very much in the wings supporting him. Some say that Gordon could see into the future as by October 2011 the club's future was plunged into doubt when Horsham District Council announced the closure of Broadbridge Heath Leisure Centre, without re-providing for the many clubs and community members who used it.
But what they hadn't banked on was the outpouring of objection and groundswell of public opinion, mainly lead by Tony. He stood up to the authorities, formed a Joint User Group and called our club to arms, in order to overturn HDC's decision. We marched on the council offices with our homemade placards, demonstrated in the town centre at the weekend collecting petition signatures and even ran a continuous relay from the town to the leisure centre, all to raise awareness of the plight of our club, as well as others.
He won a Community "Good Sport" Award in November 2012 for his work fighting the closure but in typically modest fashion he told the local press "I feel like a bit of a fraud, it's such a strange feeling, thank you", later adding on our social media page "Although I received the award, it's for all of the hard work put in by everyone who fought to keep the track and leisure centre".
The work that Tony put into saving our meeting place went deeper than just the visible activity. He spent countless hours writing emails, researching the legal and moral objections and meeting users and councillors alike. By 2015 the council had reversed their decision and agreed to re-provide a new leisure centre (albeit smaller and for less user groups) and by October 2018 it was opened to the public; a ceremony which Tony attended. But, he had to have the last word; writing to the West Sussex County Times the following week and reminding the champagne quaffing councillors that it was the user groups and members of the public who should be thanked for re-providing a much loved public resource.
So, if you've been to The Bridge and used the new facilities, it's fair to say that it probably wouldn't be there without Tony's tenacity and drive for justice.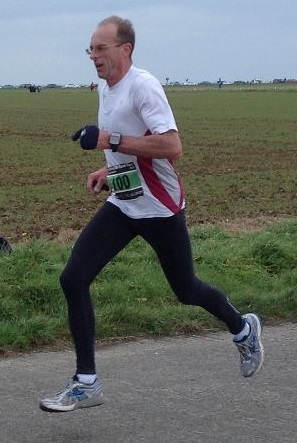 Although not really becoming a runner until he met Julia, it's fair to say that he was extremely competent and competitive. His 15 marathons, countless half marathons, 10k's, Sussex Grand Prix races, Christ Hospital relays and even his one parkrun at Horsham's inaugural event speak for themselves. Anyone who can run 5k around our lovely park in 19 minutes and 35 seconds deserves respect! His style was unique; often seen bouncing around Horsham with both feet off the ground! All arms and legs but fast never-the-less.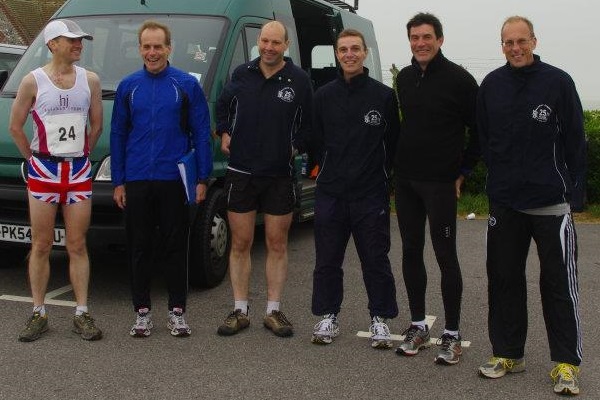 By far the best event in Tony's opinion was the South Downs Way 100 mile Relay. An invitation only event that Horsham Joggers took part in many years ago. He contacted the organisers and got hj back on the invitation list. Then, having done so well in 2012, we were invited to enter a 2nd team in 2013 and it has since become one of the highlights of the hj calendar. Tony competed in the event from 2012 to 16 and always said it was one the best days of running he could ever have. The Downs had a special place in Tony's life.
He stood down as Horsham Joggers Chairman and honorary member in April 2015 and leaves wife, Julia. Son, Jamie. Two sisters and one brother and will be very much missed by everyone who knew him. His funeral will take place on Tuesday 6th August at 3.40pm at Worthing Crematorium, BN14 0RG with a celebration of his life continuing afterwards at Long Furlong Barn, Clapham, BN13 3XN.