Committee activity
At our recent meeting we discussed the usual club finances and membership etc as well as the forthcoming SGM to allow incorporation as a Community Amateur Sports Club (CASC), the forthcoming Gun Powder Trot (WSRFL), the recent Horsham Round and summer BBQ in Horsham Park, BG half marathon training, website updates and orders, coaching, volunteering and Twittens!. More on some of this later. We agreed to meet again on 18th October.
The result round up
We have now put together a separate document, compiled from race reports by Phil and Paul Oakley over the last six weeks, so you won't miss a thing! Just CLICK HERE for the latest race result roundup.
Gunpowder Trot – 5th Nov
It's that time of year where we ask our members to volunteer to help at the Gunpowder Trot on Sunday 5 November from 9.30am to 1pm. Last year, a massive 72 of you were involved in organising the event on the day, and we'll need those numbers again this year, for our 4.5 mile cross-country course on the Denne Park and Chesworth Farm estates. New for 2017, we will be holding a 1 mile junior race this year too. Also new for 2017, we will be using Horsham Cricket Club as our Race HQ. We need volunteers to bake cakes as well as to help run the event on the day. We have a range of roles, including marshalling the course, stewarding around race HQ, manning the registration desk, and helping out with refreshments.  If you are able to volunteer either as a baker, or to undertake a role on the day, please fill in our Gunpowder Trot Form
Barn Green Half and 10k – 24th September
It's just one week until BG half and 10k and team hj is again fielding a huge squad for both events as well as a few pacers too! We want to take a full team photo on the green at 9.30am sharp so please arrive in good time, don't go to the toilet queue or run off around the field on your warm up! Just meet at the hj gazebo on the green and look out for the hj flags! After the races, we intend to stay behind for a BYO picnic (weather permitting) so why not join us and bring some post race rehydration too! 
24 hour Parkrun
hj committee member, James Munden, will be running a 24 hour Parkrun starting on Friday 29th September, finishing on Saturday 30th with (guess what!) a Parkrun! He aims to run at least 5km every hour and will have volunteer supporters running in shifts with him throughout the whole 24 hour period. A total distance of at least 120km! He will be fundraising for Chestnut Tree House (the Sussex Police charity for 2017) by selling cakes and collecting donations. To support his efforts, please come along to walk, jog, eat cake and cheers him on or visit: https://www.justgiving.com/fundraising/24hour-horsham

Volunteer Opportunity: Horsham Cricket Club Fireworks event, Saturday 28th October
Horsham Cricket Club have kindly allowed us to use their club house as our Race HQ for the Gunpowder Trot this year, at a very favourable rate. In return, they have asked if we could provide some stewards for their well-known Fireworks event on the evening of Saturday 28 October.  As well as a spectacular fireworks display, there will be a live music, plus fairground entertainment and a variety of food outlets.  Volunteers from Horsham Joggers will be required to undertake basic stewarding duties in the car park and around the venue.  In return, volunteers will receive a free entry ticket for one guest, plus a food/drink voucher.  This is a great opportunity to attend this local popular event free of charge! E-mail info@hj if you are interested in volunteering for this event.
North Downs Way 100
Continuing the theme of nutty challenges, Graham Clarke recently completed the North Downs Way 100. A 100 mile trail event from Farnham to Ashford which he completed in 27 hours and 34 minutes. When asked about it he said; Only about 10 miles were really hard. I don't know why but I enjoyed the rest. There's a stretch that goes through Ranscombe farm and then out and along the massive motorway bridge. I was fine in Ranscombe farm, but my feet couldn't handle the tarmac driveway coming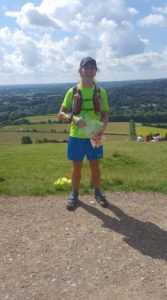 out, then the bridge with countless Samaritans signs is a horrible place to be even when you've not done 70 miles! I got cold and sleepy, my feet hurt a lot and I was losing interest in moving; I just wanted a lie down. I stopped and sat on the floor to let my feet recover three or four times then popped some painkillers. The hill to the next aid station is constantly up for at least three miles. I had a rest and a bite to eat and the painkillers started to work then ran out of there and enjoyed the rest.
Keeping our links across the pond alive, Lawrence Roy recently visited The Boston Weekly Run Club to say hello in his "singlet"! If you are planning a trip to Boston on "vacation" or running the popular marathon, why not pop in and wish them all a very nice day!
On 30th July, 14 hj members ran 24 minutes for Grenfell at Horsham Parkrun. A "virtual event" which allows individuals to enrol and run in their own time to raise funds for the Grenfell Tower disaster appeal. All finished and submitted their time in return for a beautiful medal. Congratulations team!
Sussex Cross Country Relays
GOODWOOD – 30th Sept. Pete O'Connell is once again looking to enter teams for this superb event which this year takes place the week after the BG1/2M. Details are listed HERE and if you are interested, contact Pete direct or email info@hj and we will put you in touch with Pete.
One-on-one assessment

Horsham Joggers can now offer one-to-one running assessment and provide coaching tips specific to your individual needs.  If you have any desire to improve your fitness, speed, gait or general ability, please email info@hj and Coach Claire will be in touch to discuss your needs and to book a session.
Group Leader Guides

Don't forget, if you've ever fancied taking a group on a Tuesday evening but don't know your way around, you can take a paper copy of any map with you from the file behind reception in BBHLC. There are also hundreds of routes available FREE to all current members online! Just email info@hj and we can send you the club login details for the Good Run Guide.
Twittens!

Yes, we had to Google it as well! These small footpaths, passageways and unidentified rights of way are known as Twittens and there are over 40 within Horsham which could be threatened with closure under the Deregulation act. The Horsham Society is fighting to keep these open but need evidence from those who have used them in the past 20 years. It's a bit of a long winded affair but details can be found HERE or contact The Horsham Society if you want to get involved.
Dates for your diary
17th Sept – Tilgate Forest 5 (WSFRL)
24th Sept – Barns Green Half Marathon (SGP) **hj Challenge Trophy event**
24th Sept – Barns Green 10k
30th Sept – Sussex Cross Country Relays, Goodwood
1st Oct – Lewes Downland 10miles (SGP)
8th Oct – Hickstead Gallop (WSFRL)
8th Oct – Heron Way 10k
15th Oct – Bright 10 (Sussex Road Race Challenge)
**SAVE THE DATE** 5th Nov – Gunpowder Trot (WSFRL)