Committee activity
We met again on Wednesday 29th May and welcomed new members Iain Campbell and Mark Aylmore. We discussed club finances, membership renewals, MemberZone orders and social media platforms as well as the Horsham 10k, #RunAndTalk mental health champions, summer handicap and Horsham Round 35th celebrations. More on some of this later. We agreed to meet again on 10th July.
The Results Round-up
Such a busy few weeks! We don't know quite how you fit it all in! The ever popular result round-up is HERE
Congratulations!
At the recent AGM, we presented awards to Simon Perkins – Jogger of the Year, Julie Jochimsen – Newcomer of the Year and Sue Hensman/Simon Perkins – Volunteer(s) of the Year. We salute you and all those nominated in these categories!
Membership renewals reminder
Subs are now long overdue and there are a significant number of members who's membership will expire on 30th June if they haven't renewed by then. The committee feels that 3 months is more than enough time to renew the £10 required. The best way to renew is via the MemberZone using PayPal or Card. Remember, if you joined after 1st Jan 2019 then your membership carries through to 31st March 2020.
Itchingfield Time Trials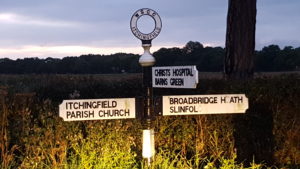 The first ITT has been and gone and the results are now on the website. We've noticed a decline in numbers recently which is a great shame given the time and effort put into this by John and his team. The 2nd ITT is on 11th June so, if you haven't tried it before, you race against yourself around a challenging 5k road route with the aim of making consecutive improvement over 3 of the 4 time trials. Parking is limited so either jog from The Bridge or car share. Dates: 11th June@7.30pm, 9th July@7.30pm and 3rd Sept@7pm.
Mid-Summer Handicap
Nigel Blackbee has kindly agreed to help with this again at 7pm on 18th June. We will be using the parkrun course in Horsham Park and setting off groups at timed intervals based on your 5 and 10k times and, if we've got our sums right, you will all finish together! A prize for the first finisher will be awarded at the awards evening later this year.
Riverside Walk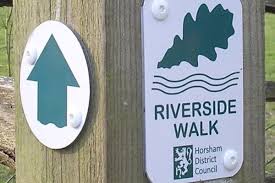 A popular event for hj's, this is being organised by Horsham Town Community Partnership on Saturday 6th July and is a 13 mile route around Horsham which can be ran, jogged or walked. If you are interested in taking part, details can be found HERE on how to register your interest in taking part.
Horsham Round organiser
This year will be our 35th anniversary celebration and we are still looking for a willing volunteer to organise what is now a well set out plan for the annual Horsham Round on 26th August. Please CONTACT US for more information. We have a commemorative T-Shirt being designed and are currently looking a new foody options after the round as well!
Run And Talk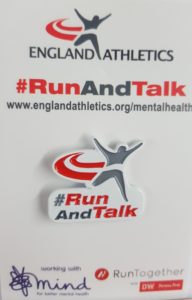 Horsham Joggers have now officially joined England Athletics #RunAndTalk programme, with Mark Aylmore & Geri Smith being appointed as Mental Health Champions on behalf of the club. The #RunAndTalk programme has been created with the aim of improving mental health through running in England, and is supported by Mind, the mental health charity. We are excited to be a part of this programme, as we look to get people talking, sharing their experiences and removing the stigma associated with mental health. Mark and Geri plan to incorporate #RunAndTalk sessions into the Horsham Joggers programme, as well as targeting specific events through the year such as Time to Talk Day (January/February) and World Mental Health Day (October). Events will be open to friends and family, and will almost certainly involve cake whenever possible! We will soon include a section on our website where people can find more information, get involved and also provide useful links, support and guidance for those who might need it. Watch this space……..
Through the programme we hope to have a positive impact on our members and wider community by promoting and supporting the benefits that running can have on all our physical and mental wellbeing. With your support we are sure this will prove to be a very positive addition to the club.
Gunpowder Trot
Our 2nd club event of 2019 will the "Gunpowder Trot" on Sunday 3rd November 2019. This is a 4.5-mile Fun Run which is part of the West Sussex Fun Run League and we have some exciting opportunities for sponsorship of the event! The race will be open to 500 senior runners and has sold out in advance during the past few years. Additionally, a junior race of 1 mile for under 16s will also take place with around 50 runners aged between 4 and 15.  Full details of last year's race can be found HERE
We are seeking a sponsorship amounts of £500 for the senior race and £100 for the junior race and would like to know if any club members can help by providing a corporate contacts/leads which we can follow-up.
Sponsorship for the senior race provide following benefits to the sponsor: –
Sponsor's logo being shown on the on-line entry page where it will be seen by all who enter.
Sponsor's company having a presence at the event with the option to set up a tent/display (if they have such a thing) with company promotional banners etc.
Recognition of the sponsorship at every opportunity through all promotional material, local press coverage and during the pre- and post-race announcements on the day.
An option to have the company logo printed on all competitor's race numbers to be attached to their running singlet.
Sponsorship for the junior race would provide the following benefits to the sponsor: –
Provision of "goody bag" suitable for ages 4-15 which can include items associated with sponsors company. Bag could include sponsor's products and logo if wanted
Sponsor can have presence on race day to distribute bags to junior runners at the finish.
If you think you may be able to help, please contact Margaret Wadman using our CONTACT US page.
Dates for your diary
2nd June – Horsham 10k (SGP)
8th June – Box Hill Trail Running Festival
11th June – 2nd Itchingfield Time Trial
16th June – Hove Park Races (WSFRL)
18th June – hj Summer Handicap
22nd June – Downland Dash (WSFRL)
22nd June – Midnight Sun Marathon, Tromso, Norway
22nd June – Race to the King
23rd June – Heathfield 10k – (SGP)
30th June – Lingfield 10m and 10k
30th June – Eastbourne 10k
3rd July – Roundhill Romp (WSFRL)
6th July – Horsham Riverside Walk
7th July – Bewl 15 (SGP)
7th July – North Downs Way Half
10th July – Phoenix 10k (SGP)
14th July – Hornets' Stinger (WSFRL)
Don't forget; if you've got something worthy of the newsletter then please let us know!