Committee activity
We met again on Wednesday 20th November and discussed the usual club matters as well as #RunAndTalk events, Awards night, Gunpowder Trot review, member survey and woolly hats!  More on some of this later. We agreed to meet again on 8th January 2020 and you are welcome to join us by arrangement.
The Results Round-up
So much to talk about this time! Compiled mainly from the race reports by Chris Yeomans, your regular results fix of who has been doing what is HERE 
Annual winter handicap and awards presentation
To be held at 7pm at Horsham Cricket and Sports Club on Tuesday 3rd December, this event takes over from the usual group running from The Bridge. All are welcome and if you give your average 5 or 10k time to us, we will put you into groups which leave Blackbridge Lane at timed intervals on a 4.5mile route. The idea is that everyone finishes at about the same time with some surprising winners in the past! After this we will return to the warmth of the club house for the annual awards ceremony at 8.30pm. As well as making donations to our nominated charity representatives and the all-important marathon ballot draw, this is your chance to congratulate our Challenge Trophy, WSFRL 10, SGP 6, Time Trial and summer/winter handicap winners. All are welcome and there will be free sandwiches and the bar will be open to buy your own drinks!
Quiz night review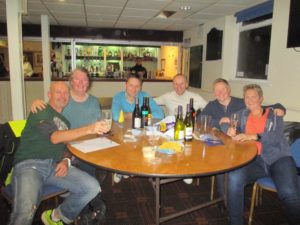 13 teams attended the annual quiz night, under the expert eye of quizmaster Martyn Newton and his assistant Iain Campbell. Held at Horsham Cricket and Sports Club on Friday 25th October, "Cirque du Sore Legs" came first with "Only 60 Days to Christmas" receiving the wooden spoon! It's always a great night with the biggest fun coming from the "who brought the best snacks" competition!
Team hj's volunteers turned out in force for our home WSFRL race on 3rd November. A huge thank you to all who helped, but especially to Rob, Derek and Richard who went above and beyond the call of duty by clearing a fallen tree from the course before 7.30am! We really can't do it without you! All WSFRL clubs participated with the largest team of 59 from Hove Hornets. We had 488 seniors and 30 juniors entered into both races and the tea and cakes helped to raise funds for our nominated charities. Congratulations must go to Margaret and her core team for putting on another great event.
#RunAndTalk events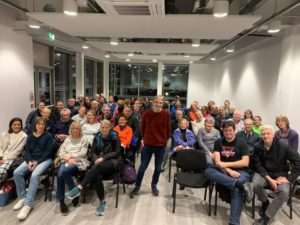 We had a phenomenal response to the free talk buy author and marathon runner Phil Hewitt on Thursday 21st November. Phil talked with passion and emotion about his story and how running helps him to cope with the stress and anxiety which came with it. "Outrunning The Demons" is available in all good book shops (ISBN: 9781472956514).
Our next runandtalk event will be a social on 17th December. Everyone is invited to join us in the bridge cafe after the Christmas lights club run for tea / coffee and a mince pie. This is open to all, so please pop in to warm up and say hello!
Subsidised track use
With your annual subs, the club makes a block booking with The Bridge for you to use the running track between 6.30 and 7.30pm every Thursday. However, this is a subsidised benefit and we do ask members to contribute just £2 to the "honesty pot" left under the benches by our coach(s). In recent months, takings have led us to believe that perhaps not everyone is being 100% honest so please pay what is due.
Club vacancies
As we approach the end of the year, our thoughts turn to 2020 and the next AGM. We already know that there will be vacancies on the committee so if you want to give back to the club in anyway, please let us know. A full list of vacancies will be published in January. One role in particular that we need to fill early in the new year will be a new membership secretary. Sue has completed this for many years alongside her general club secretary role but feels it is now time to step back a bit and let someone else take over. Full training and hand over would be given and you would need a basic knowledge of Excel, email, online banking etc. Time commitment can vary with renewal time at the end of March requiring maybe daily input to avoid it mounting up. Please CONTACT US for more details.
Marathon training organiser
As well as the above, we need someone to step up and arrange the Spring Marathon Training programme starting on Sunday 29th December. It's not as onerous as it sounds because we have a well trodden plan (pardon the pun!) but it would suit itself to someone planning to take part in the actual training programme and involves being there on 29th Dec and making a list of those prepared to organise a weekly route with light refreshments half way (or more) and to ensure everyone makes if back safely. As the overall organiser you would prepare and circulate the rota and ensure that routes/refreshments are shared with the next person on the list. Please  CONTACT US to find out more.
Christmas Socials
We've had a few questions from members regarding a Christmas get together and, with our main annual social event now being the Horsham Round in August, we are more than happy for individuals to arrange their own smaller Christmas get togethers at venues of their choice. Opening up a social event to over 550 members at this time of the year comes with its own challenges and we feel that smaller, self-funded groups making their own arrangements to fit their budget is the best way to go forward.
Club kit
With Christmas just around the corner, you may want to buy a new hoodie, cap, number clips or race top (or at least drop a hint to your friends and family!). Kit manager, Steve is waiting for your orders via the MemberZone and still has 1x medium, 1x large commemorative T-shirts from this year's Horsham Round. £10 – cash only.
Good news, race stories, new PB's?
We are always looking for new material for the newsletter or to shout about your achievements in the local press. If you have something to tell us about your weekend running achievements there are numerous options – EMAIL US or MESSAGE US or POST IT TO OUR FACEBOOK PAGE – So, don't be shy. We all want to share in your success!
And finally……………….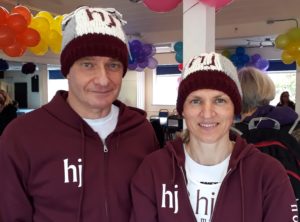 Woolly Hats! Martine has the following message for you…………
This image shows hand-knitted Horsham Joggers hats. So far, we have sold several to those members who have asked for them and have placed an order. They cost £7.50*, are knitted by HJ member Karen Wigmore with the proceeds going to Sussex Air Ambulance. They are one size and are all made to order. It would be great to get a few orders in the run up to Christmas and it's a great cause too for hj members to support! I look forward to hearing from you, Martine (martine.burke@gmail.com)
*NOTE: these are only available by contacting Martine and aren't on the MemberZone
Dates for your diary
24th Nov – Crowborough 10k (SGP)
24th Nov – Jigsaw 10k, Dunsfold
30th Nov – Sussex X-country league, Stanmer Park
1st Dec – Downland Devil 9m, Lancing
3rd Dec – Annual winter handicap and Awards night
7th Dec – Worthing Christmas Cracker 5 and 10k (women only)
8th Dec – Mouth to Mouth marathon, Shoreham
8th Dec – Mince pie 10m Peacehaven
8th Dec – Hogs Back Road Race, Loseley Estate
8th Dec – Shere Trail Run
17th Dec – hj Xmas lights run with #RunAndTalk social after
21st Dec – Christmas pudding dash, Pett nr Hastings
25th Dec – Christmas Day (just in case you forget!)
26th Dec – Turners Hill Boxing Day run
1st Jan – Hangover 5 (WSFRL)
4th Jan – Sussex AA X-country champs, Bexhill