DATES FOR THE DIARY:-
5th Dec – Worthing Christmas Cracker
8th Dec – Handicap and Awards Night
18th Dec – Joggers Party – email James Munden re tickets (munden888@yahoo.co.uk)
22nd Dec – Santa Run
27th Dec Marathon training starts
1st Jan – WSFRL Hangover 5
New Wednesday 8pm run
If you struggle to make a 7pm start or just want to get in an extra run, come and try our new Wednesday night sessions! Leaving at 8pm from Broadbridge Heath Leisure Centre, we won't be going far but will instead focus on sprints and hills to build cardiovascular fitness and strength. All abilities welcome. Any questions? Email Catherine on cath@cathbooth.co.uk.
Marathon Training
The schedule is attached below. We still need volunteers to help with these – please email James Munden (see email above) if you can help.
Learn to Run
The next Learn to Run course is due to start 15th March 2016. Flyer and booking form attached below.
Learn2Run Flyer 2016
Booking form blank
We need volunteers for the learn to run course every Tuesday, Thursday and Sunday. Anybody who would like to volunteer can log in to drop box with login details below and then put name down. This should make it a bit easier.
Login email – hjl2r@yahoo.co.uk password – werunfaster
Quiz – Saturday 20th February 2016
Alan Swetman is organising a quiz on Saturday 20th February 2016 at the Barn in The Causeway. This is an event that Horsham Joggers are invited to enter teams and as it is open to everyone you will need to get your team entered as quickly as possible as numbers are limited. Proceeds raised will go towards the Motor Neurone Disease Association. If interested in entering a team please email Andy Spriggs (andyjspriggs@tiscali.co.uk).
Henfield 9 mile run – Sunday 7th February 2016
This is being run in conjunction with Henfield Joggers to raise funds for the Henfield Leisure Centre. It is an off road nine mile scenic course along riverbank and disused railway, flint paths & stiles disabled and less abled athletes welcome if you feel the course is within your abilities please contact us before entering, There will be Changing Rooms, showers and parking, toilets and medals to all finishers. Closing date for entries 1st February 2016. See attached entry form.
HENFIELD_NINE_MILE_ENTRY_FORM_2016 NEW (1)
Race Vests and Race T-shirts
These are now available in Mike's shop (Up and Running. Queen St, Horsham) – £20 for the race vest and £22 for the race t-shirt (see attached picture). Remember that if you are competing for the club in any of the SGP or WSFRL races then you should wear official club kit (i.e. race vest or t-shirt) in order to qualify for points for the club.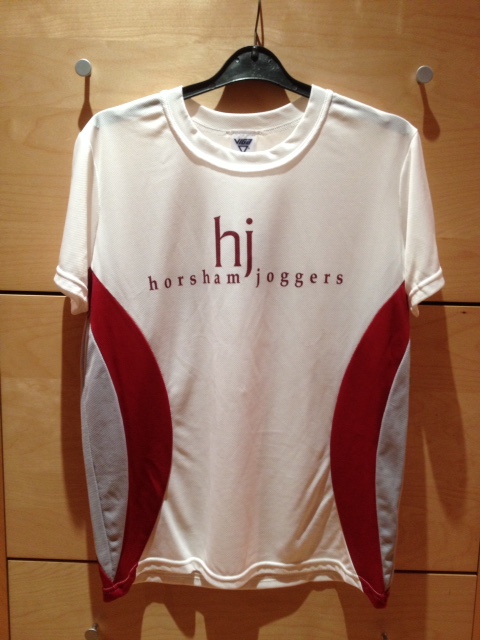 Other kit
The Eventclips have proved very popular and our initial order of 50 packs have already sold out. Another 50 have been ordered and will be with us in a few days.
A total of 70 HJ hoodies have been purchased by members and those not yet collected will be available on 8th December at 6:30pm before the Winter Handicap and 8:00pm before the Awards event.
We have looked into providing hoodies in Junior sizes. These will be burgundy and over the head style (i.e. not zipped). The writing etc would of course be proportionally smaller. Would anyone interested in these (i.e. for xmas presents) please get in touch with me on a club night with details of age and chest measurement. Please get any orders in ASAP for pre-xmas delivery. Prices will be published on facebook when available.
X- Country Championships
Brooks Sussex Cross Country Championships – Saturday 9th Jan 2016 – Little Common, Bexhill
1st race 11.15am u.11's 1 mile
Senior men 1.30pm 12K
Senior women 2.25pm 4 miles
There are plenty of other races these are just the highlights – all other details on the sussex web site
Sussex Masters Cross Country Championships – 23rd Jan 2016 – Lancing Manor
m50s, m60's 8k 1pm
w35,45,55, 4 miles 1.40pm
m40s 6 miles 2.10pm
any other questions I'm usually at track on Thursday or feel free to email me purpledrummer@sky.com. The standards are high but there are team awards as well as individuals. Can I set a deadline for Friday 18th December to get the forms in, thanks Captain Pete.
Raff's Handy Hints
10 things that runners should never do
Horsham Lions Club Swimarathon – Sunday 13th March 2016
Taking part is very easy; there is no entry fee. You will need a team of up to six swimmers plus an adult non-swimming team captain. All ages can take part, from eight to 70 inclusive.
The first member of a team swims one length of the pool and then relaxes while the other members of the team each swim a length of 25 metres in turn. The first swimmer then swims again and so on for 55 minutes.
Enter your team today by e-mailing Lion Tom Osborne :tomosborne1947@gmail.com or ring 01403 241167 for an Entry Form and Information Pack. Alternatively you may visit: Horsham Lions Website.
Next Newsletter
If you have any articles you wish to be included in the next newsletter please send these to info@horshamjoggers.co.uk by the 31st December.