Ed – It's nearly Christmas and we are sure you've all been nice so perhaps a little bit of naughtiness during the festive season won't hurt will it? Go on, you've earned it!
Committee activity
Your committee met on Wednesday 29th Nov with a few guests, and discussed the usual club finances, membership and calendar as well as the forthcoming winter handicap and awards night, website orders/voting updates, charitable donations and proposed SGP changes. More on some of this later. We agreed to meet again on 10th January.
The result round up
Another busy few weeks for team hj so we've compiled this item from press reports by Phil over the last six weeks. Just CLICK HERE for the latest race result roundup. Big thanks go to Iain Campbell for offering to step in and share this role with Phil in the New Year
hj handicap race and awards night
On Tuesday 12th December, instead of the usual group runs we will be holding our annual winter handicap race and awards evening at the new location of Horsham Cricket Club, Cricketfield Road and you are ALL invited. Please arrive from 6.45pm to give your average 5 or 10k time to coach Fiona and she will allocate you a group to run with over the 4.5mile course with staggered starts from 7.15pm. If the maths work out then you should all finish together at the same time!
Following the handicap race, at 8.30pm we will be awarding trophies for all those who have represented the club within the Challenge Trophy, Time Trials, Sussex Grand Prix and West Sussex Fun Run League races for 2017. Look out for an email to your inbox if you've won an award! And if you haven't, please come along and applaud those who have. There will be complimentary sandwiches and the bar will be open if you want to buy a drink. Limited parking is available at the Cricket Club.
Ho-Ho run 19th Dec
Just your average Tuesday night run with the added pleasure of visiting the "Ho-Ho" houses of Horsham, de-decked with their vast array of fairy lights. Group leaders will chose their route to take in the sights and sounds while Santa's little helper Sue will provide Santa hats for those who want to borrow one. Bring some small change for the various charity collection boxes along the way.
Sunday 5th November saw the club hold its annual WSFRL race, hosted at the Horsham Cricket Club grounds. The event was a great success with lots of very positive feedback from runners and volunteers. Our Race Director Victoria was told that our race has the best course in the league because it "has a bit of everything". Also our cakes and hospitality were enjoyed by all. The success of the event relied on the goodwill of Friends Of Chesworth farm, the local landowner, the Cricket Club and all our many volunteers. Next years event is already in the calendar so keep the date free – your club needs your support to make these events happen!
Charitable donations
As well as the usual Springboard minibus donation we are splitting the profits of the Gunpowder Trot with St Catherines Hospice and this year the committee have also selected two new charities from those suggested by members. "Out There West Sussex" is a community based Sports and Leisure project for adults with learning disabilities or autism aged 16+ across West Sussex and "The Butterfly Project" is a Horsham based centre providing individuals with excellent training, activities and sessions to ensure they can develop work and life skills. We hope that both will come along to the awards evening to collect their donations.
Yes, as the year draws to a close, it's time to look back over the past 12 months and think about who are your Jogger, Newcomer and Volunteer of the year. JOY can be for any reason which makes a current member stand out in your eyes. Newcomers will be those who have joined since 1st Jan 2017. Vollies might be those who aren't necessarily regular runners (if they run at all?) but are always there supporting and getting involved with the club. So email info@hj and give your nominations with a brief reason why you think they should be considered. Once we have the short list, we have made it even easier for you to vote for your favourite by including a voting link to Survey Monkey within the Memberzone. Simply login, click on "Award Nominations" category and follow the links to the 3 awards via Survey Monkey. The awards will be presented at next year's AGM.
 SGP rule changes
Ed – With the aim of reinvigorating the grand prix series for 2018, the organisers have made some changes and as a result, the hj committee will be reviewing the number of races required to qualify for an award at our next meeting in January. The good news is that the Horsham 10k remains an SGP race for 2018!
– Race calendar to be changed from the current 17 races to 10. Races in each calendar year to be picked from a pool of races. The priority for putting this together was that races organised by SGP clubs were initially selected and this accounted for 9 out of the 10 races. As the majority of the races organised by SGP clubs are 10K it was agreed that the additional race should be a half marathon and for 2018 the Hastings half has been chosen.
– Team scoring to be changed and will no longer be based on the best 10 scoring men and women. Full details for team scoring are to be finalised and will be made available before the end of the year. An interim post will be published to explain the rationale for the change. In summary it was felt by the AGM that interest in the SGP has dropped across all clubs and it needs a revamp to reignite interest. In particular the team element will be more inclusive for all runners representing their clubs. The intention is to review if the changes that have been made have had the desired effect of re-invigorating interest in the SGP. This will be done in July 2018 to allow for any adjustments to be made in preparation of 2019.
Horsham 10k organisers needed
The following key organising roles will need to be filled in order to deliver next year's race which is due to take place on Sunday 20th May:-
The basics are already in place, we just need motivated, organised and committed individuals to bring their skills to the table. You'll be guided and encouraged all the way and you can make a huge difference!
The Thank You's
Gunpowder Trot A huge thank you to all those who gave their time to make this event happen, particularly to Victoria and her core team who were there before and long after the runners came and went. This was Victoria's fourth year in the role and we thank her for her huge contribution to redesigning and reinvigorating this annual event which has taken over from the Valentines Run. Annual hj quiz night More thanks, this time to Gemma and John Berrill who put on a fabulous quiz with some really challenging questions! They've set the bar high for any volunteers to put this event on again next year and we wish them all the luck in the world with their new beginnings in Milton Keynes. You will both be missed! Social Curry Night Finally to James Munden for organising a very well attended curry night at Darchini.
And Finally – Team OG's Ireland adventure
Ed – Powered by the black stuff, team "Old Gits" went on tour! Words by Finbarr……………..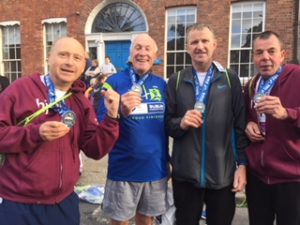 Sunday 29th Oct 2017: Dublin – Running in the steps of " Molly Malone" on  bright and surprisingly sunny Dublin, 9 Horsham Joggers set off from Merrion Square along the beautiful Georgian Streets to run the Dublin Marathon. The course ran an anticlockwise and beautiful route crossing over the Liffey and through Phoenix Park and eventually crossing back over the river to pass through the full length of South Dublin with views to the Wicklow hills and the sea eventually coming back into Merrion Square to the finish. However, the real delight was the crowd. The repartee as expected was brilliant and we were treated to exceptional hospitality and encouragement. Responding to the support Mikey O'Grady led the way home in a crowd pleasing 3:42:51, Holly Wanless was not far behind in just over 4 hrs (4:01:42) and led her sister Alice to a superb first marathon in 4:05:25. Then the Old Git brig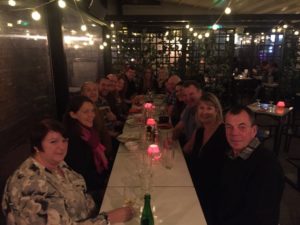 ade, some burying the ghosts of Brighton Marathon (appropriately on Halloween night), came in with Richard (no gels) Cherriman on an excellent PB of 4:15:09 followed by Chris Yeomans (4:22:43) and Rob (don't Ninja me) Jochimsen beating the cramps and finishing in 4:34:51. Cruising close behind and having a good social the dynamic duo Finbarr Cotter and Ian Wilcox flew past the finish in 4:40:47 and continued all the way to the bar (Temple Bar). James Munden still on the road to recovery after his superb charity raising efforts a few weeks previously still manage a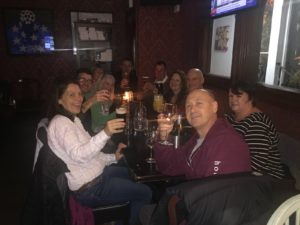 great sub 5 marathon (4:52:44). Following on from a fantastic marathon (my favourite out of 4 this year) we celebrated with the Irish black recovery drinks with the cream top. A great show from Horsham Joggers and definitely a must for next year. Beautifully organised, great route and the best crowd and hospitality.
Dates for your diary
3rd Dec – Crowborough 10k (SGP)
10th Dec – Mince Pie 10 **RACE FULL**
12th Dec – Handicap race and Awards Night
19th Dec – "Ho-Ho" run
31st Dec – Spring marathon training starts – 10 miles (look out for the full schedule on the website and Facebook)
1st Jan – Hangover 5 (WSFRL)
Don't forget; if you've got something worthy of the newsletter then please let us know! Email: info@hj