A bright light was extinguished from the Horsham Joggers family over Christmas. This is our tribute to a great man.
Born in 1948 in North London, distance running wasn't Andy's first passion; he became a black belt in judo at university and then went on to become a coach in the sport. He moved around with work from Leicestershire, Hampshire, Oxfordshire, Wiltshire and eventually to Horsham in 1988 to work as a retail pricing analyst with ExxonMobil at their Leatherhead office, from where he later took early retirement.
Already in his forties, he joined Horsham Joggers in 1996 and became a regular and committed member, often helping newcomers, leading groups, participating in races and eventually taking over the organisation of a flagging Horsham 10k race in 2005, as well as standing on the committee for 4 years. His contribution to the 10k was pivotal when he combined his other passion for fundraising and he joined forces with the Horsham Lions Club to deliver an improved race from a brand new venue. With his enthusiasm for Horsham Joggers and the Horsham Lions Club, he almost single-handedly drove the event forward for eight years to its current status as a regular feature on the annual race calendar. Andy stood down as Race Director in 2012 but continued to be on hand for the new administration in the following years.
When diagnosed with Motor Neurone Disease (MND) in 2011, the 46 times half marathon and 39 times marathon man's ability slowed but he still continued walking with the pub run group and kept beavering away fundraising with the Horsham Lions and MND Association. With his mobility becoming less easy, Andy found new ways to stay mobile and set his sights on raising funds for the West Sussex branch of the MND Association by teaming up with nephew, Chris to complete more marathons while being pushed in a rickety NHS wheelchair! His exploits were even put into print in Chris's 2015 book, "The Reason I Run".
Andy leaves his wife of 44 years Sandra. Daughter, Sarah. Son, Paul and daughter, Joanna as well as six grandchildren and a wider group of family and friends. Andy's funeral will take place at Worthing Crematorium on Wednesday 17th January 2018 at 11am with Sandra requesting no flowers, just donations direct to The MND Association or at the service or via the funeral director, Freeman Bros – Horsham, if you would like to.
He will be missed enormously by all those who knew him but will definitely be enjoying his "last lap" up there!
………………………………………………………………………………
Some hj members have provided us with their personal thoughts and tributes below:
Alan Smith – I was saddened to hear that Andy had passed away. I have been a friend of his for a good number of years, having trained with and run against him in numerous events. There was already a friendly competitiveness between us with honours even I think. Andy never complained of his condition to me. He was one of those genuine people, no side to him and never a bad word to say. He was brave courageous and most of all a very nice bloke. I will miss him.
Mike De Frateschi – Andy was truly inspirational. As one of a kind he was totally selfless giving much to others whilst asking for nothing in return. He dealt with his cruel illness with great dignity and courage. We shall miss him. RIP Andy.
Sue Simmons – Andy gave so much to the club, both on the committee and running every week and his bravery in managing his MND meant conversations with him were always enjoyable. He excelled at being a marathon runner but always had time to run with club runners and encourage anyone new to running. He pioneered the Horsham 10k from being a small local race to one of the main SGP races. He will be sadly missed but remembered as an inspiration to everyone at the club.
Edward Smith – I was saddened to hear the sad news of Andy's passing. We were in the same running group and I will always remember him as a true gentleman who kept the rest of us focused on the training (usually hard training if Andy set the pace!) in hand when we were worried more about which pub serves the best pint. In recent years when I bumped into him he would always remember my name and he definitely showed true grit with the situation he found himself in. He will be truly missed.
Alan Pettitt – Andy was a truly remarkable person who I have been most privileged to run with since I started running with the club. He has been an inspiration to me both in my running and in life. I was in awe since the time he came flying past me half way round the Brighton half. How could that old fella run faster than me? He introduced me to pub runs and the joy of running across muddy fields. He ran dozens of marathons when I thought that one was an achievement. He never complained, just got on with things, right up to his last days, always helping others. He did so much for the club and its members, we can forever be grateful and I will miss him dearly.
Peter Dudman – Andy had always been a great participant and supporter of the Pub Runs and the Winter Sunday Runs for many years. Not only running when he was able, but planning and organising routes. He continued his support, when eventually confined to a chair. Whilst Sandra did the walks he would attend to be sure that the pubs and beer came up to our standards . Andy will be missed by us all . 
Olive Hobbs – It`s difficult to pen adequate words and I sure that there will be a vein running through thoughts and comments that will honour dear Andy. I mainly think of all the energy he (and Sandra) gave to raising awareness of MND,fund raising with street collections, quiz nights and so forth. Also being very warm and genuine human being.
Pete O'Connell – Very sad. Andy was a massive help to Val when she started training with the club. I have film of Andy outsprinting Alan Smith in our golden mile which I happily copied for them causing much friendly banter! Rock on, RIP my man .
Ben Ageros – Rest in peace Andy. Good memories of our London Marathon training for CHASE back in 2006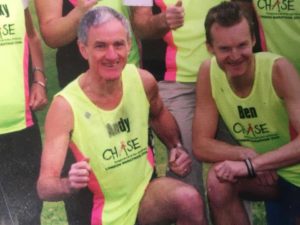 Mariann Bourne – Very sad news. Ours deepest and most heartfelt condolences to Sandra and family. We have many fond memories of Andy helping and encouraging us on our long Sunday runs and the cold evenings on the track doing yassos. Be at peace Andy.
Sue Binks – Rest in peace Andy, always a sweet and generous man.
Michael Saunders – A truely sad day for all who knew him. Always a gentleman, never an unkind word for anyone and always ready to help and give his time not only to help new members of the HJ's family but to the club also.
Raff Vitale – Sad day for HJ!! Was always so encouraging and full of life, supporting all runners whatever their ability. Andy will always be remembered. Condolences go out to all the family.
Jason Walker – Bless you Andy it was a pleasure to have known you. Andy helped me enter my first ever race as a Horsham Jogger all those years ago as I didn't have a clue how to do it as daft as it sounds. He was a very generous man and always went out of his way to help you. He will be sadly missed by all! Xx
Paul Oakley – Andy was one of the first club members I chatted to when I was thinking of joining the club over 10 years ago. His friendly manner was a great encouragement. Condolences to the family.
Phil Liberman – RIP Andy and my condolences to the Spriggs family. It was always great to see you at the pub runs, a lovely guy, thank you for everything you did for HJ.
Dan Holder – RIP Andy. Xx
Mikey O'Grady – This is truly sad news. Great bloke. Sympathy to the family.
Paul Aylett – I first met Andy in 2001 when I joined Horsham Joggers and turned up on a Tuesday evening to find everyone leaving without me (as it used to be!). Andy stopped and turned to me and said "Come on, you look like you're faster than us old blokes!). I ran with him and "Big Andy" (Malpress). Over the coming weeks and months he kind of took me under his wing and built me up towards time trialing and then the Barns Green half before encouraging me to do my one and only marathon in London. Later he encouraged me to help with the Horsham 10k and in 2012 when he stood down, I took over and tried to fill those extremely big shoes of his. The race was already a success under his leadership and he was still on hand to help us take it to the next level. When confined to a wheelchair, Andy came to the track one Thursday evening and I had the pleasure of pushing him for a lap or two. It was hard enough on the flat so I have no idea how he and Chris managed marathons with it! As has already been said, Andy was a truly genuine, kind and generous man whose focus is legendary. A life cut short by a vicious disease which has no cure! RIP Andy.
Neil and Val McLachlan – Andy was such a lovely man. He was so kind and generous, always thinking of others even when he himself had the most cruel disease to contend with. It was a privilege to have him as a friend. I will always remember the run six of us had on the High Weald Way over five days. We bonded together and had such a good time. When Andy could no longer run eight of us would get together over a meal and always had so many laughs. We are pleased you are no longer suffering Andy. Rest in peace.
Emma Walters – I didn't know Andy but when I first started running and on my 3rd parkrun in October 2015 I remember seeing a man being pushed around in his wheelchair at great speed and I thought that was amazing. I went into work and told many of my patients how parkrun really was accessible for all and it has encouraged those with complex disabilities to take part in parkrun. I later found out that it was Andy Spriggs. If only he knew how that event that day has inspired so many. 
Pete Noad – I have so many memories of Andy that it is difficult to pick out one in particular. As someone once said", I am sending you a long letter because I didn't have time to write a short one". When moving I draw up a list of things would like from a new house and area; south facing garden, good size garage, quiet neighbourhood etc. On my list, near the top, was "join a running club" It was the best thing I did, yet if it wasn't for Andy I might never have joined Horsham Joggers. Andy & I joined the Joggers on the same day in August 1996. In those days we in met in Horsham Park. When we arrived there was no one there, only Andy and I. We introduced ourselves and decided to run up to Broadbridge Heath. We found that everyone had run to the Itchingfield time trial. We both looked at each other, I was all for going home, on the basis that this was a serious running club. Andy however just said, let's do it. As with with MND, Andy never complained "just got on with it" So off we went, ran the time trial and joined the Joggers, the rest is history….thanks Andy. He contributed so much to the club, even when suffering from MND, never once complained "just got on with it."
Ray Ageros – Rest in peace my friend, I'll continue to remember  our many years that we have been in Joggers, & now that I'm an all year walker I'll remember you every time I put my winter gloves on, thanks for leaving them to me .
David Sandham – I was sad to hear the news about Andy Spriggs , he was one of the key people who welcomed me into Horsham Joggers in 2004. He organized a multi day running trip along the Offa's Dyke path the following year, with other stalwarts Alan Smith, Andy Malpress, Pete Noad and Iain Campbell, which was instrumental in convincing me that I could run a marathon – I shall be forever grateful for that. A truly inspirational man.