It's Christmas! We hope you enjoy the read and if you'd like to contribute any articles, please email them to info@hj. Thanks for reading!
Committee activity
At the meeting on Wednesday 30th Nov we discussed the usual matters arising, club accounts, new club vest supplier, website development, up and coming events (including the forthcoming awards night presentation), spring marathon training, proposed changes to the club challenge trophy awards and SGP/WSFRL 8's for 2017, learn to run, Gunpowder Trot, Horsham 10k, quiz night, member involvement in the club and agreed to meet again on 11th January. More on some of this below……………….
HJ Winter Handicap – 6th Dec
For those who have never run the handicap race before, it's two laps (about 4.5 miles in total) starting at BBHLC and then around Hills Farm, Blackbridge and Guildford Roads with start times staggered to suit your 5 or 10k time so the steady runners leave first and the whippets leave last! If we get our timings right, everybody will finish at the same time!
Awards Night and pre-Christmas social evening – 6th Dec
Following the handicap race we will be holding the annual awards presentation and a pre-Christmas drink in the bar. Why pre-Christmas you may cry? Well, it's a busy time of the year for most and, with venues getting rather pricey with questionable service(!), we intend to arrange something a little bit special for you in the New Year instead of the traditional Christmas party! Better value, better attendance and hopefully better for everyone! Awards will presented for the four Challenge Trophy events, Itchingfield time trial, SGP and WSFRL 8's, winter handicap and all important draw for Brighton and London marathon places via the club ballot!
HJ Hoodies
Orders has been placed for those who paid up by the cut off date and will be available before Christmas.
Gunpowder Trot – Thanks and Feedback
A huge thanks to everyone involved in putting on the Gunpowder Trot last month. We have had some fantastic feedback from several clubs, for example, this from Henfield Joggers:
"I just wanted to drop you a quick email to say what a fantastic event it was this morning. Lovely course, nice variety to it and a nice mix of scenery, hills and flat. Great marshalling all the way from coming into Horsham and the car parks and around the course – very encouraging and very clear with directions. Then fantastic cake to finish! A big thumbs up all round from all at Henfield."
It's great to know that runners enjoyed the event, but we want to know about the experiene of our volunteers too. Please take a few minutes to complete our volunteer survey at: https://www.surveymonkey.com/r/GunpowderTrotFeedback . We are keen to know about any suggestions you have for improving the event next year.
West Sussex Fun Run League Stats
127 Horsham Joggers took part in the 17 races throughout the 2016 season and 2 members completed all 17! 1 member completed 16 races, 6 completed 11 races, 5 completed 10 races, 5 completed 9 races and 30 completed 8. So after all that, we finished 7th in the League. Interestingly, the average number of Horsham Joggers per race was 26 compared to Burgess Hill Runners with 61, Saint & Sinners 42, Hove Hornets 31 and Portslade Hedgehoppers with 29 per race.
So it's all to play for in 2017 and the league starts again on Sunday 1st January with the aptly named "Hanover 5"! All entries are £3 and need to be made via league rep, Jenny Boyd or by bank transfer to the HJ account by Friday 23rd December and there will be no late registrations after 11:00am on the day, as they want to get both races started on time.
Spring marathon training
Coach Fiona has kindly re-jigged the schedule which will start on Monday 2nd January (yes, it's a bank holiday!) with 10miles up the beautiful mount Langhurst and back. Raff will be collecting a list of volunteers to organise the routes and water stops. The full schedule is here: hj-marathon-plan-2017
Santa Run at Brinsbury College
ED – Abbie has been in touch and asked us to share this………………………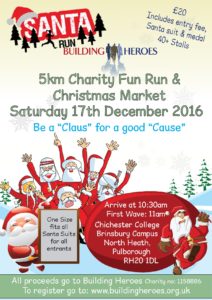 My name is Abbie, I work for a charity based in West Sussex called Building Heroes. I am organising a Santa run event on the 17th December 2016 at Chichester college, Brinsbury campus to raise funds for our courses. It is a 5k course with an optional mini mile for children. Alongside the run on the 17th, I am arranging a Christmas market to help increase funds and awareness. The market is fun for all ages, with over 40 stalls and food and drink. Building Heroes was formed in 2013 to help military veterans transition into civilian life. We do this by, offering veterans a free 5-week residential property maintenance course. This year we established our training partnership with Chichester college who deliver our course. Since then we have trained over 50 veterans. Throughout the programme we work with the veterans to identify an appropriate career path for them whether it's employment, self- employment or further training. Please could you let your members know about the event. You can sign up via – http://www.buildingheroes.org.uk/events/santa-run
Race vests and T-shirts
We are expecting a new batch from Simitar Sports any day now but current stock is still available from Up & Running in Horsham for the meagre sum of £20 and £22 respectively. But why bother? Well, aside from looking like part of team hj at all events, you do stand a chance of disqualification or missing out on team medals if you are not bedecked with hj kit in a championship or league event. Unfortunately this happened to one member at the recent Barn Green Half who could have walked away with a team medal from Sussex AA had they been wearing official club kit!
HJ Challenge Trophy changes for 2017
The four races will remain the same as this year – Chichester 10k (Feb – new course!), Haywards Heath 10 miles (May), Barns Green Half (Sept) and Steepdown Challenge (Oct) but the committee felt that these races are now so successfully attended that we will be awarding trophies for each 10 year age category (not 5 years as before) from senior male/female to V70. Also the SGP 8 and WSRFL 8 awards will now become 10's just to give you even more effort before grabbing a gong!
Founder members
Three of Horsham Joggers founder members celebrated their 70th birthdays this year. Although they no longer take part in running events they are still very active. Pictured are: Sandra Curtis, Dave Maurice & Shirley Hamilton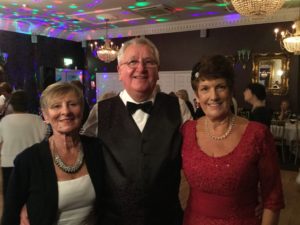 Horsham 10k help
Yep, this article is still here because only a few kind souls have stepped up to the plate and, following the announcement that we will be flying solo next year, we still need to put a new team together so if you are able to volunteer for some of the key roles like, Chief Marshal, Sector Marshal, Clerk of the Course, Set up leader, Breakdown leader etc etc, then please email us at info@hj. There are small tasks and large tasks to be coordinated in the New Year so any offers of help will be appreciated. With a membership of over 500, we must be able to find another half a dozen people to help with this, surely?
Dates for your diary
Tuesday 6th December – Winter handicap and awards night
Saturday 17th December – Building Heroes 5km charity fun
Tuesday 20th December – "Ho Ho" run (including a visit to the local Christmas light displays)
Monday 2nd January – Spring Marathon Training starts!
So that's it for another year. We wish you all a Merry Christmas and a Happy and healthy New Year! Cheerio 😉