Lots to talk about this time but first and apology; if you receive this newsletter by email then you probably also received a random email about "Learn to Run" a few days ago. Sorry about this but the editor was meddling with the website controls and clicked the wrong bit to publish it to all you lovely people instead of just editing it for the future. Sorry about that. Learn to Run will be back next year.
Moving on then……………………
WSFRL block payment update
Following last month's news that WSFRL races must now be pre-entered by hj block booking or individually on the day, there were inevitably a few teething problems and so we have streamlined the instructions as follows. Pre-entry to any future WSFRL race can be made in two ways;
1) Payment of £3 per race in cash to Jenny Boyd by the Tuesday evening before the race. You can pay for multiple future races in one go if you want to.
OR
2) Payment of £3 by bank transfer to Horsham Joggers by the Tuesday evening before the race. Again you can pay for multiple future races in one go if you want to. This option requires you to enter our bank details (account no: 20523984 – sort code: 20-23-97) with your name and the race(s) that you are entering as the reference (for instance; Peter Perfect – Hickstead, Steepdown) followed by the amount (in this example, £6).
Please note that only a payment secures your place and it takes time for the volunteers to process these details and make the block booking before the race. Unfortunately we can't accept late payments, emails or facebook messages pleading for a place. Latecomers will have to enter on the day (subject to availability) and pay the slightly higher entry fee.
Please note that our home WSFRL race is fast approaching (6th Nov) and we will soon be calling for volunteers to help out on the day.
Barns Green Half Marathon – 25th September
Our favourite, local half marathon is just one week away and again it promises to be well attended by team hj. The addition of a new 10k route this year is bound to draw in the crowds so make sure you arrive there in good time for the team photo at 9.45am at the hj gazebo on the field wearing your official race shirts/vests or hoodies.
Looking for a PB at the BG 1/2 this year? Perhaps the table below will help you pace yourself? Just select a target finish time from 1:30:00 to 2:20:00 in the left hand column, make a note of the split times and check them against your watch as you pass each mile marker on the course. Obviously this is a theoretical, even pace and doesn't allow for the terrain so you may want to bank some time on the downhill bits to spend on the uphill bits! Good Luck!!
ITCHINGFIELD TIME TRIAL RESULTS
These have now been updated for all 4 trials and can be found here: Time Trial Results
Thanks to John Dykes and his team for volunteering to put on this event.
Winter Headtorch Runs
Mike De Frateschi (Up & Running) is organising these trail runs again this year. Every Thursday at 7pm throughout the winter from various venues. They have effectively taken over from the Winter Pub Run's so if you want to be notified of when and where to meet each week, please email horsham@upandrunning.co.uk to be included on the mailing list. Next week's run will be from the Sussex Oak, Warnham.
Goodwood Cross Country relay – 1st October
The relays are held on Goodwood Race course (opposite the Grandstand) PO18 0PS. The course is on grassland and footpaths and if you are interested in joining a team please contact Pete O'Connell by email: purpledrummer@sky.com
Facebook notifications
Facebook has become the main platform for hj communications recently and is a great way to share training information, reviews, photos, stories, opinion and banter. However, we are aware that it doesn't appeal to all members as some of you don't like the idea of having a Facebook profile. Well worry not! You can still keep up to date with hj's most recent posts via our website. Just go to www.horshamjoggers.co.uk and you can view our recent posts on the right hand side of the pages. Enjoy!
Horsham 10k help
Well, after our recent appeal for help, one kind soul has stepped into the breach and taken up the Race Secretary role so massive thanks to Claire Miller for that. We still need to put a new team together by the end of 2016 so if you are able to volunteer for some of the key roles like, Chief Marshal, Sector Marshal, Clerk of the Course, Road Restriction leader, Set up leader, Breakdown leader etc etc, then please email us at info@hj. There are small tasks and large tasks to be coordinated in the New Year so any offers of help will be appreciated. Many thanks.
Twinning Association visit to LAGE – May 2017
If you are interested in this next year's trip, please see the link below or speak to David Maurice.
Dates for your diary
Sunday 25th Sept – Barns Green 1/2m & 10k– SGP (and HJ Challenge trophy race)
Saturday 1st Oct – Sussex XC Relay Championship – Goodwood
Sunday 2nd Oct – Lewes 10m – SGP
Sunday 2nd Oct – Alf Shrub Memorial 5m
Sunday 9th Oct – Heron Way 10k
Sunday 9th Oct – Hickstead Gallop – WSFRL
Sunday 30th Oct – Steepdown Challenge – WSFRL (and HJ Challenge trophy race)
**SAVE THESE DATES**
Sunday 6th Nov – Gunpowder Trot – WSFRL (HJ's home fun run – Volunteers required!!)
Friday 18th November – HJ Quiz night at Horsham Cricket Club – *REVISED DATE*
AND FINALLY………
London to Brighton cycle ride
On Sunday 11th Sept our blind runner, Mick Duplock, completed this gruelling tandem cycle ride. If you want to support his charity fundraising then please use the link within his cycling partners story below.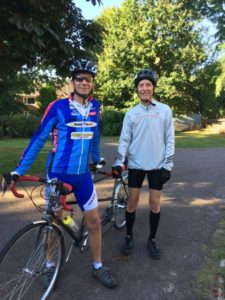 We had a great ride with wonderful weather.  On Saturday it rained most of the day, but Sunday was stunning – warm, sunny, dry and little wind.  We started early – left home at 6.15, and began cycling at 8. Lunch stop was at Turner's Hill – good food, well organised.  Together, our sponsorship was about £375. Thank you so much for digging deep.  CVM are most appreciative ***LINK***http://www.doitforcharity.com/MickD.  
Skyline with DoItForCharity, said that the whole event with 4000 cyclists, (ages about 12 to 80). Over 300 different charities were represented on the day and a staggering one million pounds raised so thank you.  That was the longest ride that Mick has ever done.  No punctures, no mechanicals; one near miss with a hedgerow after another cyclists was turning right onto a footpath. The toughest part of the ride was the 1 mile climb up Ditchling Beacon, which we did without walking, keeping going in 1st gear – we did wonder if we would make it. We saw and spoke to 5 other tandem pairs.  No other blind riders though.