HJ kit
The Horsham Joggers hoody is available for order. Sizes are as follows: S (38.5" chest), M (42.5"), L (46.5") and XL (50.5"). Place your order via this link HJ hoody and we'll send you an invoice. Please make your payment by 11th October if you wish to be included in our first order. The hoodies will be available within 3-4 weeks, so you'll be marvellous in maroon in time for Christmas! Keep an eye on the facebook page for more details.
The new race t-shirts are on order, and we're waiting for the delivery date to be confirmed. As soon as Up&Running get them in we'll let you know.
We also have HJ running caps available, one size @ £12. Let Fiona Clifton now if you would like one of these – we have one in stock at the moment, and more can easily be ordered.
First Aid course
Marion Hemsworth (the Sussex Running Activator) is offering a basic first aid course to anyone interested for only £15 per person, including certification. This is primarily targeted at run leaders, and would also be useful for anyone who regularly marshals at running events. The course lasts three hours and is limited to 12 participants. Date and venue to be confirmed. If you are interested in attending, please contact info@horshamjoggers.co.uk or speak to Fiona Clifton.
The Winter Handicap / Awards Night / Marathon Draw – Tuesday 8th December
The handicap run starts and finishes at BBH leisure centre and is 2 laps of a circuit that includes Hills Farm Lane, Blackbridge Lane and the Guildford Road. Open to all level of runner the faster runners are given a time penalty so that the slower runners have a headstart. The idea is for the faster runners to catch up with the slower runners before they get to the finish. If the calculations are right everyone should be finishing more or less at the same time. If interested in taking part please email the HJ mailbox (info@horshamjoggers.co.uk) with an estimate of your 10k time so that the organisers can calculate the handicap. Alternatively just turn up on the night and enter but remember the first runner will be setting off at 7.30pm.
After the handicap we have an Awards Night in the BBH bar area. Awards given out will include the Time Trials winners, Challenge trophy winners (in each of the categories), SGP and WSFRL winners. There will be sandwiches available.
There will also be a draw for the London Marathon and Brighton Marathon club places. Each year the club is allocated places in these races. If you want your name to be included in this draw then please email the HJ mailbox (info@horshamjoggers.co.uk). Criteria for these places are:-
• Minimum of 1 year membership with the club
• 4 SGP or WSFR races run during 2015
• Help with 2 HJ events
BBH update
Last Thursday our chairman Phil Liberman attended the BBH Users group AGM, this is the main group involved in keeping the pressure on the council for an adequate replacement to the leisure centre (and track) when it is finally demolished. Our previous Chairman Tony Johnson is Deputy Chairman and continues to do a brilliant job on behalf of us all. The proposed plans are now on display in the centre and also through the link at the bottom of this post. If you feel you want to comment please email the council! This proposal affects not just the track users but could affect where we meet on a Tuesday in the future.
Christmas Santa Dash – Tuesday 22nd December
A special Santa Running Route has been planned for club night on Tuesday before Christmas. The route will take you round all the houses with Christmas lights on them and to make the run festive we would like everyone to dress in red with reflective bits so that Rudolph doesn't run you over. We have free Santa Hats to give out on the night and the best Santa look alike will win a prize.
Charity donations update
So far we have given £600 to Springboard, which was the £500 from the 10k/Valentine's Run race profits plus £100 towards use of their minibus during the South Downs Way relay. We have also agreed to give £500 to First Responders and a cheque is due to be presented shortly.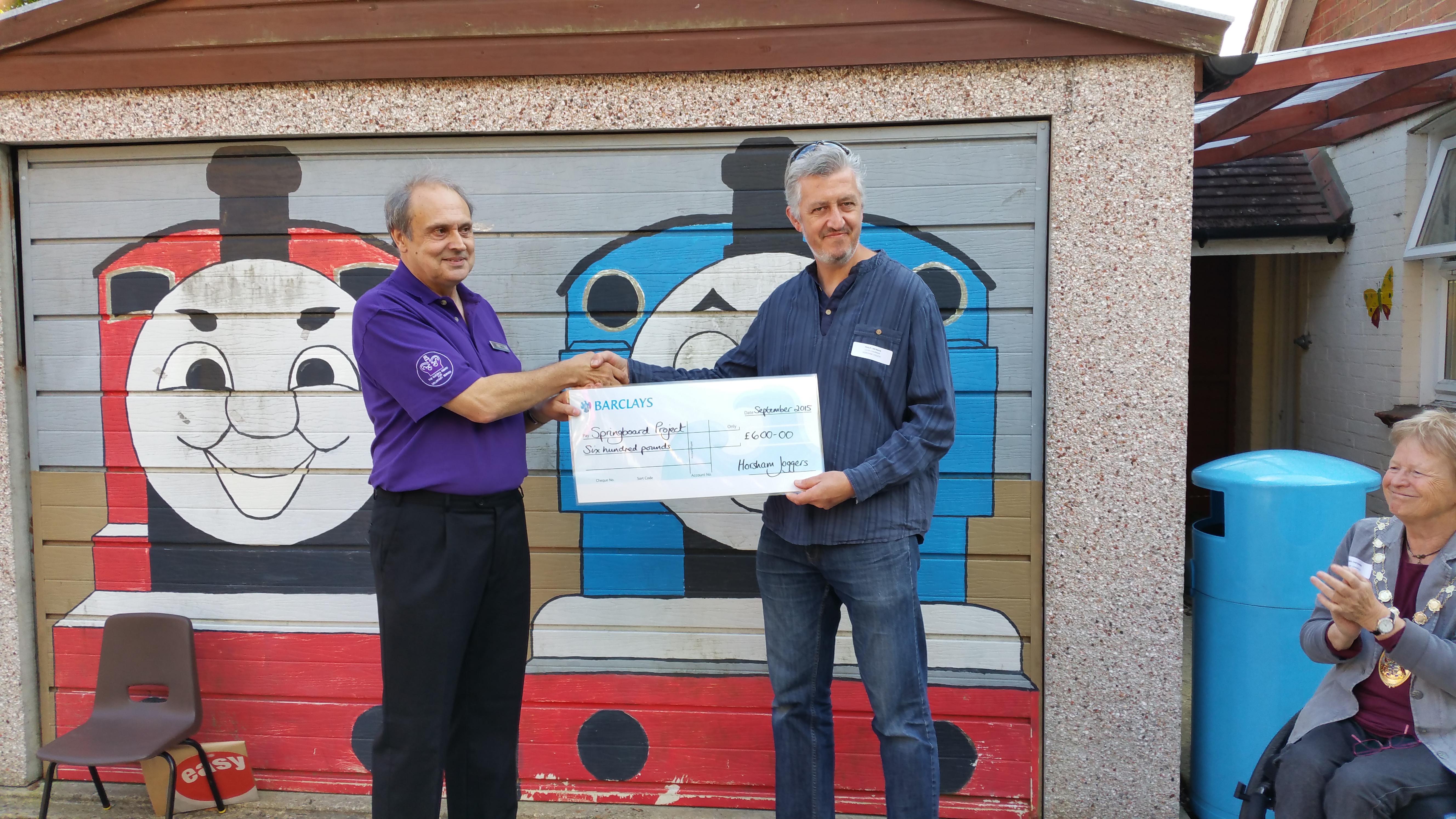 Final Club Challenge of 2015 – WSFRL Steepdown Challenge, 18th October
The Club Challenge Trophy is a competition to see who is the fastest in the club within age categories over various distances. The last Club Challenge race of the year is the WSFRL Steepdown Challenge, a 5 mile course on the Downs at Lancing. Awards are given at the Club Awards Night in December to the fastest male and female overall as well as to age category winners. Depending on who else is running in your age category, it's perfectly possible for wide range of runners to win these awards, so why not have a go?
WSFRL Update
Thanks to a combination of good turnouts and the attendance of some faster runners, we have clawed back our position in the WSFRL. Having fallen to the bottom half of the table over the summer, we are now up in 7th place (out of 18 clubs) – the highest position we've had in the year to date. Many thanks to the faster runners who responded to my appeal in the August newsletter – I hope you enjoyed the WSFRL atmosphere, and that you'll come back for more!
We've got 3 more events left until the end of the year so we need to clock up as many points as we can! Remember, you get an award at Club Awards Night in December for running 8 or more WSFRL events, so if you've run 5 races so far in 2015, you've can still make 8 if you run all three of the next races! Even if you've never done a WSFRL event before though, you will still earn us a point by taking part, so everyone is very welcome.
Next and final races of 2015 are:
Hickstead Gallop 8k, Hickstead, 11th October
• On grass, 2.5 loop course at the national show-jumping ground, undulating but nothing scary
Steepdown Challenge 5m, Lancing, 18th October
• up and down the Downs – also a Club Challenge race
Foxtrot 5m, Shoreham, 1st November
• flat course on gravel and grass along the Downslink and Adur river bank at Shoreham
SGP Update
2015 is proving to be a quiet year for Horsham Joggers in the Sussex Grand Prix. With two races remaining the men's team are currently in 7th place, the ladies team are currently in 7th place, the vet men's team are currently in 9th place and the vet ladies team are currently in 7th place. Remember, you get an award at Club Awards Night in December for running 8 or more SGP events.
Next and final races of 2015 are:
Bexhill 5K – Saturday 7th Nov 10:00am
Crowborough 10K – Sunday 29th Nov 10:00am
Update on Trip to Lage
As reported in a previous newsletter, we have been working with a local travel agent with a view to organising a package trip to Lage in Germany for the May running weekend at our twinned club, TG Lage. Unfortunately, we have been unable to pull together a package that represents good value for money for members, and so have regretfully decided not to proceed with the idea this year.
There were a variety of reasons contributing to keeping the cost high, including that air taxes alone are currently over £120 adding a significant amount to the price of a weekend away. We have looked at coach travel as an alternative, but the 8+ hour journey either way would take too much time out of the weekend to seem practicable. In addition, Lage itself has a very restricted choice of hotel accommodation, and prices in nearby towns for the weekend we wanted in May were high, with little appetite for negotiation.
It is of course still open for HJ members to travel to Lage independently for the weekend (7 & 8 May). There are lots of running options offered including a trail marathon, half, 10k, 6k and various walking options in the Teutoburg Forest. There are plenty of attractions in the surrounding area too, if you wanted to make more than a weekend of the trip. Victoria Saunders on the committee would be happy to pass on the information about hotels, air routes and attractions in the area that we got from the travel agent we were working with – contact Victoria through info@horshamjoggers.co.uk.
Dawn Piechoczek
We have received the very sad news that Dawn died on Saturday after a lengthy battle with cancer. Dawn, 54, was a keen runner and a stalwart of Mel's Milers jogging club in Horsham as well as a committed administrator for the county.
Next Newsletter
If you have any articles you wish to be included in the next newsletter please send these to info@horshamjoggers.co.uk by the 30th October.