The Angels Have a Message for You
Guess what? There are now 546* members of the Horsham Joggers!
But double guess what?! That's not just any old number! According to a website I discovered by Googling the number 546, these digits have some serious significance.
Apparently, the Angel Number 546 resonates with the attributes of personal freedom, making positive life choices and important changes – and to doing things your own way. It relates to personal willpower and effort, building solid foundations and working diligently towards achieving goals.
This is spooky, right? It could literally be describing Horsham Joggers!
But there's more, the Angel Number 546 "is a message that indicates you can trust that all of your monetary and material needs will be met"!! The Angels have heard and will answer!!
So here's the deal: Nobody leaves, and nobody joins, until we ALL have our monetary and material needs met.
This proposal will be submitted to the Committee as an agenda item to be discussed at this year's AGM, and I'm sure it will sail through. If you have an idea you wish to submit for the agenda – even if it's not as good as this one, and let's face it, it won't be – you can do so by emailing Club Secretary Sok Wah at sokwahlee@btinternet.com.
The agenda will be published seven days before the AGM, which will start at 7pm on Friday April 8th, at Horsham Sports Club on Cricketfield Road. It should last about an hour and will be followed by a social to which all 546 of us are invited.
JotY and VotY
Also at the AGM, the Jogger of the Year and Volunteer of the Year 2021 awards, as voted for by You The Members will be dished out. Any HJ member can nominate another member for either of these awards for 2022 and we'd like to encourage you to do so! If you know someone who has done something that you think deserves to be recognised, please email info@horshamjoggers.co.uk with their name, whether it is for the Jogger or Volunteer and the reason for your nomination. Thank you!
Track Down
Please be aware that the BBH track will be closed for repairs between March 30th and April 8th, meaning our sessions on Thursdays 31st March and 7th April will not be possible. However, we can still use The Tube, so look out for updates if you're a keen Tracker.
Membership Renewals
These are due on April 1st for anyone who joined before 2022. Just a heads up, let's try and get that all done on time this year. As noted above, we are all going to be rich soon, so there should be no issues.
[Please also note; EA affiliation will be increasing to £16 for 2022/23]
You've got to start somewhere
After last year's well received experiment that saw us mixing up the starting points of the Tuesday night runs on an occasional basis, we will be bringing it back through the lighter evenings of spring and summer. Starting April 19th, and on the third Tuesday of every month thereafter until the autumn, the club runs will have optional alternative start points. Keep an eye on the socials to find out where the magical mystery tours will begin.
Horsham 10k –
Please read the following section in the style of Grandmaster Flash and the Furious Five performing their seminal hit The Message:
It's the Horsham 10k / the club's special day / we need you all to help us out in e-ver-y way / We wanna hear it real clear that you're here to volunteer so keep ya peepers peeled for a short sur-vey / And before ya say, "hey when's race day?" / it's a Sunday – the 22nd of May / a-huh-huh-huh / It's like a jungle sometimes, it makes me wonder how I keep from going under…
WSFRL
In West Sussex Run Run League news, an impressive 35 Horsham joggers participated in the inaugural Crawley Run Crew Run Your Heart Out race on February 13th at Tilgate park (team photo above).
As a result of some superb performances all round, Horsham Joggers are now second in the league. Special shout outs to Rachel Hamson, who was the first HJ lady over the line, and to Michael Daly who nailed third place overall! The team atmosphere and support were top notch, as you would expect. Keep an eye on the HJ website Member Zone for information about upcoming WSFRL events and get involved.
Your News
We love to hear what you've been up to. If you would like us to include your updates in the newsletter, just email them to horshamjoggers.newsletter@gmail.com
This just in from Caroline Bransden, who has been busy:
"On Saturday 19th February, in the wake of Storm Eunice my husband Mike (a Mel's Miler) and I ran the RunThrough Greenwich Park 10k in the wind and driving rain. Despite the challenging conditions both Mike and I came first in our age groups.
"The 10k or 5k course if you prefer a shorter distance, takes you around the beautiful Greenwich Park passing some of London's favourite attractions, the Royal Observatory, the National Maritime Museum and the Old Royal Naval College. There is a lot to see including the incredible views across London. Running the 10k course means that you have to run up the hill to the Royal Observatory four times!"
Caroline 01:08:R42 Mike 0:47:25
On 30th January myself and Mike, Elisabeth Scott and Viv Underhill ran the EDP Medio Maratón de Sevilla 2022 – the Seville Half Marathon in Andalusia, Spain.
Seville was a great city to explore with plenty of tapas bars, a beautiful park, the Alcázar Palace and gardens and Cathedral, hidden patios decorated with patterned tiles and orange trees shedding their ripe Seville oranges everywhere.
The race course went over the river and then back through the best parts of the city. After the race we all booked into an Arabian Baths for a massage and soak in the warm pools which was wonderful.
Our official recorded times were:
Mike Bransden 01:41:05
Vivienne Underhill 02:29:49
Elisabeth Scott 02:31:12
Caroline Bransden 02:33:54 (2nd in age category).
Well done!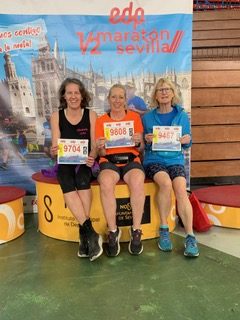 And there's more:
Over to Chris Yeomans for the news…
The Steyning Stinger 20th Anniversary event was on 6th March and features a choice between a full marathon and a half. It's a hilly cross-country run through the South Downs between Steyning, Storrington and Shoreham-by-sea and all runners receive a breakfast at the end.
Race Times for the Full Marathon:
Charlie Carter 03:38:19, Matt Whyman 04:15:08, Chris Yeomans 04:38:10, Ian Dickinson 05:05:34, Nicola Smith 05:15:46, Brian Frost 05:15:47, and Alan Pettitt 05:27:04
Half Marathon:
Stephen Wigmore 01:46:26, Phyl Weston 02:18:37, and Vicky Holliday 02:26:50
The 2022 Brighton Half Marathon was on 27th February. It's one of the first major half marathons in the running calendar. The course is fast and flat and takes in many of Brighton's iconic sights. Perfect for experienced runners, charity runners and anyone keen to run their first half marathon.
Race chip times
Paul Davis 01:25:57, Andrew Puttick 01:27:01, David Wilkinson 01:27:43, Brian Frost 01:42:07, Steve Tucker 01:46:22, Natasha Heasman 01:43:12, Daniel Price 01:46:37, John Dyckes 01:50:07, Joanna Stone 01:51:01, Phyl Weston 01:53:24, Graeme Hull 01:53:26, Richard Shergold 01:56:06, Alan Pettitt 02:05:12, Chantelle Shekyls 02:00:25, Margreet Potter 02:10:51, Lee McGeean 02:12:48, Tegan Page 02:13:17. Edita Wallace 02:16:18, Mike Fryer 02:27:17, Christel Helmer 02:27:38, Caroline Bransden 02:33:01, Samantha Edwards 02:31:44 & Sue Hensman
The Jigsaw 10k was on the 27th of February and involved two circuits of the iconic Top Gear racetrack offering a great opportunity to run a PB.
Ten Horsham Joggers competed, bagging the following race times:
Simon Perkins 00:37:18, Malcolm Footer 00:43:00, Jonathan Fengaras 00:44:12, Simon Holmes 00:45:24, Wendy Mason 00:58:33, Julie Gallagher 00:59:02, Anthony Mason 01:03:16, Jane Footer 01:06:08, Edna Clark 01:18:09 & Jane Adams 01:18:09
On February 13th Maldwyn Thornton & Nicolette Eyre competed in the Harrow Hill 10K. The route comprises of two laps sending runners up the notorious Football Lane then climbing to the High Street of Harrow-on-the-hill via Peterborough Road then keeping left encompassing London Road, Sudbury Hill, Sudbury Court Drive, Watford Road & Peterborough Road. Race times Maldwyn 00:53:46 and Nicolette 01:06:37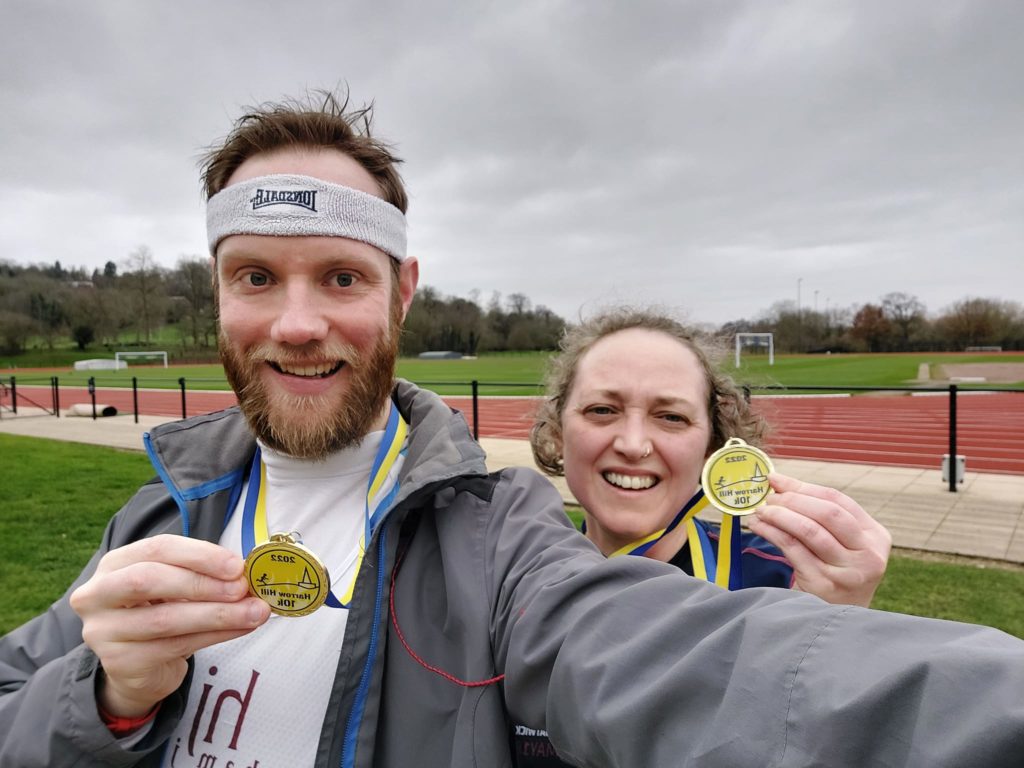 WSFRL Run your Heart out 8k on the 13th of February at K2 Leisure Centre is the second race in the series and thirty-four Horsham Joggers competed with the following race times. Michael Daly 29:13, Harry Wilcox 34:01, Luke Minogue 34:10, James Tombs 34:43, Thomas Robertson 36:01, Dave Dawson 36:41, Malcolm Footer 36:59, Chris Newberry 38:50, Rachel Hamson 38:56, Mark Aylmore 39:02, Michael Worall 39:05, Michael Catlow 39:43, Miranda Morley 42:24, Ian Dickinson 42:38, Martine Burke 44:56, Margaret Wadman 45:45, Iain Campbell 47:07, David Evans 49:46, Ian Wilcox 50:40, Viv Underhill 51:14, Sarah Worrall 51:15, Stephanie Charman 54:01, Caroline Bransden 54:48, Clare Dutfield 55:59, Julie Jochimsen 56:02, Louise Johnson 56:05, Jane Footer 57:43, Michelle Worsey 59:31, Ian Hines 59:54, Heidi Chaney 1:04:05, Edna Clark 01:04:10, Lorraine Hunter 1:04:10, Sue Hensman 1:05:42 & Jane Adams 1:05:42.
Slindon Slog on the 20th of February is a 10 mile trail run is set in stunning village of Slindon. Starting off at Slindon Pits the run route will take you up and into the mud pits for your first burst of mud, water, and sand. 2 laps of the pits to get you warmed up, the route will then lead you off into the woods for some scenic woodland trails for a good few miles. The route is an out and back with a visit to the 'steps of doom' . When you feel like your legs can't take anymore, they finish you off with another lap of the pits followed by a run back down to the entrance of the pits where the finish line waiting for you, along with some refreshments, your medal and fresh fruit. Friends and Family are most welcome to stay and support you. You will be starting and finishing in the same place, so a perfect spot for your supporters to take pictures. Race Times Vivienne Underhill 02:13:31, Robert Jochimsen 02:09:36, Ian Wilcox 02:13:30, Richard Cherriman 02:07:09 & Vicky Holliday 02:58:52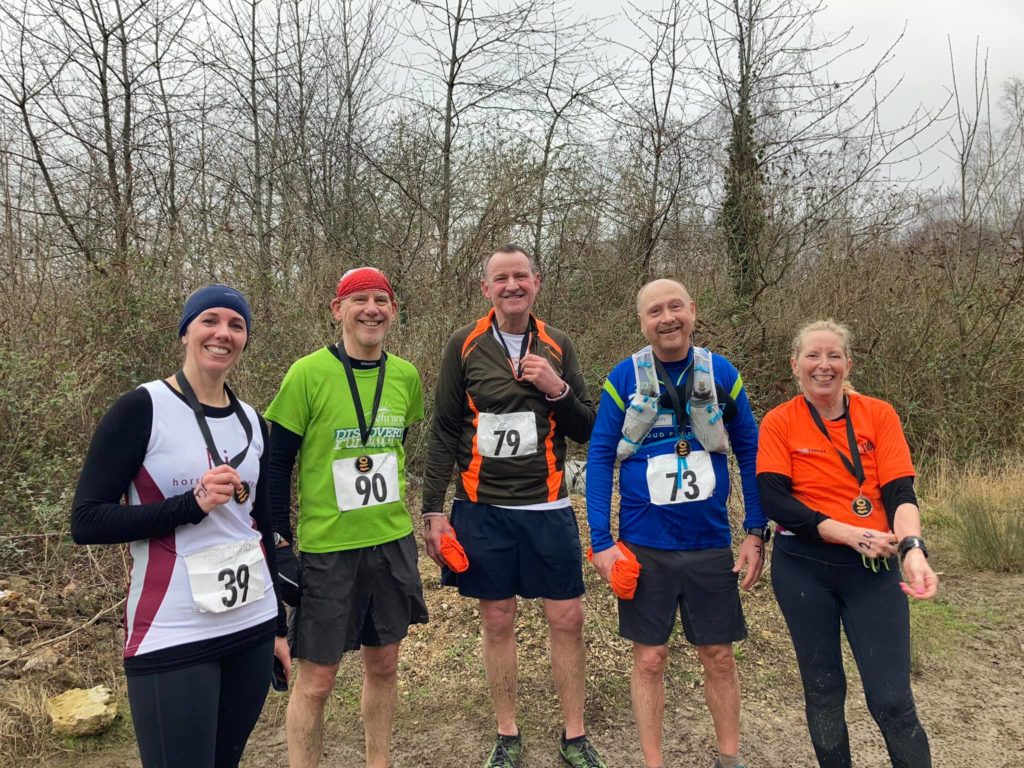 Dark Star River Marathon 6th Feb, A 28.2 Trail Marathon up one side of the River Adur picking up a part of the Downslink past the Dark Star Brewery at Partridge Green and back down the other side with added rain, mud & head winds. Race times not yet published although Alan was the first Horsham Jogger home around 04:32:00 followed by Chris and then Brian, all within 5 mins.
Chichester 10K Sunday 6th Feb, this is one of the oldest and fastest running events in the country with new management and an existing new route twenty-one Horsham Joggers competed.
Net times Lewis Reeves 00:36:55, Simon Perkins 00:38:20, David Wilkinson 00:38:35, Andrew Puttick 00:39:26, Bryan Camfield, 00:39:37, Steve Wright 00:39:37, Raff Vitale 00:39:46, Finlay Burchett 00:41:28, Nick Street 00:43:05, Chris Newberry 00:44:00, John Crayford 00:44:29, Stephen Wilson 00:55:44, Sharon Burchett 00:56:04, Emma Hodges 01:00:21, Martine Burke 01:03:00, Ian Hines 01:11:20, Penelope Sanders 01:13:23, Julia Johnson 01:14:59, Mick Duplock 01:15:00, Roger Johnson 01:17:16 & Barnaby Smith 01:17:17
Thanks, Chris!
Research Request
Can you help PhD Student Greg Wright?
My name is Greg Wright, and I am a PhD student at the University of Brighton. I am writing this email to inform you of my latest research project: "Investigation of the effects of low energy availability (LEA) and Relative Energy Deficiency in Sport (RED-S) on the physical and mental health of adults and athletes". Would you be able to share the following survey link with the members of your club?
https://brighton.onlinesurveys.ac.uk/eating-and-exercise-behaviours-questionnaire
This study will be assessing the eating behaviour, mood, energy intake, energy expenditure, and body composition of endurance athletes compared to other athletic populations and the public. This will be used to determine if endurance athletes are at risk for conditions known as low energy availability (LEA) and relative energy deficiency in sport (RED-S). To briefly summarise, LEA arises from an individual having insufficient energy (calorie) intake to match their daily energy (calorie) needs. This could come from increasing their activity level, whilst not adjusting their calorie intake to match. LEA and RED-S are very serious issues. Endurance athletes are a very at-risk population due to high activity levels and a desire to reduce body mass. Despite these risks, limited research has been conducted using competitive athletes.
Upcoming Events
Here's what's coming up in the next few months. Keep an eye on the calendar for more info https://www.horshamjoggers.co.uk/calendar/
Apr 1st – Membership Renewals Due
Apr 3rd – Mel's MIlers 10k (HJ Club Challenge race)
Apr 5th – Run and Talk Tuesday
Apr 8th – HJ AGM
Apr 10th – Brighton Marathon and 10k
Apr 19th – Lewes Easter Monday WSFRL
Apr 24th – Worthing RunFest Half and 10k
Apr 30th – Mid Sussex Marathon Weekend
Apr 30th – East Grinstead 10 Mile (HJ Club Challenge race)
May 1st – Mid Sussex Marathon Weekend
May 2nd – Mid Sussex Marathon Weekend
May 5th – Run and Talk Tuesday
May 8th – Run Gatwick Half
May 8th – WSFRL Hedgehoppers 5
May 15th – Wisborough Green 10k
May 22nd – Horsham 10k
May 28th – Arundel Half, 10k, 5k
June 19th – Madehurst 5k and 10k
June 25th – WSFRL Downland Dash
June 26th – Denbies North Downs Half Marathon & 10K
*correct at time of writing!
---
Thanks as always to Mike Hibberd for another fantastic news round-up!