The September 2023 newsletter is now available and it is a volunteer special to commemorate and thank our amazing helpers.
This edition is for events up to and including Saturday 30th September. I'm sorry I can't include them all, or necessarily congratulate direct individuals, but we're a massive club and we do an equally massive load of events!
Volunteering is Contagious
They say the best things in life are free. And I'd say volunteers at HJ'ers fall into that category.
One of the things which sets us apart from other running clubs, is the sheer volume of helpers we have. People giving up their own time to help others, even relinquishing their own running goals temporarily to help others achieve theirs.
At HJ'ers we are unique, because as a ratio I can't think of another running club that has so many volunteers helping so regularly.
Seeing others giving up their time not only inspires people, but as a result it also has the knock-on effect of more volunteers subsequently putting their hands up to help. I know this happened to myself in the past when I first joined the club, when considering whether to help at an upcoming race.
"Volunteering's contagious" my wife told me. "It's not going to take ages" I replied, slightly mis-hearing her Teesside accent. "No, no" she replied, "It's contagious – you'll get addicted to it."
And this is exactly what happened. The kick you get out of helping others and the feel-good factor at the end of an event is up there with taking part in the actual event itself, so much so that you genuinely want to help even more, whether at individual or event level.
So, along the journey of this latest newsletter there will be the occasional nod to our volunteers.
Unsung Heroes
The unsung hero for this edition of the newsletter is Mary Klanczkowski.
Mary has been a regular (almost an ever-present) at the West Sussex Fun Run League races not only this year but in previous years too. This year has seen an unprecedented turnout of HJ'ers at these races, but Mary's been doing these and other events representing Horsham Joggers for many years. She is an inspiration to lots of us at the club. Well done and thank you, Mary!
Races and Runs (and the WSFRL!)
Yet again we've gone through a whopping spike in HJ'ers taking part in various events. And yet again there is absolutely no way I can cover all of them, but here's a selection of a few which have hit the headlines.
West Sussex Fun Run League (WSFRL) – Tilgate 5 Miler – 3rd September
I must start with an overview of the WSFRL, mainly because we are top but also as the momentum still remains with us for now and we need to keep it going – we are so very close to the end now.
And it was yet another whopping turn-out of HJ'ers that took part in the Tilgate 5 on 3rd September, which incurred chaotic scenes towards the end of the race.
HJ'ers ran superbly throughout, though some were so fast that the first 32 runners in the race clearly confused the marshals so much they sent them in the wrong direction, effectively meaning over a mile was missed off the course.
Although it would likely have had only minor issues in respect of final placings, it must have bemused those at the front seeing the finish line come up early, with those placed 33rd and below who have a strong finish (such as the effervescent Malcolm Footer) likely aghast at not being able to close in on the leading places like they usually do.
It was also lovely that some of our more junior members took part too. No doubt 'Jog-raphy is their favourite subject at school (unlike the Marshal who sent everyone the wrong way, clearly!).
As noted at the beginning we remain top with not many races left. Keep it up, HJ'ers, glory is almost within touching distance. Check out the calendar on our website (and the dates at the end of this newsletter) for the remaining WSFRL dates.
Marathon des Ousscuilles – 27th August
Horsham Joggers travel far and wide to run, and this was no exception as Rosie Inman, Selina Elborough and fellow Committee member Florian Yeates travelled to this oddly sounding place which is located just to the south of Toulouse, France.
And Rosie certainly didn't go 'Toulouse' as she came an impressive 2nd in the 10k with a tremendous time of 43.49. A fantastic result, and well done to the three of them.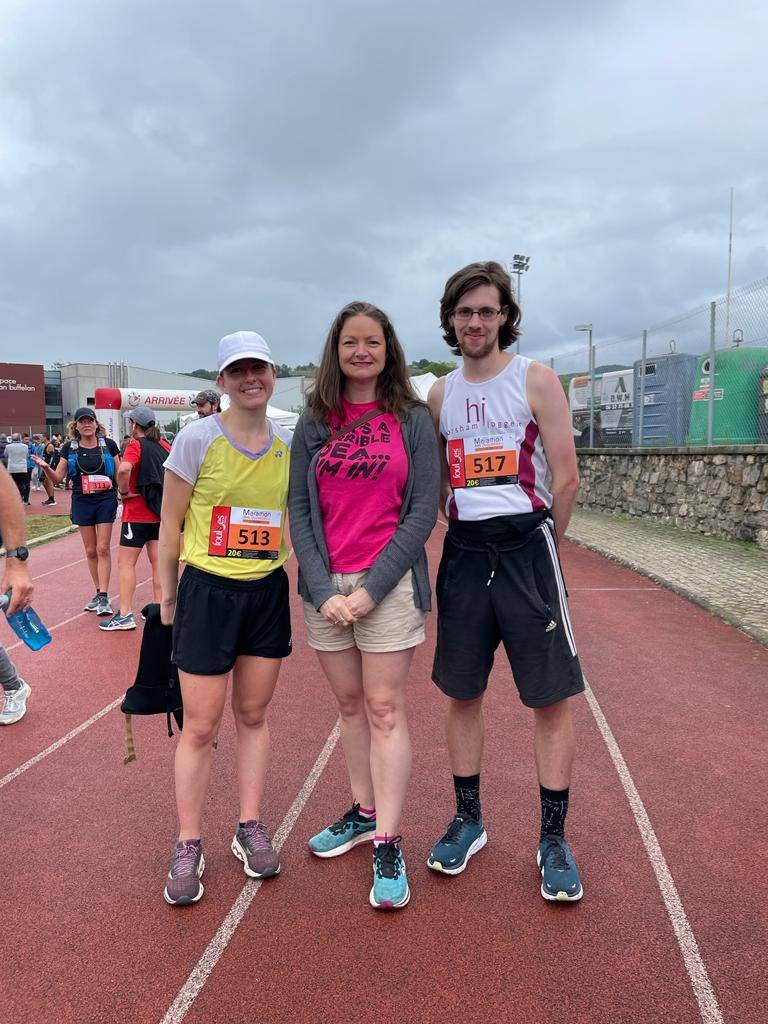 Horsham Round – 28th August
The ever-popular Horsham Round took place on Bank Holiday Monday.
Wonderfully orchestrated by Roger Johnson, this terrifically fun event remains as popular as ever, even resulting in some teams getting lost along the slightly altered route. However, it subsequently came to light that some teams also got lost during parts of the route which have remained unchanged, which added to the bemusement (or amusement) of others.
The team names remain a source of comedy with wacky ones such as 'Ploddy Hell', and 'Old Gits & Co'. However, the winner of the team name and arguably the winner of the most impressive run during the entire round must go to Elisabeth Scott, who ran the entire route solo, having started at 5am in the morning and under the name 'Two Is Company'. The early start may have been partly the reason for this of course!
Well done to everyone who took part. The Committee and Roger will be working together ahead of next year's run.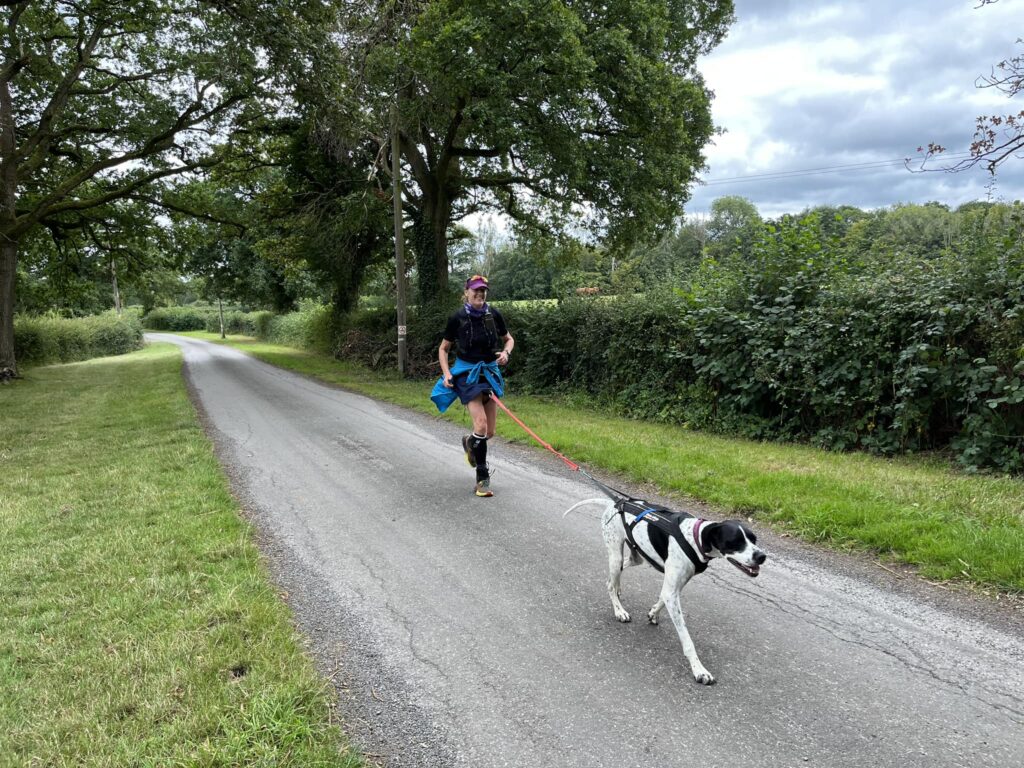 Parkrun Tourism
Our HJ'ers regularly turn up at various parkruns across the UK and further afield. In fact, every week there seems to be a number of us randomly turning up at remote parkrun events.
Amongst the stacks of examples, Ali Shears ran in the 3rd ever 'Quakers Walk' parkrun, Lisa Jestico and Kirstie Hedger ran at Uckfield (not remote but quite random), and perhaps one of the most extreme was Michael Dargue's trip to Japan, as he came 2nd at the 'Sunshine Beach' parkrun (near Kyoto), out of a total field of just 10 runners.
When asked about the event, Michael said the winner of the parkrun came over to him afterwards and was a bit shocked when Michael offered to shake his hand….and after a brief pause the pleasantries were finalised with an exchange of bows instead!
Please keep your eyes peeled to our HJ Runs Facebook page where you will see our esteemed parkrunners turning up at various locations, including our HJ parkrun tourism which takes us to Cranleigh on 7th October and then to Lancing on 14th November.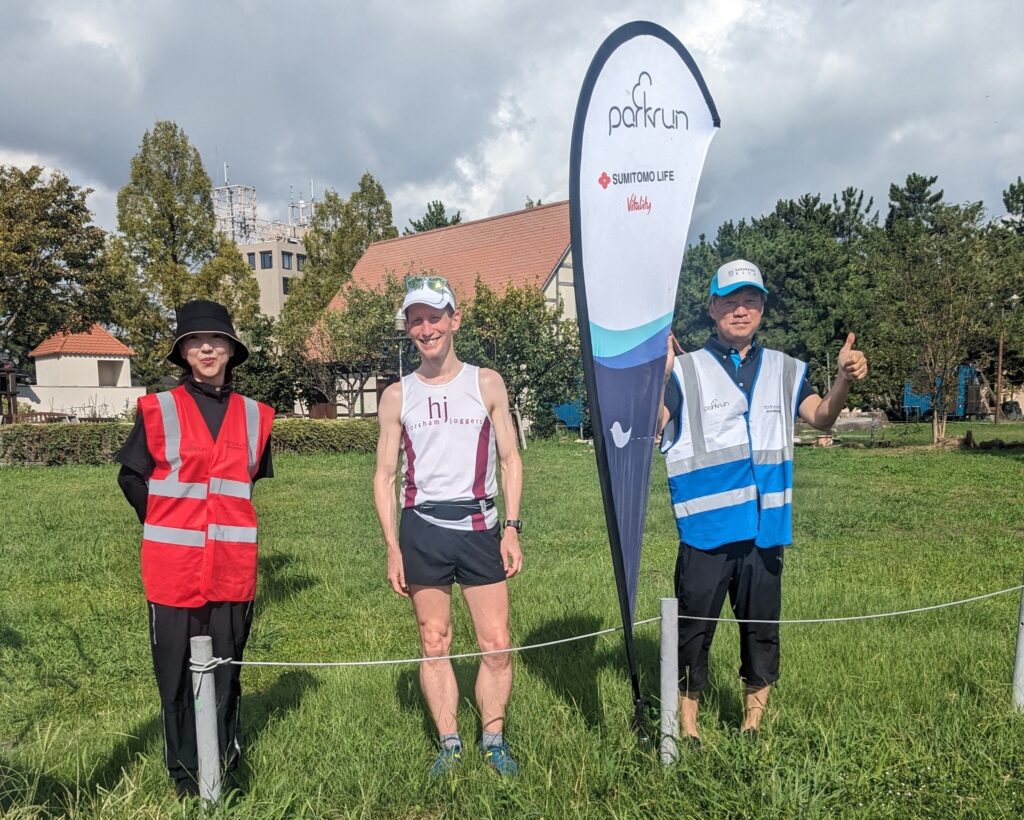 The Dragon's Back Race – Monday 4th September to Saturday 9th September
There can be no denying the extraordinary achievement of both Michael Dargue and the flying Gary Tomlinson at the 'Dragons Back' race in Wales.
With Michael fresh from his parkrun visit to Japan, and with Gary fresh from his visit to, um, Horsham Park, the pair of them took part in the 6-day Dragon's Back across the Welsh mountains, along with regular ultra runner Matt Whyman. This was a 6-day race, 380km, 17,400m of ascent mountain ultra of epic proportions from Conwy to Cardiff Castle. To put it into perspective, that's 9 marathons and 2 Everest ascents over 6 days.
Gary and Michael placed in 30th and 32nd place overall – fantastic given this event has experienced ultra runners from all over the world taking part. An incredible achievement, more so if we also think back to how hot it was at the start of September.
Both Gary and Michael will be holding a talk at The Bridge on Wednesday 18th October (7pm start) to discuss the run, followed by tea and cakes at 8pm.
Unfortunately, the event didn't go quite as planned for Matt though. An integral part of the preparation and planning with Gary and Michael, Matt was forced to pull out early on following medical advice, much to his annoyance. Two years ago, Matt had similarly been unable to complete the event and ended up writing his book 'Failure is an Option' (a great read). The hope is this further attempt at the Dragon's Back will again inspire a new book for Matt to start penning as a sequel…….over to you Matt, still time to get it on the shelves for Christmas!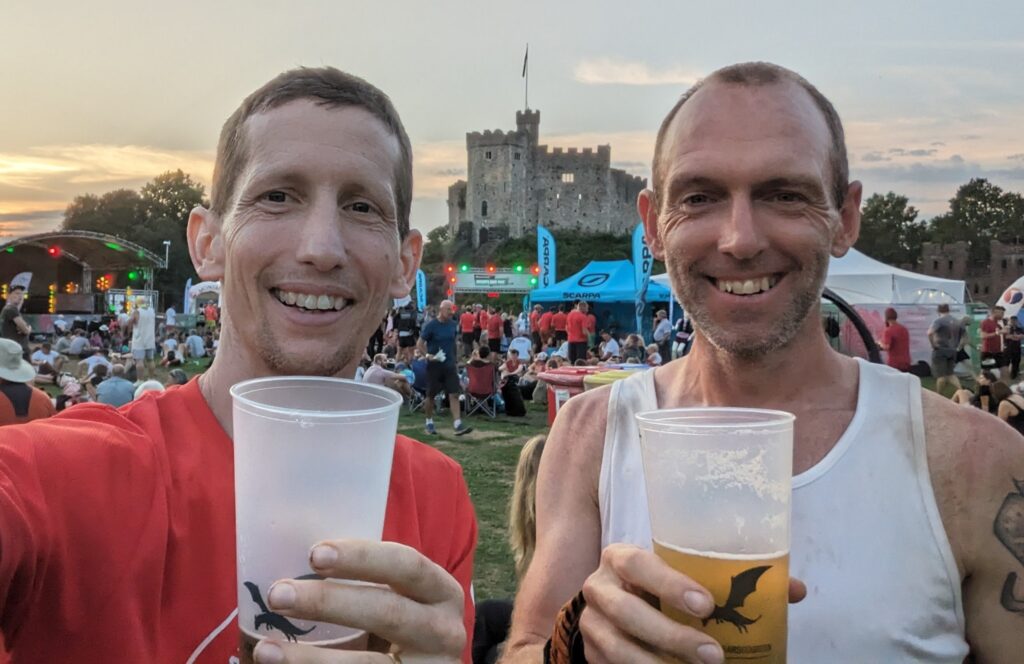 Skyscraper Challenge – 9th September
As mentioned above, as an athlete when you are unable to complete an event it leaves you with a sense of disappointment and frustration.
Lee Walker took on the London Landmarks 'Skyscraper' Challenge. He did fantastically well running up the whopping 42 floors of the Leadenhall 'Cheese-grater' building…..only to be told the 200 metre abseil back down had been called off due to the extremely hot weather that day.
Despite not being allowed to complete the full event, Lee raised a huge amount of money for the terrifically important 'Tommy's' charity. Well done, Lee!!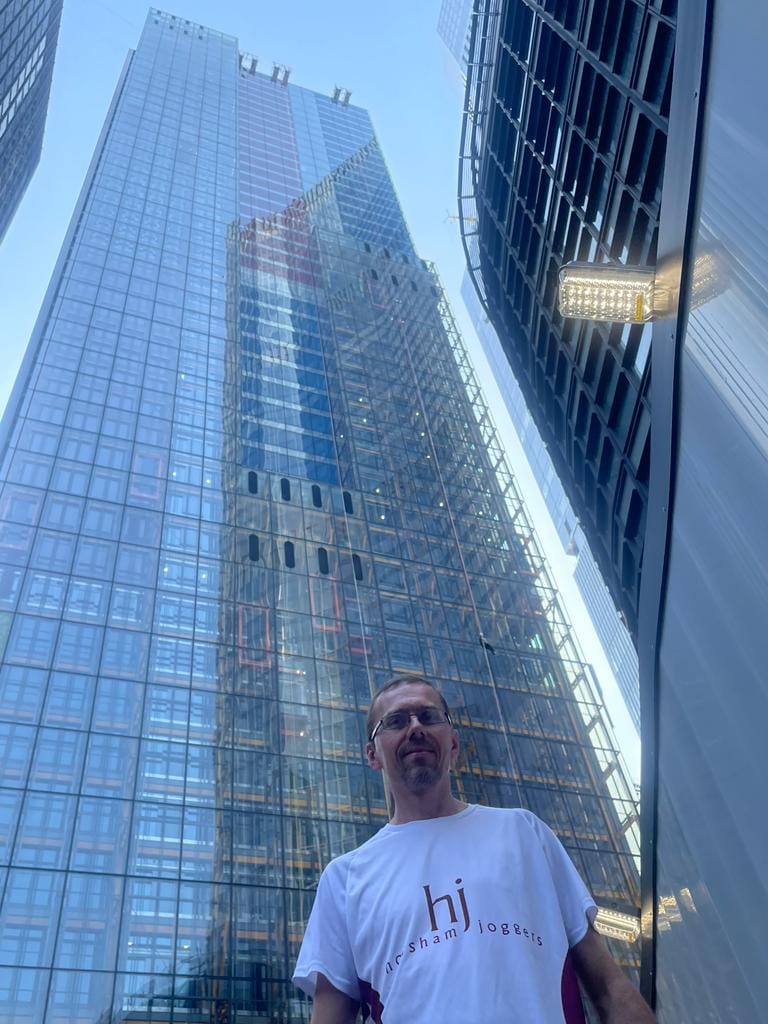 Great North Run (Half-Marathon) – 10th September
A splattering of HJ'ers ran the Great North Run, along with 60,000 others and there were some extraordinary biblical-type conditions experienced along the way.
With temperatures even in the North-East extraordinarily hot and humid and with a late-ish 11am start, it was a real effort to even start the Half Marathon without feeling the effects of the weather. Also, watching the locals attempting to hand out full pints of beer within the first couple of miles was a first and given the weather it was extremely tempting to take one on board. Many did.
In fact, even a plan to run the final part of the race with mouth open in the hope to digest some water coming off the North Sea home stretch was curtailed, as this left one susceptible to swallowing bits of old boat flailing in from the North Sea, as the wind began to whip up.
The weather was compounded by an extraordinary thunderstorm and flash flooding at the end which meant most finishers being stuck either in the car park, the queue for the North Shields Ferry, or the queue for the Metro for over 3 hours!
Despite this the race is a fantastic and very friendly event and I thoroughly recommend any HJ'ers to sign up to it.
Why the Great South Run is only 10 miles in length remains a mystery, however. Answers on a postcard, please.
Littlehampton 10K – 10th September
A stack of HJ'ers took part in the Littlehampton 10k, on a hot September morning along the south coast.
When talking about volunteers, I know the fantastic work done by Simon Perkins, Sue Hensman and their team to help several runners make the transition from 5k runner to 10k runner in time for this race. The feedback from the course has been glowing and has been inspirational to many hj club members too, new, and old.
There were some terrific achievements at Littlehampton and a surprisingly high number of PBs on the day given the weather. Here is a selection of just a few HJ placings from the results (out of interest several Horsham Joggers were not actually recorded as HJ'ers on the Littlehampton results page!):
Lewis Reeves 36.52, Tony Jakens 41.52, Brian Stone 42.28, Ian Dickinson 42.29, John Crayford 45.17, Miranda Huisman 49.06, Matt Horne 51.08, Jo Stone 51.18, Yuko Casey 1.02.04, Tracy Jones 1.04.03, Barnaby Smith 1.09.07, Ali Boulton 1.13.52, Jane Footer 1.14.48, Brian Sessions 1.21.40, Penelope Sanders 1.25.13, Paul Morley 1.25.31, Emma Paine 1.25.48.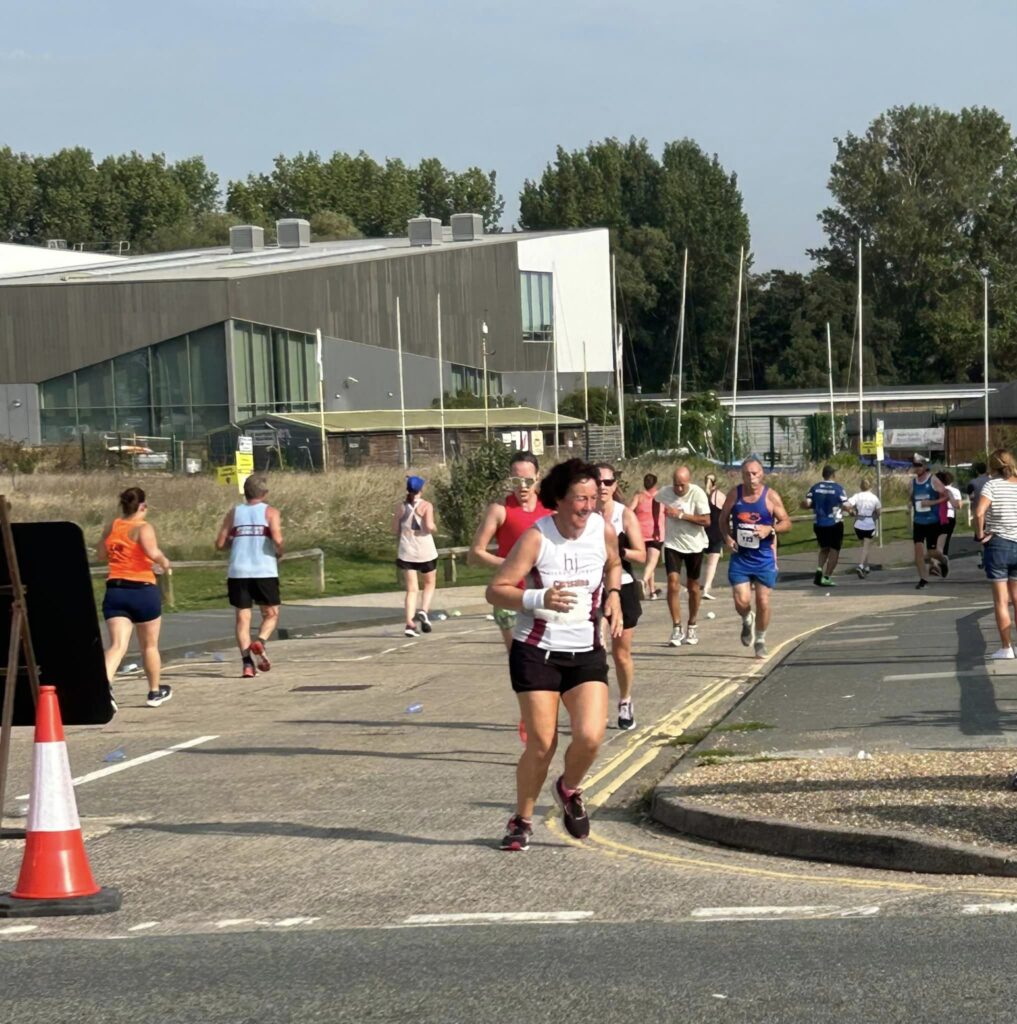 New Forest Marathon – 10th September
Although it appears several races were deliberately set to be run on the same day, and on arguably the hottest day of the year, the New Forest Marathon was yet another run taking place on 10th September.
A good number of HJ'ers were not put off by this sweltering race, which must have made remote islands in the Maldives feel more like Antarctica on a particularly cold day, though Crispin Scott has informed me this was tempered by a heavy shower during proceedings which did take the edge off the warmth.
Well done to everyone for finishing such a tough race.
10k Vets AC Championships (Battersea)
Christopher Lee and Clive Walker ran the 25 laps of the track at the Battersea 10k Vets Championships. To run this event, they had to run for their 'other' club, namely Vets AC. We are not offended by this (!) and they both produced fantastic runs in the race.
Run Reigate – 17th September
A few HJ'ers ran at the Half Marathon and 10k races in Reigate on 17th September.
The 10k race saw Colette Hall finish in 58.39, Jacqui Williamson 59.54, Sue Newman 1.01.01, Erika Hall 1.02.55, Steph Charman 1.06.00, Fiona Lear 1.17.51, Jane Adams 1.22.14 and Edna Clark 1.22.22.
The half marathon is actually a very nice route, albeit with an awkward climb towards the end, the likes of which even Kate Bush would have been delighted to run up.
Jonathan Fengaras came home in 1.36.39, Brian Frost 1.48.55, Alan Pettitt 1.51.26, Tony Hogben 1.59.03 and Caroline Bransden 2.17.50.
Spitfire 10k – 17th September
Gill and Graham Lunn ran the Spitfire 10k at the RAF Museum in Hendon.
Apart from successfully completing the race, both also managed to fit inside a helicopter located within the museum…..though I am certain the version flown by David Malins in his RAF days were slightly more advanced!
Gill then continued her tour of 10ks by running at Windsor the following week.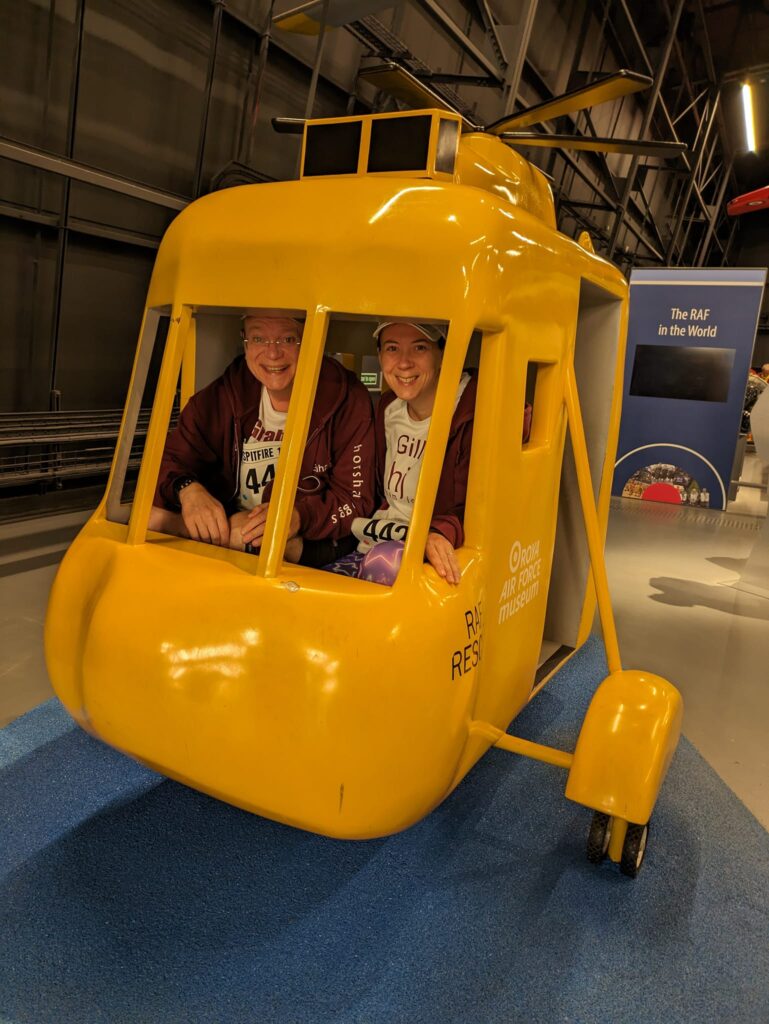 London Vitality 10k – 24th September
Plenty of HJ'ers took part in the London Vitality 10km.
Our club runners who finished were Kirstie Hedger (54.02), Colette Hall (55.57), Dawn Whamond (58.42), Erika Hall (59.49), Lou Johnson (1.01.06), Sue Bailey (1.03.24), Tracy Jones (1.03.32), Samantha Edwards (1.09.48), Heidi Chaney (1.22.41) and Jodi Bowbrick (1.24.24).
Congratulations to all that took part, especially those who raised money for good causes at the same time.
Run Barns Green 5k, 10k and Half Marathon – 24th September
It's quite hard to give a round-up of Barns Green without mentioning how much hard work was done by HJ'ers towards the event both in the run-up and on the day itself. Along with the Sunday morning half marathon training sessions (amongst other training runs), several of our club members also ended up being pacers during the various races which took place on this hugely successful day.
I know there has been some terrific feedback given by other runners on the day for the pacing team, our own Lilian Tse among those receiving lots of adulation. To sacrifice your own time to help others achieve theirs is a wonderful thing to do.
In the races, there were a huge number of success stories.
Michael Daly mistook the day as some kind of Mo Farah tribute, taking part in both the 5k and 10k races, comfortably winning the shorter distance and then coming 4th place in the 10k, which started just a few minutes after the end of the 5k. His bid for double podium was thwarted by a Brighton Phoenix runner called William Russell, who is surely not the same person as the one who created Educating Rita and Shirley Valentine. In any case, it was a tremendous effort by Michael to run back-to-back races with such aplomb.
For the males, behind Michael's 35.30 was Lewis Reeves 37.28, Will Michel 38.54 and Tom Robertson 39.08.
First female HJ'er home in the 10k was Lucinda Potten in 47.06, then Margaret Wadman 49.08, Jo Stone 50.07 and closely followed by new Thursday night track regular Anna McLaughlan in 50.15.
In the half marathon, Neil Boniface (who these days competes for Horsham Blue Star Harriers, but we'll include him as a HJ'er for this) won the race in a staggering 1.12.17. However, first official Horsham Jogger home (and 11th overall) was Simon Perkins in 1.20.25 – even more extraordinary as he'd won Horsham parkrun the previous day – then Matt Mason in a fine 1.23.48.
There was some concern towards the end of the half marathon, as our very own Tom MacDonald finished the race as third HJ home but worryingly overheated in the final quarter-mile, only just making it over the finish line. Our former Chairman Phil Liberman was fortunately on-hand to help Tom, who then spent an hour in the Medical Tent. The excellent news is that Tom recovered quickly from this ordeal – perhaps stick to vertical ascent races in future as you seem to cope better with these, Tom!
First female home in the half marathon was Rebecca Rankin in 1.41.57 (who hopefully now realises that the Sunday morning training runs were worth it!), followed by the ever-smiling Amy Johnson (now Capsey) in 1.51.10. Phyl 'Westy' Weston ran a tremendous 1.52.31 and Fran Gunning was firing on all cylinders closely behind in 1.52.53.
I know there were some other fantastic personal achievements set by so many at Barns Green. To hear from some of you that had previously doubted whether you could complete a half marathon (or a 10k) and to see that you not only completed the event you entered but did so with such resounding success is a real accomplishment.
I also know everyone at the club who took part in the training runs found them to be of benefit to them, and thanks goes to everyone who volunteered on those Sunday mornings and also to Clive Walker for helping provide the route plans.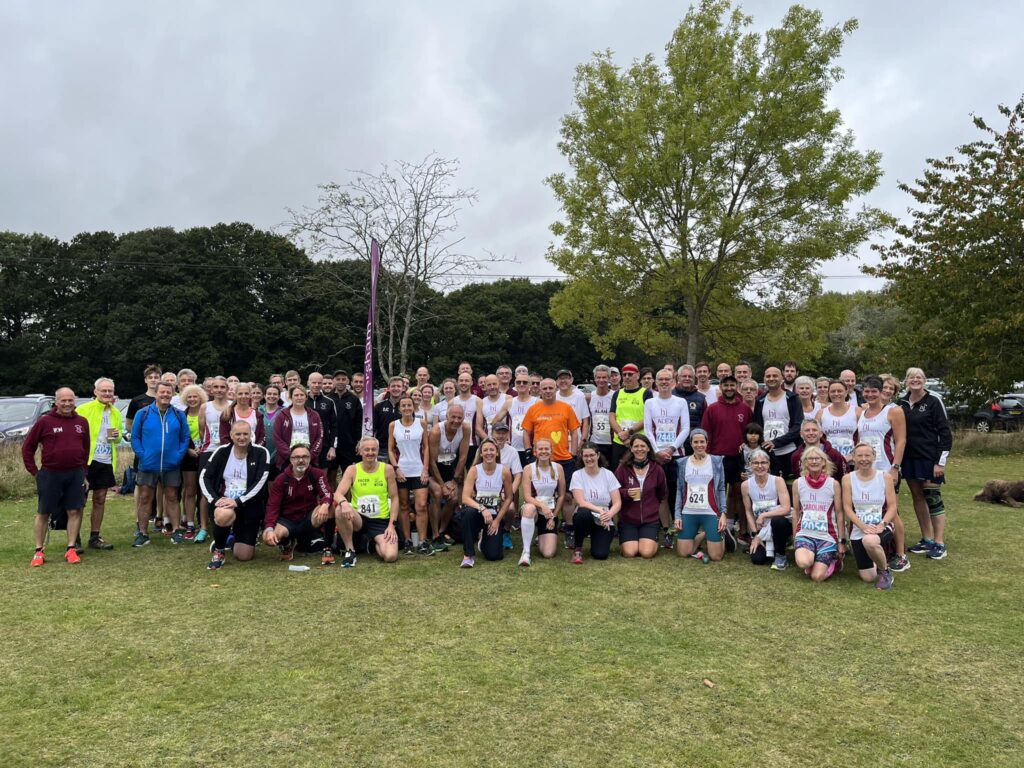 Sussex Cross-Country relays – 30th September
To show we're not just a running club that's great on both track, road and ultra, the HJ Seniors and over 60s took part in the cross-country relays at Goodwood on 30th September.
A fine 6th place for the Seniors team (which included more people aged in their 40s than 30s) was outshone by the terrific 1st place finish by the over 60s team of Pete O'Connell, Dean Angell and Steve Wigmore. As ever this group demolished all opposition in their path to bring home gold for HJ'ers.
Fantastic work chaps!
Tuesday night club runs
A huge number of club runners attend the Tuesday night runs from the Bridge. Thanks goes to all the various group leaders who volunteer and take charge of the different mile paces along the way, even more so now the dark nights are setting in.
Please take care in the evenings as the lighting along the routes we take isn't always the best. Head or body torches/lights and bright running gear is a must and please ensure you stay within your group and make the relevant leader aware if you are struggling.
Run and Talk Tuesdays
Once a month a run and talk Tuesday takes place, whereby after the Tuesday night session people can gather in the Bridge café for a chat and a catch-up to talk about things either running or non-running related. It's good to talk.
Track – Thursday night 6.30pm
No question that Thursday night track continues to increase in popularity, and with a few new coached sessions also throwing variety into the mix.
Just a reminder that its £2 to pay by card – please arrive at 6.15pm to pay so that everyone can be ready to start on the half-hour.
We also had some interest from a few members regarding whether track was suitable for their younger children to attend. As a 'one-off' we would not refuse younger children, but parents would need to complete a safeguarding code of conduct and ensure family membership was covered beforehand. It's probably also worth pointing out that HJ'ers isn't really a suitable regular running group for under 12s and we'd therefore steer parents towards signing their children up to the Horsham Junior Athletics Club instead, which is for children aged 5 years up to 12, or to Horsham Blue Star Harriers which has specialist training and is for both children and adults from 10 years and up (noting some of our club runners young and old are also members of Blue Star).
Thursday night non-track sessions – 6.30pm
The Thursday night non-track events hosted by Claire Butler and Karen England continue to prove a resounding success.
Both Claire and Karen regularly give their time both at these sessions and at the Tuesday night club runs too for the benefit of others at the club. The feedback is the sessions are great fun – often a mix of hill-work, fartlek training, interval work and conditioning. Behind the scenes remains the super Fiona Clifton, who ran these sessions for many years in the past but still provides tips and support. Keep your eyes on the HJ Runs page for upcoming sessions.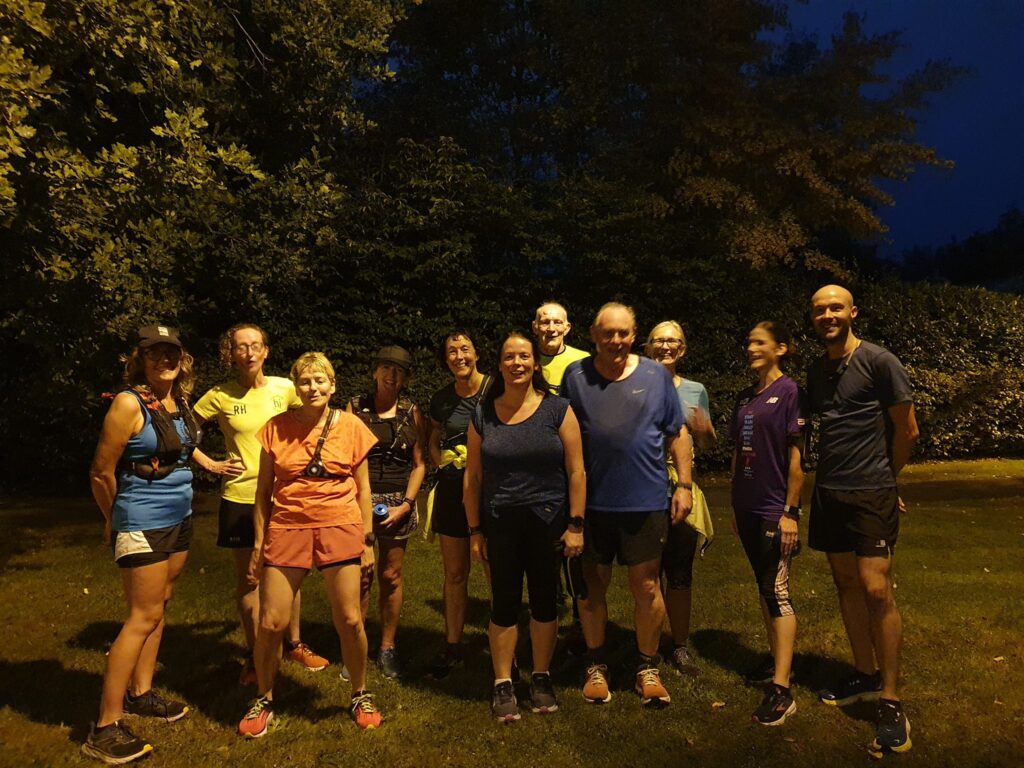 Other News and dates
Vote for VOY and JOY
Please continue to get your votes in for Volunteer of the Year and Jogger of the Year. You can submit your own nominations by emailing the Committee (or individual Committee member) with the name of the Horsham Jogger you wish to see nominated.
SportsShoes discount code
Don't forget you can use the exclusive HJ SportsShoes code as put up in the FB private forum each month for discount on your orders and delivery.
Some other key races/events coming up
7th October – parkrun away day (Cranleigh)
8th October – WSFRL Great Walstead 5
15th October – Hove Prom 10k
15th October – Gunpowder Trot 'trial' run
18th October – Dragon's Back Race talk by Gary Tomlinson and Michael Dargue
22nd October – Worthing Seafront 10k
22nd October – WSFRL – Windlesham Whip
29th October – WSFRL – Steepdown Challenge
29th October – New Forest 10 miler
5th November – WSFRL – GunPowder Trot (The finale!Volunteers needed please!!!)
11th November – parkrun away day (Lancing)
14th November – Winter Handicap followed by Awards Night
19th November – Brighton 10k
19th November – Sussex Grand Prix Crowborough 10k
24th November – Horsham Joggers Quiz Night
Please keep your eye on the calendar on the Joggers website for any additions/updates to the above.
Have a great few weeks everyone, be lucky and see you next time!
Simon Holmes