HJ Newsletter! The latest version of the newsletter is now available, and remains up there with the Bible in length, mostly due to the extraordinary volume of races, events and news which have taken place these past 6-7 weeks. What a great bunch we are.
A Summer of Warmth
With the world sometimes seemingly doom and gloom, we all need things which reflect the lighter and brighter side of life. When asked if I could start penning the newsletter last time out, the thought had crossed my mind to inundate you with quips, light-heartedness and useless attempts at general amusement. However, you will recall that my opener to the May newsletter was a little deep but heart-felt, and I have been quite touched by some of the feedback I received from a number of fellow runners, many saying how they could relate to the feelings I had experienced over winter. It's good to talk, or so Bob Hoskins used to say.
This opener isn't quite so deep.
Personally, I dislike running in hot weather. Luke Minogue mentioned to me after the 2nd time trial up at Roosthole that he gets faster in the heat, but apart from injuries I can't think of anything more depleting. Recently it has been so warm I think even local farmers have probably been feeding their chickens crushed ice to avoid them from laying hard-boiled eggs, and whilst running out on the trails I'm sure I spotted some cows giving evaporated milk.
When I see athletes deliberately training at altitude or extreme temperatures, I admire them. I'm aware heat training has been shown to improve aerobic performance, but given I find running to the top of Lambs Farm Road awkward when the sun shines, I can't see the top Kenyans being troubled by similar issues.
Don't get me wrong, it has been nice to see the sun. It had been so damp in the previous few months that even Marti Pellow would surely have considered adding a further name to his famous band, so I suppose I should avoid complaining too much. But a little bit of cool and overcast weather to run in would be nice, otherwise it really will be Sweet Surrender.
Unsung Hero
So much volunteer work takes place at HJ'ers and a lot of it goes under the radar. At some events, people work tirelessly behind the scenes who may themselves not be taking part in the actual event, to ensure those who are able still may.
So, going forward and starting now in each newsletter one of our 'Unsung Heroes' at the club will be included as a thank you to them.
Our first Unsung Hero is John Willcox.
John organised and co-ordinated the HJ'ers at the recent South Downs Way (SDW) 100-mile relay, managing the two HJ teams with fantastic aplomb. He took on both the organisation of this event and a lot of the driving, and he has helped with this event over a number of previous years and this has certainly not gone unnoticed.
The Club would therefore like to thank him for his hard work with this event. It is a huge task. Thank you John!!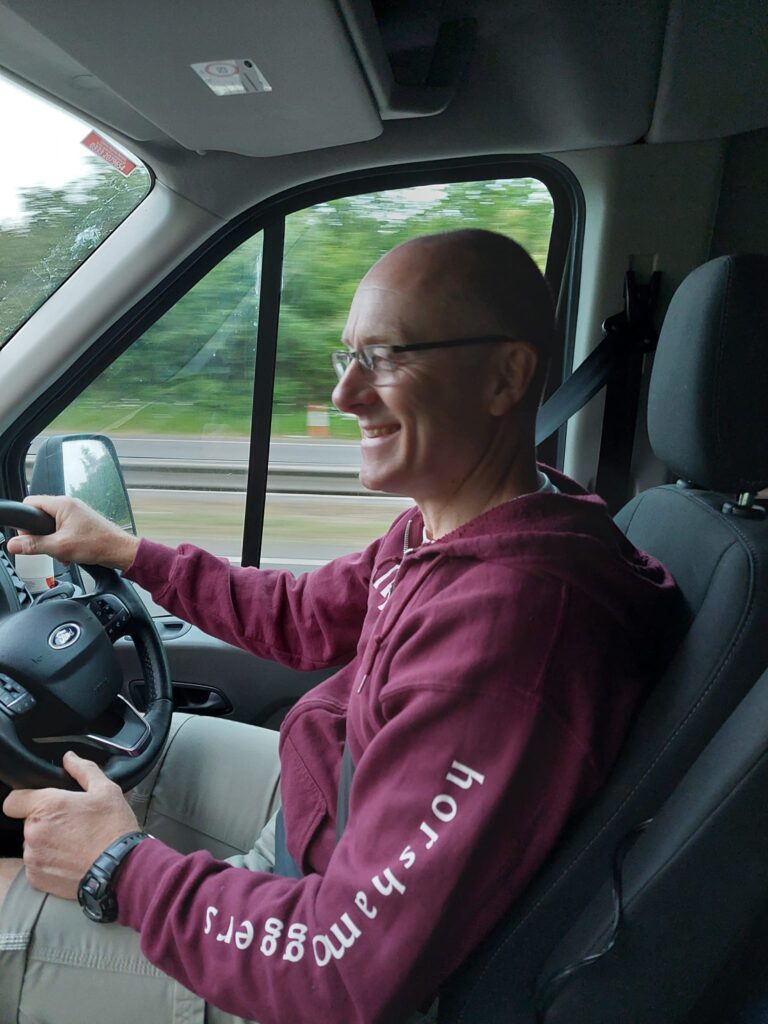 Alf Shrubb Running Shoes
The HJ'ers have sponsored Alf Shrubb's running shoes from Horsham Museum. Alf was a World Champion middle/long distance runner, born in Slinfold in 1879 and someone who dominated the sport in the Edwardian era. During a career from 1899 to 1912 he won over 1,000 races and set a staggering 28 world records!!
Races and Runs
Trying to piece together so many individual and group runs and races is a tough job, not least because we take part in so many and particularly at this time of the year. So, apologies in advance but there are simply too many taking place to include them all… but here's a selection:-
Horsham 10K
Where else can we start but the Horsham 10k and the fantastic success of the event this year?
A huge swathe of volunteers from the club helped to make the day an outstanding success, and we have received a massive amount of positive feedback from runners of other clubs who also took part. Such a lot of effort and months of planning goes into making the day work, from the Committee members to the pacers, to the Marshals and to those taking payments for the on-the-day entries.
A whopping £342 was also raised from the cake stall sales alone which is terrific to see. Ella Agent's last minute plea for additional bakers clearly worked and also showed that by having the coolest name at the club you can get your fellow runners to do pretty much anything.
Thank you to everyone who helped make the day such a victory.
Please note the Horsham 10k is also part of the Sussex Grand Prix, so anyone who entered may also wish to check their results to see how they scored. More details about the Sussex Grand Prix can be found in the 'Other News' section towards the end of the newsletter.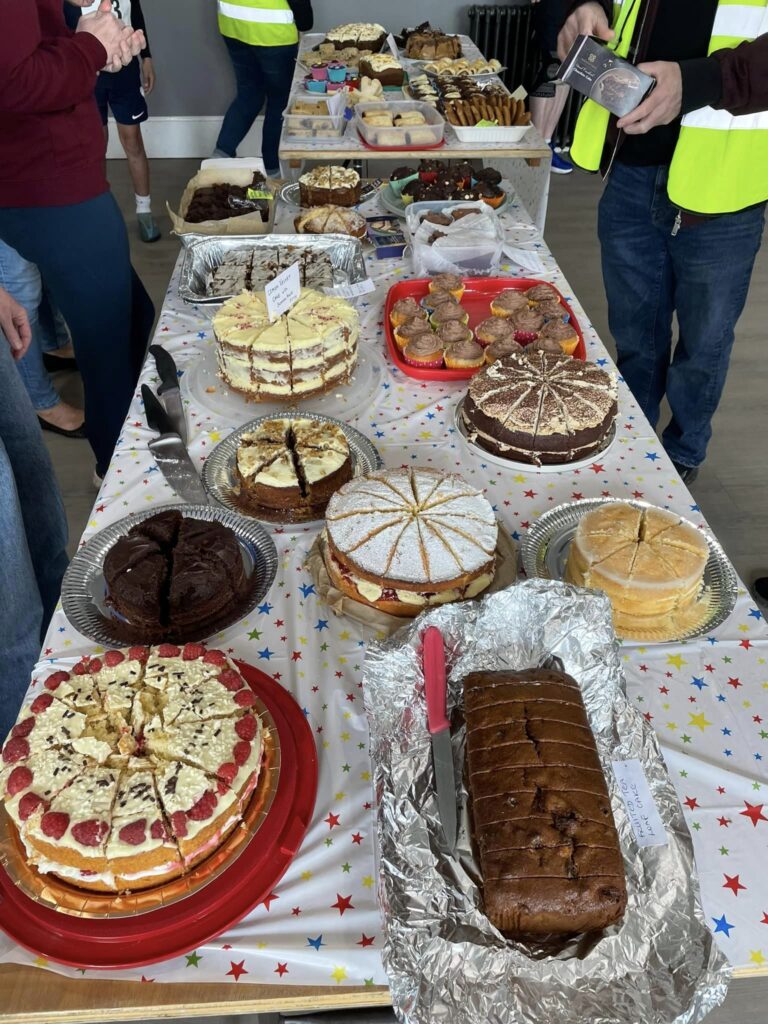 Andy Spriggs Running Spirit Award
One of the awards presented on the day of the 10k was for the Andy Spriggs Running Spirit award.
This award was set up to typify the criteria of generosity, courage, stoicism, passion, perseverance, or sportsmanship.
Therefore, the 10k panel deservedly selected a Crawley Saints and Sinners runner who reflects all of these and is someone so many of us know, Nina Trevarthen. Nina was selected by the panel due to her being an ever-present at the Horsham 10k (and other local races), with her infectious smile and bright yellow scrunchies making her instantly recognisable in so many races.
West Sussex Fun Run League
The WSFRL races are now well under way and at the time of typing our amazing HJ'ers team is currently sitting top of the league.
Within these events we have seen some terrific runs and times, notably at the Portslade Hedgehopper 5 there was a terrific 3rd place overall for Michael Daly and an equally terrific 3rd women's place for Melissa Galea.
At the Trundle View 5, which frankly contained more uneven ground than Boris Johnson's political tenure, the hj'ers came second points-wise on the night and at the Littlehampton Beach Run a fortnight later we demolished all our opponents to take top spot.
The Beach Run saw a record 86 hj'ers in this event. There were some terrific performances too, top points going to a number of the men with Michael Daly (3rd) and Gary Tomlinson (4th), and also both Melissa Galea and Kat Owens bringing home top points for the women too. Mick Duplock came home to terrific applause, and a big shout out must go to Marcus Leach for doing brilliantly to duck under the seemingly endless and low lying Groynes along the sand. It would certainly have been a different way of getting a 'Groyne' strain if he had bumped his head.
Not only this, but our figures for fish and chip sales arguably broke all records too, with a stonking 60 portions of cod, 68 portions of chips, 10 battered sausages, 8 jumbo sausages and 3 portions of Quorn Veggie Nuggets being consumed.
The journey home probably also beat some sort of record for time spent trying to navigate closed roads, but let's not discuss that again. However, no doubt if there was a league table for 'number of expletives spoken on the route home' us hj'ers would be top of the pile there too!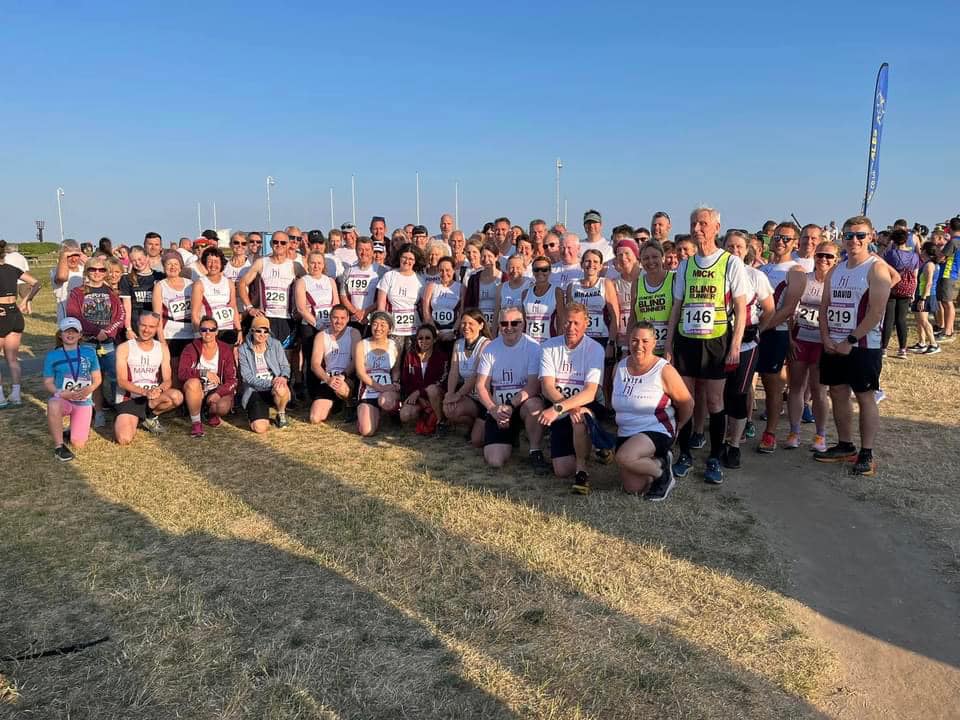 REP Bluebell 10k and 10 mile Event – 7th May
A few hj'ers took part in the Angmering Bluebell Trail Run on 7th May. Even with the rain and mud still everywhere, it was a top performance by Lucinda Potten coming home First Lady in the 10k race.
LDWA South Downs Marathon – 14th May (and Wimbledon Common Half)
On the same day of the Horsham 10k, Brian Frost and Alan Pettitt were taking on the 28-mile, 1200m climb of the South Downs Marathon. This run starts at East Dean, then across Seven Sisters, Firle, and Alfriston and has some gorgeous views to take in. It feels a slightly extreme way to avoid volunteering at the Horsham 10k but I've known both long enough to let them off. Great running chaps.
It should also be pointed out that both Brian and Alan then followed up this run by completing the Wimbledon Common half marathon on 28th May. A lovely, off-road course round the common, made arguably more fun by the appearance of some Wombles during the run. I'm not sure there would have been much competition for Great Uncle Bulgaria in the V300 age category!
England Masters (Chester) – 21st May
Three of our top ladies ran at the England Masters in the Chester Half on 21st May. Ali Edney (V55), Penny Barron (V60) and Lorraine Hunter (V75) produced some terrific performances against the rest of England's elite.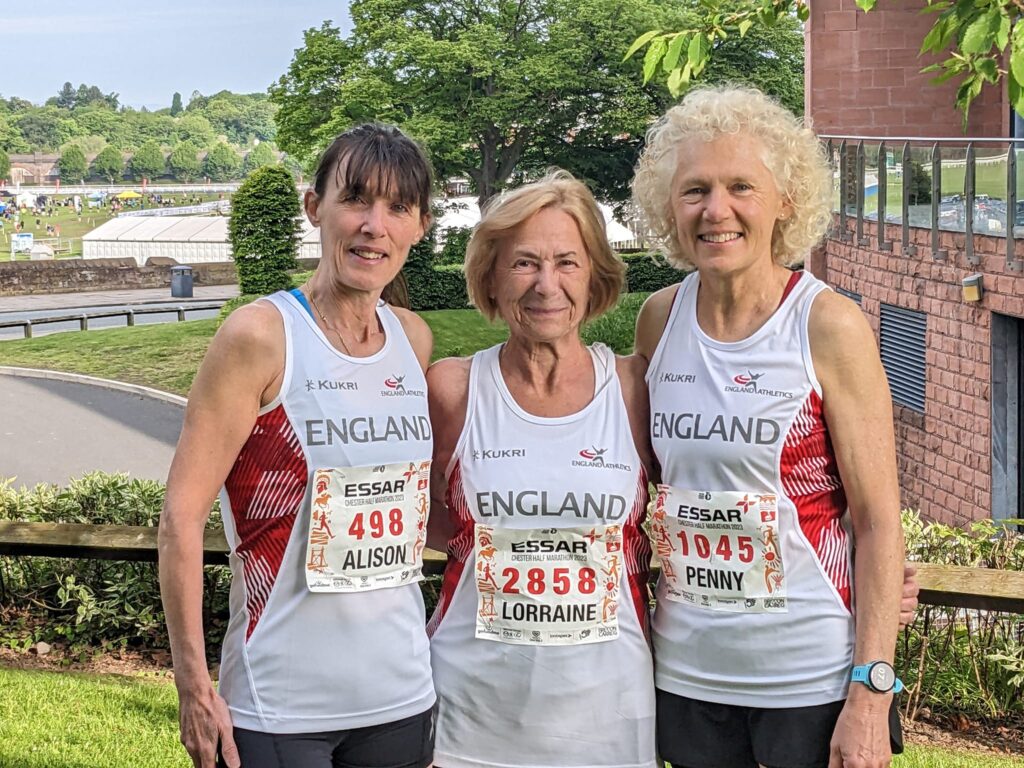 Windermere Marathon – 21st May
HJ'ers were represented amongst the 577-strong field at the very tough Windermere Marathon on 21st May. Rob Jochimsen, Ian Wilcox, Richard Cherriman, and Michael Saunders completed this event with every one of them coming in under 5 and a half hours, terrific times given the hilly course. Michael Saunders continues to defy belief with a tremendous 4 hours 40 mins.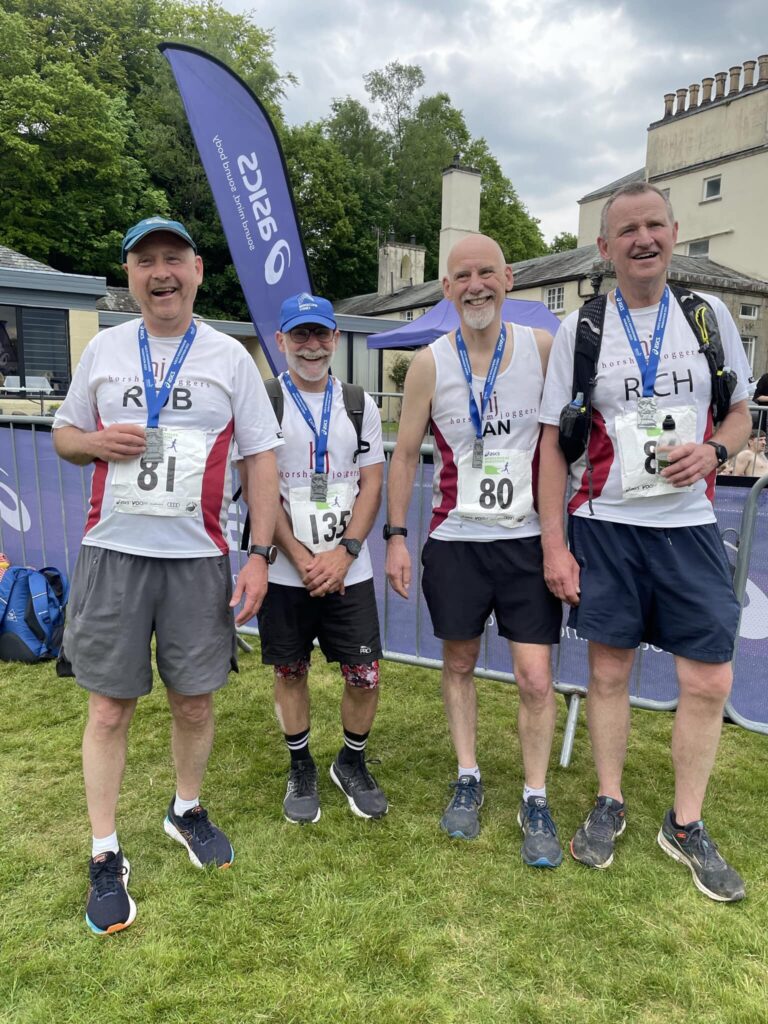 Run Gatwick 10k – 21st May
16 hj'ers took part in the slightly altered event this year, with the Half Marathon chaos of 2022 being removed but with the 10k event remaining.
Despite a heavy cold, David Wilkinson was first hj'er home (40.20), followed by Raff Vitale (41.00), and Andy Robins (44.56), who smashed his 10K PB in the process. Miranda Huisman was first female hj'er home in 47.13, followed by Margaret Wadman (49.24) and Frankie Bailey (52.32) who also demolished her PB.
Nutbourne Vinyard Run – 21st May
Another event taking place on 21st May was the Nutbourne Vinyard run, where finishers of this beautiful course were also rewarded with a glass of wine.
5 hj'ers took part on the day, and whilst I wouldn't like to suggest the lure of a glass of wine at the end perhaps helped these individuals to decide to enter the event, I can see next year's run suddenly having a hj'er turnout on the scale of the Littlehampton Beach Run!
Boston Harpoon 5 miler – 21st May
Graeme Hull ran the Harpoon Brewery 5 miler which, not dissimilar to the Nutbourne Vinyard Run, included beers and lunch vouchers as part of the entry. Whilst my own memories of Boston are of course somewhat mixed, I could well be tempted to return if there's free drinks going! Graeme ran a terrific time of 38.49 and was amongst a field of 3,815 runners, the winner coming home in an outstanding 23.52.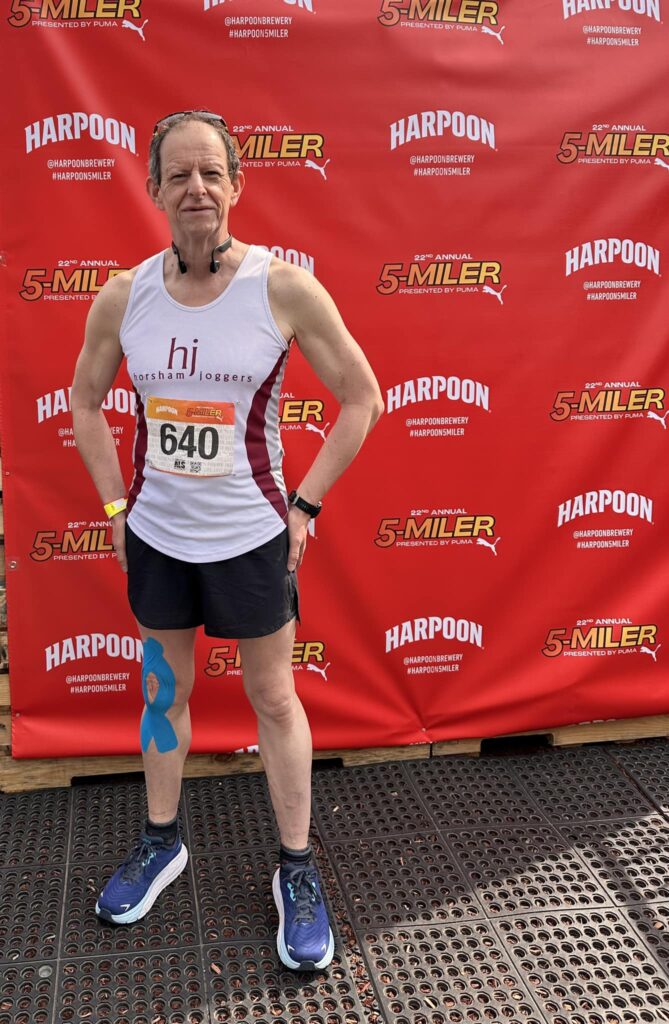 Kempton Park Half – 28th May
Harry Wilcox smashed his own 10k/10 mile and Half Marathon PBs in the one race with a time of 1 hr 26 mins at Kempton Park. I'm fairly sure this didn't include jumping over any fences on his way round.
Edinburgh Marathon and Half Marathons – 28th May
Both Andi Marfleet (an outstanding PB of 3 hrs 7 mins), and Mark Holmes (4 hrs 5 mins) ran the Edinburgh Marathon which actually measures a little longer than a Marathon on the official route. Mark's time was impressive particularly given he struggled with training and Covid in the run up to the race.
Hadley O'Dwyer put in a fantastic 1 hr 26 mins at the Edinburgh Half despite being ill twice on his way round, to smash his own PB.
South Downs Way (SDW) 100 Relay – 3rd June
The SDW 100 Relay took place on 3rd June, and there were some outstanding efforts which took place during this run. Two teams ran the 100 miles from Eastbourne to Winchester, and a few club records went on some legs.
The 'A' Team finished in 11 hrs 50 mins (just 9 mins outside a new club record) and the Vets team came home in 14 hrs 19 mins.
Rebecca Rankin won the Tony Johnson Award after smashing two of the ladies' records and narrowly missing out on the third. Becky has recently had a break from running to become a mum, and recent injuries during her comeback slowed her progress, making her achievements on the day all the more impressive.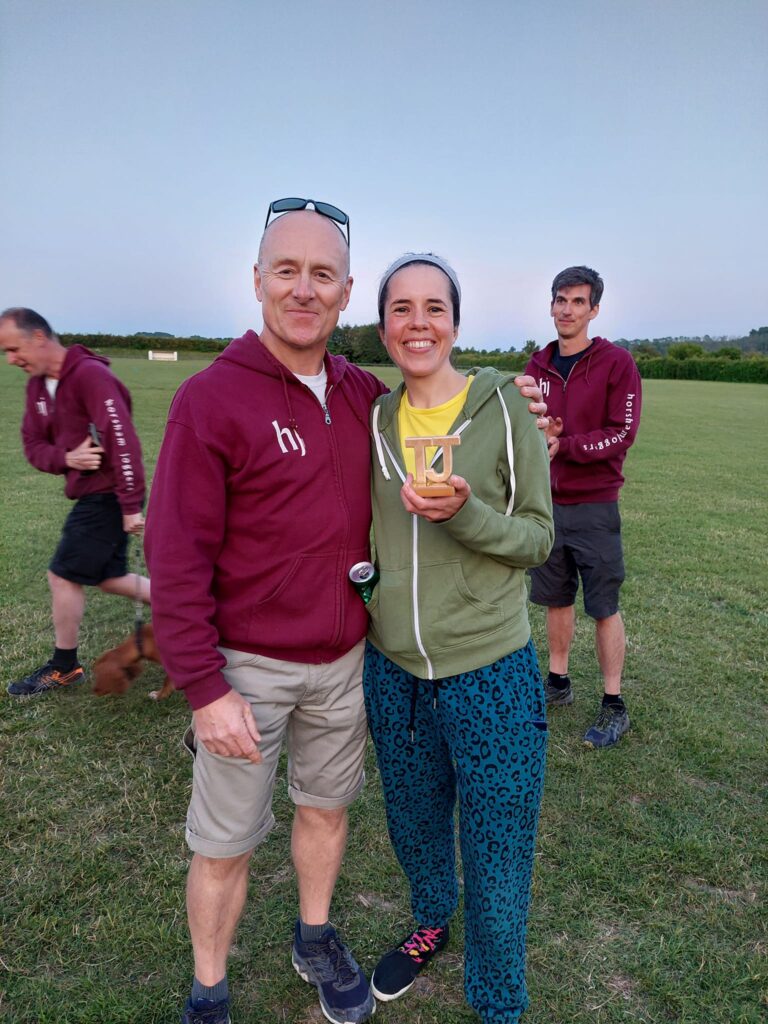 Stockholm Marathon – 4th June
Chris Newberry was another hj'er 'on tour' as he completed the Stockholm Marathon. In very warm conditions he completed this in a tremendous time of just under 4 hours. Not bad going for his first marathon!
Worthing 10k – 4th June
Any 10k down in Worthing is well represented by the club, and this time around was no exception with 27 hj'ers taking part.
Despite hot conditions a number of PBs were set during the event, not least by husband and wife Brian and Jo Stone who ran super times of 44.07 and 48.55 respectively.
Victoria Welsby was first female hj'er home (46.55) with Margaret Wadman second (48.38), and Jo Stone third, but there was some controversy over the results of the day concerning the top place for the males.
Malcolm Footer had looked all set to take the prize of first hj'er home with a narrow one-second advantage over Tony Jakens (42.04/42.05). However, as Malcolm was no doubt ready to crack open the champagne, later that very day new hj'er Simon Lockwood suddenly appeared at the top of the results page to take the glory with a tremendous time of 39.55.
Malcolm has a very forgiving nature as we know, though no doubt will have still drunk the champagne in despair at having the top place taken from him in dramatic circumstances (well, dramatic for a 10k results page).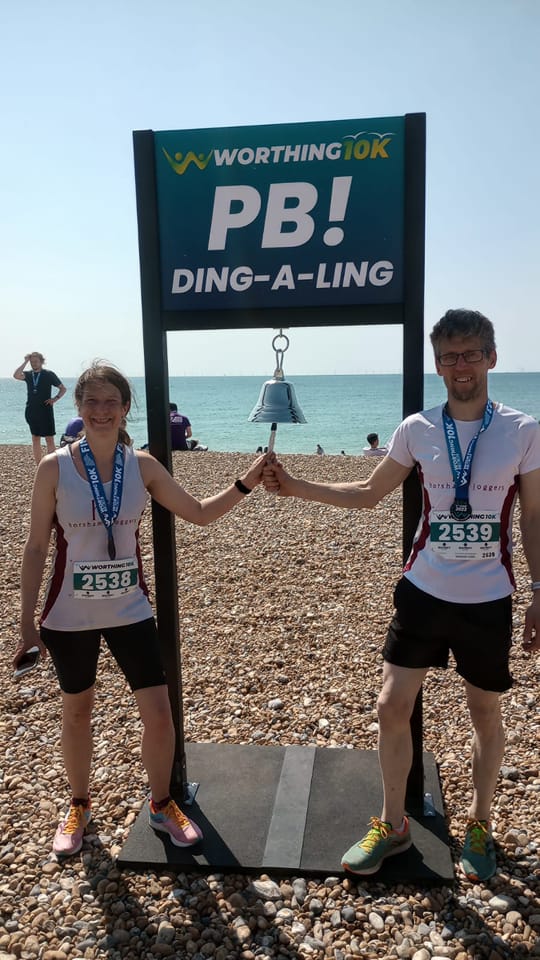 Endure 24 – 10th June
Despite temperatures more akin to the Sahara Desert on a particularly stuffy day, the hj team of David and Sally Malins, Tess and Mark Adams, Victoria and Andy Robins and Mark and Lisa Aylmore still managed to complete the 24 hour running challenge with very little sleep. The overall position of 81st out of 753 teams a very good end result.
In particular, it is fantastic to see Mark Aylmore back running in an event again.
A few of other hj'ers in the shape of Simon Perkins, Malcolm Footer, Phil Liberman and Claire Miller were also in attendance albeit as part of another team (so I won't post the result but they did very well).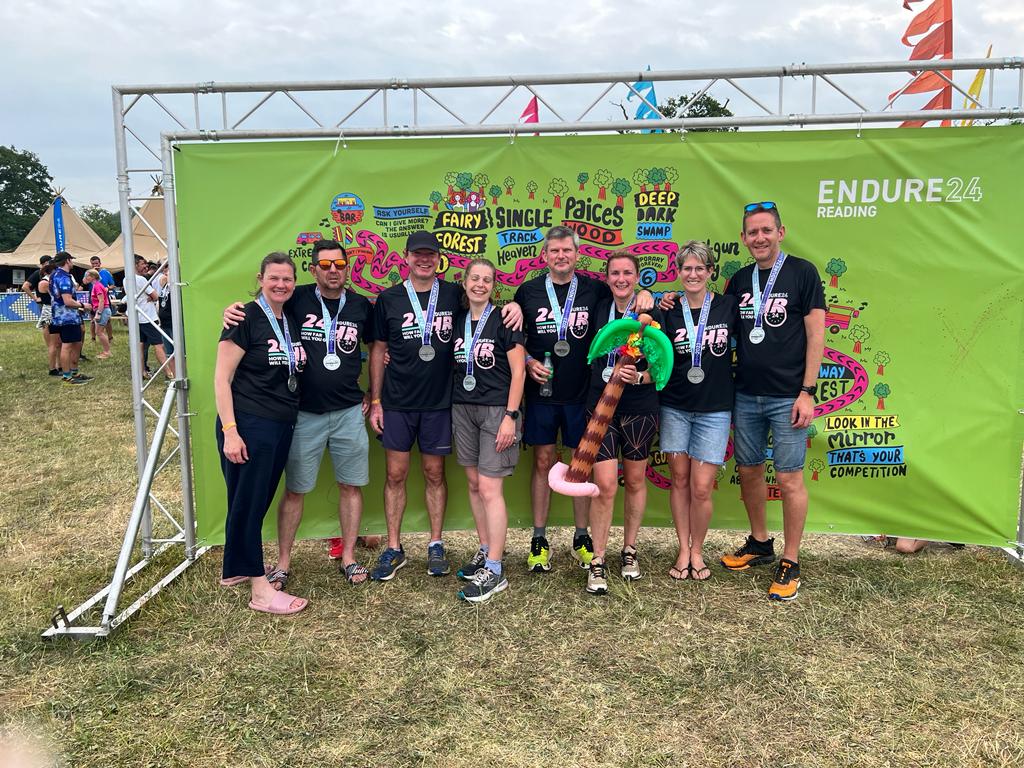 Wisborough Green 10k
This event normally has a huge hj'er turnout and once again we did ourselves proud with 16 hj'ers turning up despite blisteringly humid weather.
Gary Tomlinson was first hj'er home in 34.44, and Rosie Inman was first female hj'er over the line with a fab 44.38. Other notable mentions must also go to Carl Laver who ran a PB of 52.24 and Tim Hampson with a welcome return to some shorter races with an impressive 49.28.
Jersey Half Marathon – 11th June
Jill Page (2 hrs 1 min), Margreet Potter (2 hrs 25 mins), and Lee Wood McGeean (also 2 hrs 25 mins) took on the ever-scenic Jersey Half Marathon along with 367 other competitors.
Helsinki Half Marathon – 11th June
Caroline Bransden kept up her reputation as arguably the best travelled HJ'er of 2023 by running the Helskini Half Marathon in an excellent time of 2 hrs 17 mins.
Caroline ran the race with the help of some heavy metal/rock music which played along the course, and no doubt this in part helped her to get to the 'Finnish' in such a good time.
South Downs Way 100 – 10th/11th June
Congratulations must go to Matt Whyman for completing the SDW100. Not only was the weather extraordinarily hot for the run, with temperatures touching 30 degrees at times, the route in itself is very tough. Matt has also now finished the whole Centurion series!
A notable mention must also go to Emma Walters who did a sterling job by turning up at 1am to join Matt for 'only' 30 miles of his route.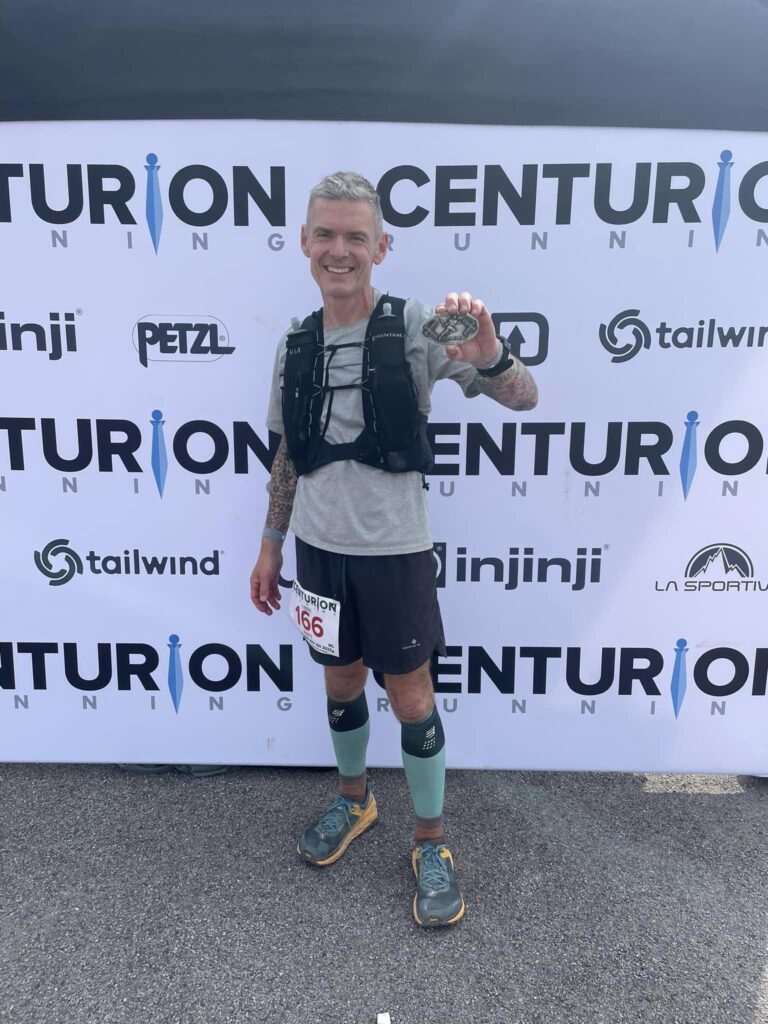 Other News
Mick Duplock's 80th birthday
Mick Duplock, our blind runner who amazes us all with his courageous attitude and remarkable turnout at a number of events, will be 80 years old on 22nd July.
To celebrate, Mick is intending to run 20 laps of the BBH track on 4 separate Thursday's during June and July, on 22nd June, 6th July, 13th July and 20th July. The final run on 20th July will be followed by cake and a drink at The Bridge.
Mick will also be doing Horsham Parkrun on 22nd July (his actual birthday).
Please feel free to come along to any of these events to help Mick celebrate his special birthday and to encourage him along.
Sussex Grand Prix races
With a lot of focus on the West Sussex Fun Run League, the highly enjoyable Sussex Grand Prix has gone a little under the radar. Briefly, this is a 12 race event where respective clubs score points in a league format. The races range from 5 to 15 milers so there is usually something for everyone. More details of these will be shared if only to remind us all it exists, and we scored very well at one of the events earlier in the year.
As noted earlier, the Horsham 10k is also part of the Sussex Grand Prix so anyone who entered may wish to check their results to see how they scored, and how we as a club are getting on over the year so far.
SportsShoes Code
Don't forget you can use the Sportsshoes code as put up in the FB HJ Runs group each month for discount on your orders and delivery. Remember though that these codes are for exclusive use by Horsham Joggers only and are not for sharing!
Membership Renewal and Numbers
We now have 557 club members as at 14 June 2023. Note anyone who missed the renewal deadline will need to pay to re-join. Please put it in your calendar to remind yourselves to do it next year if you forgot this time around!
Coming up
Some of the other items and races of note coming up are:
20th June – Naked Run (Horsham Park). Please don't turn up naked, but make sure you are NOT wearing a timing device!
24th June – Downland Dash (West Sussex Fun Run League)
25th June – North Downs Run 30k
2nd July – Bewl 15 (Sussex Grand Prix)
5th July – Roundhill Romp (West Sussex Fun Run League)
9th July – Hove Hornets Stinger (West Sussex Fun Run League)
12th July – Phoenix 10k (Sussex Grand Prix)
14th/15th July – Camping and Parkrun weekend at Moors Valley Parkrun
18th July – Summer handicap (Horsham Park)
19th July – Wakehurst Willow
23rd July – Henfield Seven Stiles (West Sussex Fun Run League)
Roosthole Time Trial 5k
Two of the time trials have now taken place, with the next one due on Tuesday 11th July. You can still turn up for these even if you have yet to complete one, they are great fun.
Tuesday Night Runs
The Tuesday night club runs from the Bridge continue to be a success. So much thanks as ever must go to the group run leaders. Please note on occasion over the summer these will start from Horsham Park so please keep your eyes peeled to the FB page for any announcements.
Thursday night Track
The track sessions (£2 a session) take place every Thursday night at The Bridge (arrive 6.15 to pay for a 6.30 start) with both the coached and main track sessions very well represented.
5k to 10k 'Keep on Running' course
These sessions begin on Tuesday 20th June and anyone who has entered these will have been contacted separately. These are held twice a week on Tuesday's and Thursday's at 7pm for an hour and it is NOT too late to join! The cost of this course is £25 for HJ members. Not bad for an 11-week course!
Barns Green Half Marathon Training
Sunday morning runs will start from 2nd July onwards at The Bridge, likely to start at 8am. These are not supported runs but routes that you can follow.
Social Events
Along with the Moors Valley Parkrun on 14th/15th July, some other dates for social events will follow so please keep an eye on social media and the Facebook page for these.
Enjoy the summer.
Simon Holmes