Round, Round, Get Around
Nothing says Bank Holiday weekend like the Horsham Round (apart, perhaps, from pouring rain). The Round is back again in 2021, and we are targeting BH Monday – August 30th. To keep things manageable this year we are going to limit entries to HJ members, and we hope to be able to open it up to other clubs again in 2022.
It's a great team event (you'll need to appoint a captain to liaise with the organisation team) and, of course you can do it solo if you fancy.
As we've done in previous years (and restrictions permitting) we'd like to have an informal social in the park afterwards, so plan to stick around and perhaps bring some refreshments.
There may be a shout going out for volunteers to recce the legs ahead of the event, just to make sure that our course instructions are up to date. Keep your eyes peeled if you're interested!
As noted, you can't do the Round if you're not an HJ member. There are apparently 123 of you who have not yet renewed your membership. Please be aware that, from June 1st, renewal will once again incur an additional joining fee.
Also planned for some time in July or August – date to be decided – is the annual Summer Handicap. More to follow…
Walk the walk
Back for 2021 as well is the annual Riverside Walk, planned for September 11th. It's a 13-mile route, there's no charge, it's just for fun, and it's open to walkers and runners of all ages.
Find out more about it here: https://www.horsham.community/2021-annual-riverside-walk/
But we can't have it all
While the Round looks to be going ahead, we're sad to say that we will be unable to stage the Horsham 10k this year. A big disappointment but let's look forward to bringing it back with a bang in 2022 (provisional date is 22nd May 2022).
Tuesdays and Thursdays
It's great to see so many of you getting back into our Tuesday evening runs, and we're loving all the pictures you're posting to the forum. While group leaders have the option now to increase their group size to a maximum of 12 joggers if they feel comfortable doing so, we must continue using the booking system until at least June 21st, when hopefully restrictions will be lifted as planned and we can get back to normal the following day. A lot of hard work continues in the background to enable this system to work as well as it does, so thanks to all involved.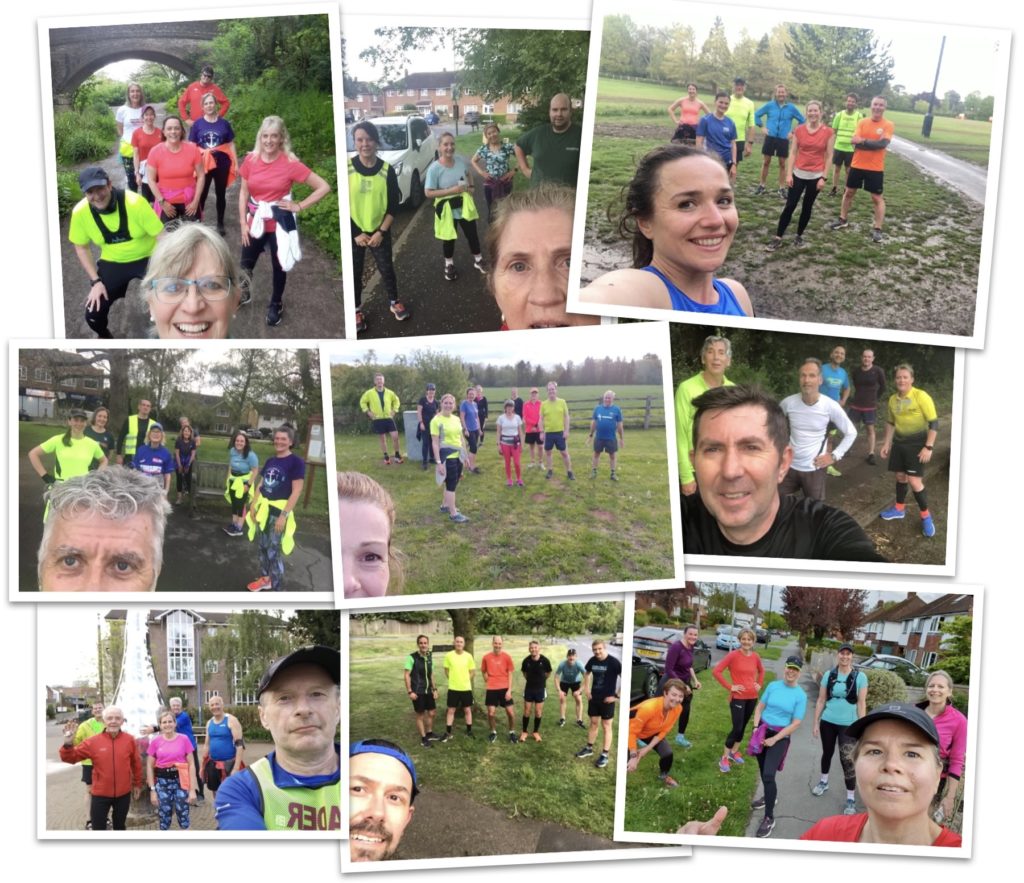 The Thursday Track and HIIT sessions have been a great success since returning and we're delighted to see people trying it out for the first time. It really is for everyone. Thanks to Lawrence Roy who has kindly been offering his services to run a coaching session at the track, alongside the regular club session. We are working hard to cover all bases and ensure there is something for everyone. The committee are also looking to add to the leaders and coaches among our membership.
RunAndTalk – Mark's going on the TV!
We will be introducing monthly RunAndTalk Tuesday groups shortly, with the option for a chat and a tea or coffee afterwards for anyone who is interested. This is not only for members, so if you know anyone who might like to try it, please mention it to them.
The HJ Mental Health Champions will be holding a small event in the park to promote RunAndTalk on May 29th (from 10am). We have no idea what to expect! In addition, Mark Aylmore is being interviewed for Horsham TV to talk about the initiative. He's busted out the Just For Men!
Friends with Benefits
No – not like that! We're talking about all the friendly benefits you get from being a Horsham Jogger. There's a section on the website now which details them, including a discount with Hands On Sports Therapy at The Bridge in BBH.
What have you all been up to?
You've been out racing, that's what!
On Sunday 9th May 26 Horsham Joggers competed in the Jigsaw Run 10k, a fantastic opportunity to run along the main runway, perimeter road and track at Dunsfold Park near Cranleigh in Surrey home of Top Gear. Results as follows:
Gary Tomlinson 00:35:23, Matt Mason 00:39:08, Trevor Barrett 00:40:01, Hadley O'Dwyer 00:40:55, Luke Minogue 00:41:12, Stuart Adesilu 00:41:21, Simon Perkins 00:41:49, Andrew Puttick 00:41:55. Michael Snook 00:42:39, Tom Robertson 00:42:45, Lea Quentin 00:42:46, Ian Dickinson 00:44:45, Jonathon Fengaras 00:46:54, Miranda Huisman 00:47:00, Baz Panchal 00:47:42, Stephen Tucker 00:48:17, Mark Hawthorne 00:49:02, Matthew Senior 00:50:27, Christopher Lee 00:50:51, Tony Hogben 00:51:03, James Hawthorne 00:55:01, Neil Clarke 00:55:02, Wendy Mason 00:56:19, Margreet Potter 00:59:19, Clare Gray 01:06:05 & Jane Footer 01:10:06
Preferring a slightly longer distance, Matt Whyman completed the Thames Way 100 Centurion this month, and he had this to say about it:
"Typically, the dry weather that marked much of spring broke on the morning of the 2021 Thames Path 100. This is a one hundred mile ultramarathon along the winding riverbank from London to Oxford. I crossed the starting mat in the pouring rain at 8.00am, trying not to think of the enormity of the undertaking ahead. With a 28hr time limit, and steep cut offs at each checkpoint, I joined 250 fellow runners on a unique journey through town and country with the waterway as a constant companion.
"Endurance runs are always an adventure. Running through day and night, in the company of fellow competitors who become friends and even brothers in arms, it's both a mental and physical challenge. There are high points and deep lows, but just a question of listening to your body, reminding yourself you've done all the preparation and then placing process over outcome every step of the way.
"Ultras seem like a solitary sport but it isn't possible without a support team. My wife and daughter worked tirelessly, moving from one crew point to the next to make sure I was fuelled and hydrated. At 75 miles, around 2am, HJ's Emma Walters took up pacing duties. I didn't think I was capable of a sub-24hr finish, which is the benchmark in 100 mile ultras, but she pushed me through those final hours to make it over the line in time. There, I was presented with the coveted buckle by another HJer, Steve Rooke, who was volunteering to earn his place for next year's race. Run strong, Steve! It's an unforgettable experience."
Anyone else feel like a lie down after reading that?
Meanwhile, Claire Miller and Philip Liberman competed in the Brutal 5k on Saturday 15th May. The start and finish are on a slope in front of Holywell House, a beautiful setting in the Meon Valley, but it soon takes a turn for the worse. There's mud, there's waist-deep wading through water, there's short, sharp hills, but they nailed it! Claire Miller 46:10 & Philip Liberman 46:08 (whatever happened to "after you, darling"?!).
Chris Yeomans combined long distances with short spaces, by competing in the Eastbourne Trackstar Marathon on Saturday 15th May, a challenging but fun (says Chris!) marathon on a standard 400m athletics track. That's 105.5 laps – and if you lose count you have to start again!* Despite a first half marked by torrential rain and a second half battling a horrific head wind, Chris breezed in sub-four at 03:59:27.
Great work, everyone, and keep your chat and tales of track and trails coming in.
*(not true)
Stay Safe
Now, do you run with a phone in case of emergency? Do you have ICE contacts loaded? It's a good idea, especially if you're heading out on the trails or the lanes. And if you don't fancy that there are some other options you might want to consider like road tags which you can attach to your watch. A few ideas include the Sidekick ID For Fitbit + Garmin, ICE ID MyID Sleeve & IcetagsLUX ID Tag for Sport Watch.
Upcoming Events
23 MAY, SUN
Three Forts Marathon
29 MAY, SAT
HJ RunAndTalk in the Park
Devils Lite Ultra – Free Event – Steyning
5 JUN, SAT
Horsham – Brighton Run To The Sea Ultra
16 JUN, WEDS
HJ Committee Meeting
20 JUN, SUN
Madehurst South Downs 5k and 10k
27 JUN, SUN
Brighton Half Marathon
North Downs Half Marathon & 10K – Denbies
3 JUL, SAT
South Downs Way 100 Relay
4 JUL, SUN
Focus 10k at Borde Hill
Wisborough Green 10k and 5k
Note – the Brighton events are now closed to general entries. However, there is still an opportunity for you to enter as part of the club entry. If you would like to participate in either the Brighton Marathon or the 10k as a Horsham Jogger, please email SokWahLee@btinternet.com the following before June 30th:
Firstname and surname
the distance that you would like to run (marathon or 10k) and
your email address (if different to the one you are using)
Please note that if we have more interests than the 10 club places available for each of the events, then the committee will prioritize those who have volunteered in the past and a ballot will be drawn from the remaining applicants for the unallocated places.
If you are successful in obtaining a club place, you must enter as a Horsham Jogger, and wear an HJ vest / t-shirt as you will be representing the club. You will be sent a link by the event organiser to register and pay directly to them. The price is £75 for the marathon and £35 for the 10k.
To be eligible for the ballot mentioned above, for either of the events on 12 September, you must meet the following criteria:
You are a first claim member – that means that HJ is the only (or the first) club you registered with
You have been a continuous paid-up member of HJ for at least a year at the time of the application
And finally
A word from Emma Page of East Grinstead Runners, who are holding their popular annual River Relay event on Sunday, 5th September.
It's a baton relay race run over five stages totalling 26 miles from Boveney to Kingston-upon-Thames, with all of the surplus funds received returned as payments to charities selected by the winning teams.
We will be in touch over the summer with more details and entry forms – but in the meantime please do save the date if you would be interested in entering a team or two or five!
The HJ Committee will next be meeting on Wednesday 16th June. If you have and questions or anything you would like us to discuss, please let us know.
Our thanks to Mike Hibberd for another great news round-up!