Taking it all in our stride
There was an interesting article in the press this week about how many people in the UK have turned to running to help them manage the frustrations and restrictions of lockdown. Research published by Macmillan Cancer Support showed that, since the pandemic began, some 7 million people across the UK have embraced running as a means of staying active and maintaining or boosting their mental health. Between March and June last year the Couch to 5k App was downloaded 858,000 times, which is almost double the figure for the same period the previous year. 
This is great to hear, and it certainly feels like there are more runners out there now than there used to be – even during January, when the new years' resolutions tend to boost numbers anyway.
No doubt there are many Horsham Joggers out there for whom running has become even more important over the past year; whether for physical exercise, a taste of freedom, or the chance to see a friendly face. Certainly many of your updates to the Facebook members page seem to tell these types of stories. 
Some honourable mentions are due this month to, in no particular order:
Tanya Keeling, who has been a model of perseverance during January, logging three successive longest solo runs as well as some socially distanced jaunts with buddies. When we're used to the camaraderie and support that comes from running in HJ groups, whether on Tuesday nights, at the track on Thursdays, or on the long Sunday training runs, running alone can be a tougher challenge. So, well done Tanya!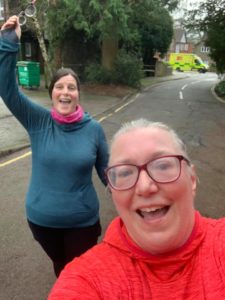 Chris Yeomans, who has been keeping the club's monthly mileage up by logging some epic excursions. Since the beginning of January, Chris has done the Virtual Portsmouth Marathon, the Hercules Virtual Marathon, the Virtual Darkstar Marathon, the NHS Virtual Marathon, a 34-mile reverse Horsham Round, and the River Mole Marathon. Judging by the photos some of these have been at least partially aquatic events. And they've been interspersed with numerous shorter runs. Serious miles from Chris.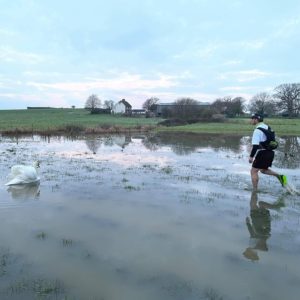 Clive Walker, who completed the RED January challenge and raising money for Sport in Mind into the bargain. RED January challenges participants to exercise every day and Clive logged a run from the 1st to the 31st inclusive, without fail. That's a superb achievement and a very worthy cause.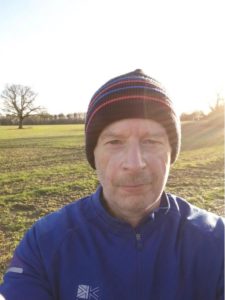 HJ #RunAndTalk
Sport in Mind is a mental health charity which promotes the benefits of exercise to mental well being. You may be aware that HJ supports the fantastic Run and Talk initiative promoted by England Athletics and mental health charity Mind. Run and Talk aims to help improve mental health through running and by providing a supportive environment for all-comers. You can read a little more about it here.
We now have five mental health champions at the club, with existing champs Mark Aylmore, Roger Johnson, Ali Shears, and Geri Smith being joined this year by Mike Hibberd. Mike had this to say about joining the HJ Run and Talk team:
"Being able to talk freely, and to have someone listen without judgement, is something from which we can all derive great benefit when things get challenging. And there's something about running together, side-by-side, which helps create a shared perspective. I'm looking forward to helping Mark and the team."
Anyone for a LopersGroep? 
New HJ Chairman Paul Morley bossed his first committee session earlier this month, playing host to guest attendee David Maurice, who is the HJ contact for our twinning 'arrangement' with T.G. Lage in Germany and LopersGroep Deurne in Holland. (Loving the fact that the Dutch word for runners is 'Lopers'.)
Prior to current events, David has visited our twins every year since 1988, along with other members of the club, taking part in various events (running and socials). Members of the Dutch and German clubs have also been to the UK on several occasions and usually do so to coincide with the Barns Green Half. As we are a new committee and not many of us were aware of the arrangement, it was really interesting to get some history on it and hopefully it's something we can put some new life into when we can all travel more freely again. 
A screenshot of the committee meeting is below, taken just before it all went totally Handforth Parish Council. Mark was booted off for being at the football, and Steve's teddy bear started screaming that everyone needed to read the standing orders.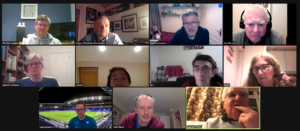 South Downs Way Relay – Saturday 5th June 2021
There's not been a great deal of calendar-based excitement lately but there is still some optimism that the 2021 South Downs Way 100-mile Relay will go ahead this year on June 5th. 
If you've not done this, do give it consideration. It's a long day and hard work but a tremendous team event. As HJ Relay organiser John Wilcox says, "it's arguably the best 'running' day out of the year!"
John has put together a shout out for participants: 
Following the cancellation of 2020's event the organisers of the relay are making plans to stage the 2021 event in the hope that it will be feasible. We are looking for Horsham Joggers to take part in this "invitation only" event for about 55 teams. Horsham Joggers have been allocated two teams (of six). This is a relay race over the 97 miles of the South Downs Way, starting at Beachy Head and finishing at Winchester. 
The teams consist of six runners who each run three non-consecutive legs of the relay. The distance of each leg is somewhere between 4 and 8 miles and you'll have a good break between each of your 3 runs. Each runner will run somewhere between 15 – 18 miles over the course of the day, almost entirely off road. The teams travel between the start / finish points of each leg by minibus and you will have a driver and navigator looking after you. 
There is a time limit to complete the event, meaning that an average pace per mile of at least 8.5 minutes over hilly terrain is required (over the whole distance). Although it's tough (it's hilly!) and a long day, it is a truly great event with a lot of team spirit and camaraderie. Everyone who has ever taken part, including the drivers and navigators, will confirm that the sense of achievement and fun had is immeasurable. The team entry fees are paid by the club, the cost per runner is approximately £35.00 to cover minibus and fuel costs. In addition to 12 runners we need drivers and navigators for each team.
Please note that the organisers are tightening up on the rule regarding the cut off time so this year all team members (as a condition of their inclusion) need to commit to pre-running all three of their legs. With a bit of organisation between the teams this is easy enough and means you get some good and very enjoyable training.
At this stage if you would like to take part (or even if you only think you might be interested in taking part) or want to know more please e-mail John Willcox: johnw@ohob.co.uk
Full details of the event can be found on the organisers website:  http://www.southdownsrelay.co.uk
Get in touch and get your name on the list, you won't regret it!
In other calendar news, these races are all still officially going ahead for now…
March 20th South Downs Off Road Half Marathon
April 4th Goodwood 5k, 10k, Half Marathon, 20 mile, Full Marathon
May 1st – 3rd Mid Sussex Virtual Marathon & Half Marathon Weekend
May 1st Three Forts Marathon
May 9th Dunsfold Jigsaw Run 10k
Cheaper shoes
February 2021 https://www.sportsshoes.com/ HJ  club discount code is: JDKGW9
A minimum of £30 spend qualifies this 10% discount along with free standard delivery 
If you encounter issues with this discount code please contact sportsshoes customer service dept on: 01274 530 530 Mon-Fri 8am-4pm.
Charity places for Brighton Half
This just in from You Raise Me Up representative Lesley Powell-Cullingford.
You Raise Me Up is a charity set up by the family of Megan Brooks who died at Eastbourne Rugby Club in May 2011.
"Please could you share with your members that we have places in the Brighton Half Marathon – the general entry is now closed. It's £25 to register with a free running vest and we ask that you to raise £300.
It costs the charity £300 to run its peer support groups for bereaved parents – they mean so much to them. So while setting and achieving your own personal goal you are also helping this very worthy cause.
All the details of these events and other fundraising opportunities on the website https://www.youraisemeup.co.uk/2021-events
Alternatively check out the charity's Facebook page @youraisemeupcharity, Twitter @youraisemeupuk
For further information contact Lesley Powell-Cullingford – lesley@youraisemeup.co.uk
Message from the Committee
We are aware that runners have had a bit of bad publicity of late, with some unpleasant comments doing the rounds on social media, and we are keen to help put this right. Our club has a large membership, and plays an important part  in our local community, but could we be doing more? We have some ideas on this front, which we will publicise soon, but we would also love to hear from our members if any of you have suggestions of how our club can better support the Horsham community. Is there something you feel we could offer or get involved in? Could your workplace or organisation use our help? If so, please let us know by e-mailing info@horshamjoggers.co.uk, or by speaking to any one of the committee members. 
And that's about it for this month. 
Keep putting one foot in front of the other!
---
Previous Editions:
HJ NEWS! – 12TH JANUARY 2021
2020: What a year. 2021: "Hold my beer."
Happy New Year, people!
We're not yet two weeks into 2021 and, well, let's just say it's hardly been a breath of fresh air. Unless, that is, you were lucky enough to be out running this past weekend, when the frost, mist, and sunshine combined to create some wonderful scenes on the trails around Horsham. It has to be one of the great consolations of being cast in Lockdown 3: Back in Training (Worst.Sequel.Ever.) that we in HJ have access to landscapes capable of truly lifting the spirits. 
In fact, your correspondent was out on the Downs Link earlier this month and happened to pass former HJ Chairman Phil Liberman heading in the opposite direction. I stopped and watched as he disappeared into the distance (which played havoc with my elapsed time on Strava). It was like the end of Shane. Or Pale Rider. Or The Littlest Hobo*. 
But unlike the left-behind characters in those screen classics, the good folks of Horsham Joggers need not worry how we're going to manage without our heroic protagonist. 
Because we've got another one!
Indeed your HJ Committee, which met this past week, feels able to wish you a legit Happy New Year with the news that Mr Paul Morley has stepped forward to don the ceremonial garb of Horsham Joggers Chairperson, and we hope you will join us in offering Paul heartfelt thanks and every best wish as he takes office. 
Below you'll find a Q&A with Paul, which will help you get to know him a little better. Some highlights include the fact that his club journey began four years ago with the HJ 5 to 10k, he's got a running belt that sounds like it would put Batman to shame, and he works for a flight simulation training company in Burgess Hill. Good time to be in flight simulation, as it's starting to feel actual flying might be a thing of the past.
It's great to be able to deliver some good news. 
Next committee meeting is on February 3rd and, if you'd like any points raised on your behalf, just email info@horshamjoggers.co.uk.
What now, then?
Sadly, with reality biting like a Siberian wind – or, indeed, a Siberian Husky – there's not much we can offer in the way of updates on official club activities. 
All club activities remain on hold, per the latest EA guidelines, but we will resume whatever we can, whenever we can. 
Looking a little further ahead, the decision has been taken not to stage the Horsham 10k in May. We hope to be able to put the event on later in the year but, facing so much uncertainty, it doesn't make sense to commit time and money to required early planning. 
Virtual Insanity
That doesn't mean we can't find a way to keep ourselves entertained, however. As you'll remember from last year, we found several fun ways to run virtually in groups, including the Run and Talk Rocks event, the Endure 24, and the more recent Run to Rome. 
If anyone among you has an idea for such an event to keep us ticking over for a few weeks – and is prepared to take on the admin and oversight – do let us know. Certainly the 2020 virtual events were enjoyed by many of our members.
New Shoes
Your January SportsShoes.com discount code: <edit> will be posted  on the HJ Runs Members Forum as soon as we receive it!
Upcoming Events
It feels somewhat futile to be typing this but there are still some events on the calendar. Whether they go ahead, of course, we shall have to wait and see. They include:
January 23rd Maverick West Sussex 2021 & PB 5K
January 24th Hastings Winter Cross Country Series – Race 3
February 14th Eastbourne 5 mile
February 21 Hastings Winter Cross Country Series – Race 4
March 7th Eastbourne Half Marathon
March 14th Dunsfold Jigsaw 10k
March 21 Hampton Court Palace Half Marathon & The Moyle Man
April 4th Goodwood 5k, 10k, Half Marathon, 20 mile, Full Marathon
Chairman Q&A
To end on some good news as we began, it is our pleasure to introduce you to your new Chairman, Paul Morley.
Name: Paul Morley
Occupation: I'm a Compliance Manager at a Flight Simulation training company in Burgess Hill.
Place of birth: Horsham
Children/family/pets: My wife Miranda who is also a Horsham Jogger. We have two daughters, aged 21 and 18. Explains my white hair. We have a dog, Alfie, who enjoys Park Run, sleeping and lots of cuddles.
Why Horsham Joggers: Miranda encouraged me to join and I've not looked back since.
Who do you run with: I run with other slower runners and recently I've enjoyed leading a Tuesday group.
How long have you been running: 4 years. I did the 5to10k Course with Horsham Joggers a few years ago and got hooked on running.
Biggest achievement so far: Completing the Great South 10 mile run in Portsmouth. Thousands of runners and brilliant atmosphere. Also, not 'big' but was pleased when I ran my 50th Park Run on my 50th birthday a couple of years ago.
Future goals and ambitions: My short term goal has to be to do my first Half Marathon, probably at Barns Green, hopefully in 2021. My ambition is to get a sub 30 minute Parkrun/5k. I've been close. Generally, now I am aiming to give my all to do the best job I can as Chairman of Horsham Joggers on behalf of all members of the club.
Favourite run/route: I've enjoyed doing the challenging and scenic WSFRL races. But generally, I just love running with the great people I've met through Horsham Joggers.
Favourite piece of running kit: My running belt. It has all the essentials and more; phone, safety pins, money, keys, park run bar code, blister plasters, a few jelly babies, …
Specialist subject on Mastermind: 80's music.
Favourite after running treat: Apologies, not healthy but it has to be bacon roll (with ketchup) and a hot coffee.
Funniest running related story/event: The two of us innocently getting changed in a small car after a cold and very wet race at Seaford. The car was very steamed up and rocking.
Tell us something that we don't know about you: I got my first tattoo just before my 50th birthday. Had been thinking about getting one for ages, and finally got up the nerve to do it.
Tips or suggestions for anyone thinking of starting to run with HJ: There is a place for you, whatever your ability. You'll meet lots of great people and get the opportunity to run in some beautiful locations.
And Finally…
*Here's a link to the theme from The LIttlest Hobo. It's ok to cry.
---
HJ NEWS! – 11TH DECEMBER 2020
A jog is for life, not just for Christmas
Christmas is coming, the goose is getting fat, we haven't got a chairman*, and we can't have that. 
So. Who among you out there in Joggerland has the vision, the community spirit, the love of the run and the all important lust for power required to lead this merry band into 2021?. To bring us – keep everything crossed – out of lockdown and blinking back into the light of something that looks like a proper running calendar. 
If you think you could give it a shot you'll have the support and gratitude of club and committee and you'll probably get in the local paper and stuff. Check out the job profile here.
And you can go here to meet the current committee members and find out all about the wonderful people you'd be working with. 
*obviously man or woman but 'chairperson' person didn't scan properly! 
Speaking of Leadership – LiRF Course
We've had some expressions of interest from members in taking the Leadership in Running Fitness course overseen by England Athletics. We understand EA will be scheduling new courses in 2021 once they've cleared the backlog of people whose courses were cancelled earlier this year (which are being run virtually). The club can offer funding for this course – just speak to any member of the committee or email us at info@horshamjoggers.co.uk if you're interested – but we do ask you to consider how you might be able to put something back into the club once you've finished. That could be by leading group runs or by advancing to Coach in Running Fitness level and getting involved in track or other club coaching sessions.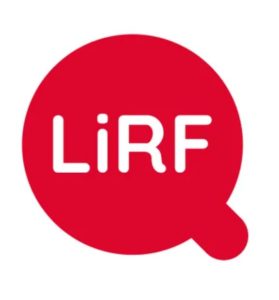 We made it to Rome, now it's time to go home!
It is possible to identify positives from the crazy lockdown of 2020 and one of them has been the way the club has worked to stay connected and united even when the circumstances have not been entirely conducive. After the success of the Run and Talk Rocks initiative earlier this year we recently completed a three-team virtual run across Europe. Typically, given the competitive and enthusiastic nature of the membership, the whole thing went further than originally intended, ending up in Rome rather than Paris. (You lot don't know when to stop!)
Between us we clocked up 5227 miles, which is a super achievement. And it would not have been possible without the tireless work of Iain Campbell as organiser and James Tombs backing him up. Well done and thanks to both of you! 
Perhaps fearing a Christmas break spent staring cross-eyed at spreadsheets, Iain recently issued a plaintive reminder that the game is now up. No more runs are being logged, so please stop posting them. 
Nothing more to see here. Arrivederci! 
A Time for Giving
Every year the club takes a share of the proceeds from its two main events, the Gunpowder Trot and the Horsham 10k, and makes donations to local charities. Obviously the events themselves were scuppered by the virus in 2020 but the charities need more help than ever during these strange times. So we're pleased to announce that HJ has donated £600 each to Chestnut Tree House and West Sussex Mind, both of which do sterling work in our local community. 
The donation generated a warm and grateful response from Sarah Palmer at West Sussex Mind, who added the following comment and request:
"What you're doing isn't just about the donation, as I'm sure you're aware. Promoting physical activity and interaction is a fantastic way to help people with their mental health.
"I'm currently working on a couple of activities for 2021, which may interest your club. The first, getting together a team to run the Worthing Seafront 10k in June 2021 (hopefully), is quite straightforward. But the other is the creation of a circular 70-mile walking/running/cycling route along the coast and through the South Downs National Park. The trail is to promote well-being and awareness, and I hope to launch it in the early spring".
If anyone in Horsham Joggers would like to be involved in either of these activities, please don't hesitate to get in touch, directly at sarah.palmer@westsussexmind.org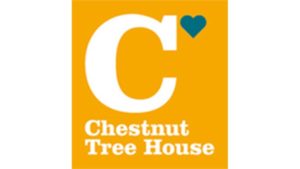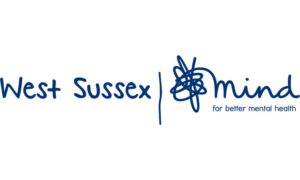 Which brings us on to… Run and Talk
One of the activities we are really keen to pick up in the new year is our Run and Talk initiative. The club's mental health champions will be meeting during December to make plans for the new year. We are hoping to introduce some sessions for new runners, possibly in conjunction with local charities. Watch this space, and let us know if you're interested in being involved.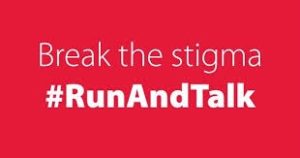 Resuming Normal(ish) Service
We've been working hard to bring back Tuesday and Thursday sessions and are pleased to announce that organised Tuesday Runs will recommence from next week 15th December, and track / HIIT / Fiona's sessions from 17th December. Please see the announcement on our HJ Runs Facebook page for more details.
NO official club sessions from 23 December – 4th January
There have been some questions about the resumption of a Sunday running programme but, unfortunately, we do not have the resources to manage this at the moment. If you're continuing to run in groups of your own please make sure you abide by all the social distancing rules and, of course, stay bright, visible, and safe. 
Save money on shoes!
Want a discount on shoes? Get one at sportshoes.com with this code! AKLLL4 (£30 spend or more)
Muddy Funsters
If you're one of those people who likes running to be made more difficult for them, you might like to check out the Mud Monsters Run. The next local event is in East Grinstead in June but you can book now at  www.mudmonstersrun.co.uk. The organisers promise muddy fields, mud craters, muddy bogs and muddy surprises with over 135 obstacles. Don't wear your Vaporflies. 
Are you a Maverick?
The good folks at Maverick Events are looking for volunteers for 2021. There are goodies and gratitude to be had, including a £60 Adidas TERREX voucher and free entry into a future Maverick race. Check out the details here https://docs.google.com/forms/d/e/1FAIpQLScyc4y1ymylBKCZoFfUaJpF0RO0ChmasH3d22FicA7fTWc0WA/viewform
Walking after Midnight
St Catherine's Hospice is putting on its Midnight Walk on December 12th, postponed from June this year. There's still time to register and get fundraising, opting to walk anywhere between 2 and 20 miles. Find out more here https://www.stch.org.uk/midnight-walk-2020/
Race result shout-outs!
There haven't been too many races of late but HJ were represented recently at the Run Through Goodwood event. Pete O'Connell, running to the beat of his own drum as always, took first place in the M60 category with 39:15.  Michael Catlow (1:34:55) and Mark Aylmore (1:39:26) both recorded PB's over the half marathon distance.
On 5th December a strong HJ contingent including Emma Comber, Susan and Ian Wilcox, Derek Buckman, Richard Cherriman, Rob Jochimsen & Penny Barron * braved the cold and the hills to take part in the Sussex Downs Trail Run at Plumpton.  Well done all of you. Results can be found here: https://resultsbase.net/event/5609/results
*apologies if anyone was missed, however there is no option to search the results by club.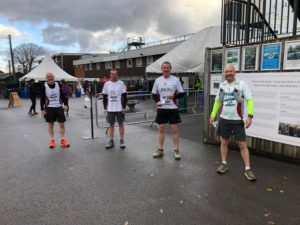 Meanwhile, Geri Smith continues to wow us all with her capacity to eat up the miles. She recently ran a ton in five days to complete the OneCommunity Centurion 100-mile challenge. Hats off!
If you're one of the lucky few to  have actually taken part in an event recently, please let us know so we can share your result here (the next newsletter will be going out in the second week of January).
Upcoming Events
12 DEC, SAT Maverick Race East Sussex
13 DEC, SUN PB 5k Ardingly
19 DEC, SAT Hastings 15th Christmas Pudding Dash
27 DEC, SUN Hastings Winter Cross Country Series – Race 2
And finally…
As 2020 comes to a close, the committee would like to thank all our members for their support, fantastic spirit and camaraderie, during what has been such a testing time everyone. Although we have been apart for much of the year, in many ways we have never been closer as a club.
Please take care of yourselves, continue to look out for each other, and we look forward to seeing you all again soon.
Wishing you and your families a lovely Christmas, and all the very best for 2021.