Committee activity
We met again on Wednesday 26th February with three guest members and discussed the usual club finances, kit orders, new members, social media stats as well as, committee vacancies, the member survey results, club rules, Jogger and Volunteer of the year nominees and the South Downs Way 100 mile Relay invitation. More on some of this later. We agreed to meet again on Wednesday 1st April and you are welcome to join us by arrangement.
A few words from Chairman Phil
Well it is less than 2 months to go now to our AGM and the end of 5 (mostly) enjoyable years as Chairman of this fabulous club. The inbox for offers of a new Chairperson is looking emptier than a hermits address book though!
Now before you stop reading this, please indulge me for a few minutes and read this little note as it is not just another request for someone to give some of their spare time for the club, but a wider note about sharing the love generally! People have said to me recently "you do such a good job, it would be hard to replace you.." and " I wouldn't know where to start…" so let me let you all in on a secret. When I was first approached by my predecessor Tony, I didn't have a clue either and when he did a handover to me I felt like Homer Simpson staring intently at him hardly understanding a word he was saying! But I have made it work for me and I would like to think I have done an OK job.
The role itself, as the job spec we put in the newsletter last month says (Find it HERE) is not that involved, a normal week for me is; The Week@ on social media on a Sunday, then imparting most of that on Tuesday at the club and then it's just anything else that may come up! You would host the Awards Evening and AGM and chair meetings, once every 6 weeks or so and take any actions that might arise out of it. But it is really about being a good people person and communicator.
So that's the sales pitch for my role but there are other positions on the committee that need filling as well. A common question I have been asked on this is "if I do it, what would my role be?" Well, someone once said "if you have to question what your role would be as a volunteer, then you aren't ready to volunteer". By joining the committee you are making yourself available to give your fellow club members a voice initially and help out where needed. But as most roles do, it evolves over time into whatever you want it to be and as committee members who have joined over my tenure have found, the roles are there you just need to step up and volunteer for them.
We are a club that has just broken the 600 membership barrier for the first time and, as our recent survey showed, we have a lot of talented people out who are interested in helping. So, as my time is coming to an end, please consider stepping up and joining the committee or even consider being our new Chairman (or Chairwoman!). Over to you and thank you for reading this.
Phil.
The Results Round-up
A relatively quiet period for team hj but even this relentless stormy weather couldn't put some off! Compiled mainly from the race reports by Chris Yeomans, your regular results fix of who has been doing what can be found HERE
Member Survey results
An incredible 278 members took the time to respond, which is a fantastic 56% response rate. Far greater than we expected! Huge thanks go to Margaret and Guy for setting this up and processing the data so far. Obviously with all that feedback, we need time to filter all the points made and form an action plan to address and implement where necessary. Those who have made individual comments, suggestions and offers of help should by now have received an acknowledgement by email. We will be back in touch with you soon to discuss how we intend to follow this up.
Injury Clinic Drop-in Clinic

Following the recent drop-in clinic, Tony at Hands On has kindly offered members another FREE 10-15 minute drop-in session between 5 and 7pm on Tuesday 10th March. So, if you are upping your training miles in preparation for a marathon or have been ignoring a niggle for a while, why not pop in before your run with the club for some free help and advice. There's no need to book. Just tell The Bridge reception staff that you are there to see Hands On and they will allow you through to the 1st floor treatment room. Dependent on numbers, you may need to wait for a bit before seeing Tony. Any subsequent follow-up treatment will also be discounted for club members. https://www.handsonsportstherapy.org/
Challenge Trophy/WSFRL update
Unfortunately, Crawley Run Crew had to postpone their 1st "Run Your Heart Out" 8k due to the weather. The new date for this club challenge event will be 29th March and we are aware that this clashes with some other local races. If you entered and can no longer attend this race, please let us know and we can carry your entry fee over to another WSFRL race later this year or arrange a refund. Entry to the revised race is now open again. Full details of 2020 fixtures can be found HERE and races are listed in chronological order on the MemberZone.
Sussex AA Christ's Hospital Road Relays – 4th April
Team manager, Pete O'Connell is looking for team members to join him for this annual event. It's great fun and not at all competitive (?!?) with a strong camaraderie between team members completing 2 miles each. If you want to join the fun, please contact Pete direct – purpledrummer@sky.com
South Downs Way 100 mile Relay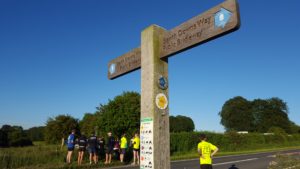 Horsham Joggers has again been lucky enough to receive an invitation to put forward two teams for this incredible event. The club covers the cost of team entry and team manager, John Wilcox has put together all the other details that you need to know HERE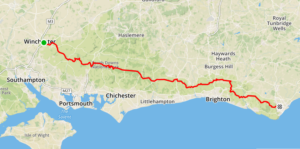 Kit orders
Please note that any pending kit orders or new kit orders won't be processed or delivered between 31st March and 21st April. Apologies for any inconvenience. Please plan ahead if you need kit during this time. We politely remind you that we are run by volunteers, not by Amazon!
Jogger and Volunteer of the Year nominees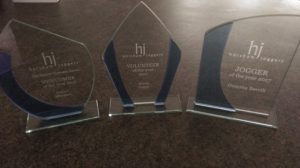 In a change to recent years, your committee has selected names of those we feel should be nominated for JOY and VOY. However, you will still get the chance to vote for your favourite. Please look out for a link to Survey Monkey coming to you by email soon! Awards will be presented to our winners at the AGM in April.
MemberZone profile
Did you know that you can access your own profile on the MZ? Just login as usual and then hover again over the MemberZone tab along the top menu and click on "my account". Here you will find a list of all the orders you've placed, your personal details like name, address etc and you can also change your password as well! Enjoy! More features will be coming soon!
Race for life
In aid of Cancer Research UK, the annual Race for Life will take place in Horsham Park on Sunday 7th June 2020. Full details can be found HERE
Good news, race stories, new PB's?
We are still looking for new material for the newsletter or to shout about your achievements in the local press. If you have something to tell us about your weekend running achievements there are numerous options – EMAIL US or MESSAGE US or POST IT TO OUR FACEBOOK PAGE – So, don't be shy. We all want to share in your success!
And finally…………………
After a good few years as your newsletter editor, Paul is standing down from the role after the April issue goes out. We are looking for someone to take this on and bring their personality to the role with a new, fresh approach! It involves monitoring weekly race reports, collecting material throughout the six week period, engaging with social media and "stealing" members photos! The committee can provide a summary of what needs to be included after their meeting and our website manager can post the content to our page in time for publication, with a link to the new post going to all by email. If you've got what it takes, please CONTACT US.
Dates for your diary
1st Mar – Eastbourne half marathon
1st Mar – Witterings 5 and 10k
1st Mar – Steyning Stinger half and marathon
7th Mar – Winter Nuts Challenge, Dorking
8th Mar – Surrey half marathon
15th Mar – Balcombe Bull Run
29th Mar – CRC Run Your Heart Out 8k (WSFRL & Challenge Trophy)
29th Mar – Mel's Milers 10k, Christ's Hospital
29th Mar – Hastings half marathon (SGP)
29th Mar – Cranleigh 15/21m
4th Apr – Sussex AA Road Relays, Christ's Hospital
4th Apr – South Downs Way 50
5th Apr – Lancing 10k